Five on Five
2013-14 outlook: Boston Celtics
What's in store for the Boston Celtics? Our panel of five looks back at the offseason moves (and nonmoves) and forward to what lies ahead in the 2013-14 NBA season.
1. What grade would you give the Celtics' offseason?
Chris Forsberg, ESPN Boston: B+. The decision to step back and rebuild is never easy, but Boston got three future first-round picks for two of the league's top five active players in minutes played. The only pitfall: The Celtics are still tiptoeing the tax line and have an unbalanced roster heavy on shooting guards and power forwards. They'll fix both in time.
Israel Gutierrez, ESPN.com: Is a sad face a grade? It was a tad depressing to watch a franchise that has been considered a contender since 2007-08 finally break apart the nucleus that made it such. In the end, Danny Ainge did what's best for the organization, but we won't know how he did until the rebuilding is well underway.
Andrew Han, ClipperBlog: B+. Can you ever claim an A after releasing a championship coach (Doc Rivers) and trading away the team's most important player in a decade (Kevin Garnett) and one of the most important in franchise history (Paul Pierce)? Probably not, but Boston gets as close as possible for swapping its delicious trio of aging Roquefort and coach for not three, but four first-round picks. C'est bon.
Brendan Jackson, Celtics Hub: Incomplete. There is no adequate way to place a letter grade on the Celtics' offseason. They traded away two franchise players for multiple first-round picks. Their letter grade for this offseason is completely contingent on whether those picks allow them to recoup their losses. That and class participation.
Brian Robb, Celtics Hub: B. I wasn't thrilled with their decision to blow up the roster, but upon making that decision, Ainge went about it the best way he could. By acquiring numerous first-round picks and getting out of the luxury tax, he has positioned himself to rebuild the Celtics' roster quickly.
---
2. What's the biggest question facing the Celtics in 2013-14?
Forsberg: Which players are building blocks for the future? This team is going to take its lumps, but the 2013-14 season is all about identifying which players it will build with moving forward (Rajon Rondo? Jeff Green?) and trying to trade away the bodies that won't be here long-term to help unclog its cap.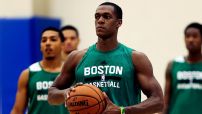 Gutierrez: How well can Brad Stevens adjust to coaching in the NBA? Regardless of what he has to work with -- and it's honestly not terrible -- if his players don't believe this college guru can translate to the NBA, it will never work. One way to tell if his players are buying in: how hard/well this team plays defense.
Han: How does Rondo fit in? Boston's floor general will be sidelined for the first part of the season as he recovers from an ACL injury. But do the Celtics need a top-tier point guard on a great contract as they embark on the biggest Boston project since the Big Dig?
Jackson: Will Rondo be the face of the next Celtics era, or will he be used to acquire it? Setting aside the fact that Rondo might not even be healthy enough to play, the more intriguing question is whether he fits into the Celtics' long-term plans. Is he the next Pierce or Antoine Walker?
Robb: What's the plan for Rondo? Will he return sooner rather than later from his ACL tear, or does he take a cautious approach like Derrick Rose? Once Rondo is back healthy, Ainge must decide if he's a cornerstone of the franchise for years to come or the team's most attractive trade chip in the midst of rebuilding.
---
3. Who is the Celtics' most intriguing player?
Forsberg: Kelly Olynyk. Boston shuffled up to No. 13 to grab the Gonzaga big man, then Ainge (somewhat oddly) declared that he envisions Olynyk as merely a complementary player. Early returns show a skilled offensive player who, if he develops defensively, could pair with Jared Sullinger in the frontcourt of the future.
Gutierrez: Rondo, for two reasons. Obviously, we would all like to see how well he comes back from his ACL injury. And if he does return this season, how soon afterward will he be traded? This demolition isn't over until Rondo gets moved, but will Ainge move him if his injury lessens his value?
Han: Avery Bradley. The fourth-year guard came into the league as a tenacious defender but has steadily improved as a ball handler, lowering his turnover percentage every season. If he continues to progress, Boston could consider Bradley to have the better trade value over the obvious piece, Rondo.
Jackson: Green. Green is the quintessential polarizing player. For fans who love athleticism and loud dunks, he's great! For fans who like efficiency and passion, he's terrible! Statistics say he's average. Now that Pierce is gone and Rondo is injured, it's time for Green to make a statement.
Robb: Olynyk. NBA general managers have lauded him as the biggest steal of the 2013 NBA draft in their annual survey. A potent mix of size and shooting have earned him acclaim throughout NBA Summer League, but it remains to be seen if Olynyk can thrive against athletic NBA defenses that might focus on containing him within a lackluster Boston offense.
---
4. What's one bold prediction about the Celtics?
Forsberg: The Celtics won't trade Rondo. I'm not sure that's very bold, but people seem to think it is. This season will determine if Rondo can truly lead this team on the court and off. Chances are he'll rise to that challenge, but trading him now makes absolutely no sense with his value low coming off ACL surgery.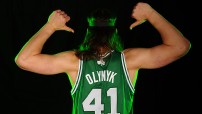 Gutierrez: Olynyk will make the All-Rookie first team. He's already so skilled offensively he can probably shoot 50 percent or better. He's above that number in the preseason, playing better than 21 minutes a game. With his long-hair-and-headband look, he'll definitely be a fan favorite in Boston.
Han: Boston will either move draft picks for an impact player or move Rondo for more picks. Ainge has already secured new coach Stevens to a six-year contract, providing stability through planned transition years. But Rondo and a host of future draft picks share asynchronous timelines. There can be no half measures.
Jackson: The Celtics will find a trade partner for Gerald Wallace (you did say "bold," right?). There are some teams (Detroit, Washington, Toronto, Cleveland) that haven't sniffed the playoffs in years. If Wallace plays well to start the season, his contract becomes more palatable for those desperate to get back into bonus basketball. And now I have grasped all of the straws.
Robb: The Celtics will make at least three trades this season. With a mismatched roster and overpaid role players on long-term deals, Ainge will be searching for value with virtually every member of his roster on the trade block. Ultimately, his attempts to improve on his pile of assets for the future will come to fruition.
---
5. Prediction time: How far will the Celtics go this season?
Forsberg: It's hard to imagine this team playing past April 16 (its last regular-season game). November is absolutely brutal, and between waiting for Rondo to return (December) and natural growing pains under a first-year coach, this team will top out at 25 to 30 wins. It's more important the team identifies building blocks for the future and Stevens lays his coaching foundation.
Gutierrez: We're pretty sure their season will end April 16. If things go well, the Celtics will finish with one of the three worst records in the NBA, putting them firmly in the mix for a franchise-caliber player in next year's draft. But this group might be too good to be that bad.
Han: Boston will bypass the season and go directly to the draft. The Celtics' three goals should be: 1) assess the value of their own players; 2) assess the value of potential trade targets; and 3) treat the season as a lab experiment. Those things might not be reflected in the win-loss column, but that's what's important in the here and now.
Jackson: It depends where the destination is. How far up will their draft position go? Oh, very far. How many wins will they have? Oh, very few.
Robb: Look for the Celtics to end the season with about 30 wins, a roster with plenty of turnover from opening night and a few more draft picks for Ainge to work with. Rondo will finish the season with the team but will head into the offseason with plenty of uncertainty about his future in green.