When I reviewed the agenda for this year's Winter Meetings, one item in particular jumped out at me: a December 8 event called "Working Women In Baseball." I investigated and learned that it was a networking and career development program for women working full-time with a minor or major league club or league. That such a program for women working in the predominantly male baseball field (pun intended) exists is noteworthy in and of itself. I knew I had to attend this year's meeting and talk to women about the group and their experiences. I was blown away by what I saw.
When I arrived at the conference room in the Dolphin Hotel -- just 30 feet from the lobby bar where the men were doing their normal schmoozing, wheeling and dealing -- the Working Women in Baseball were already seated at their tables. I've spent the past few days in the Media Workroom feeling decidedly outnumbered by men, so the sight of so many women in one room during the Winter Meetings surprised me and I actually caught my breath. I'd heard from several women at the meetings that it was a popular event and I know women are becoming better represented in baseball, especially at the minor league level, but this was stunning.
[+] Enlarge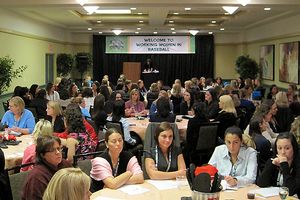 Amanda Rykoff/espnW The women participated in 'speed networking' to talk to as many fellow executives as possible.
I watched from the back of the room and talked with Nicole Ferro, a manager of sponsor relations with Minor League Baseball. Ferro has been with MiLB for five years, starting as an intern and joining the staff full-time after graduation from college. She explained that after having speakers at past meetings, this year's event focused on networking, by popular demand of the event's attendees. No media or sponsors are allowed (they graciously made an exception to this rule for me). "We want people to feel comfortable and speak freely," Ferro said. Based on the lively atmosphere and constant buzz in the room, that did not seem to be a problem.
The 96 women in attendance split up into three "speed networking" tracks on one of the following topics (all chosen as a result of comments from past attendees): 1) Communications Skills for Women; 2) Advancing in Your Career; 3) Recognizing and/or Increasing Your Value. Table Facilitators (senior executives, often from major league baseball clubs) helped guide the conversation and made sure the discussions stayed on track. Each table had 20 minutes to meet and share, allowing for the potential to connect with 27 working women in baseball. After the speed networking concluded, Amy Venuto, the executive director for professional baseball at Ripken Baseball, took to the stage in the front of the room. Venuto is funny, vivacious and fearless. Everyone in the room paid close attention as she shared inspiring words and ideas, reiterating something she had overheard at one of the networking tables: "It's important not to lose yourself as a woman." Venuto also announced that the Japan League wants to copy the event for the women working in their system.
As all this unfolded, I talked with Working Women in Baseball founder Heather Raburn, senior account manager, Marketing, Minor League Baseball. Raburn is a former collegiate softball player and has worked in minor league baseball for 13 years. Like many others in the room (approximately 75 percent of the attendees work in the minor leagues), she worked her way up from Single-A to Double-A to Triple-A to the Minor League Baseball headquarters. She started the Working Women group three years ago as a way for women to share their experiences, learn and network. "We're here to strengthen our abilities to stay in the game," Raburn said. This was echoed consistently by every woman I spoke with after the networking ended and the room morphed into a satellite bar for ladies-only schmoozing.
Heather McKeating, director of community relations at the Norfolk Tides (Baltimore Orioles Triple-A affiliate) attended the event for the third time. "That's what this event is set up for. You can have strong women above you to look up to. This is my 18th year in baseball, and I'm still learning every day because of this group of 100 women that you can just learn from." McKeating told me that the Working Women in Baseball event is her "favorite thing at the Winter Meetings. Of the whole five days I'm here, this is it." JaMay Edwards, promotions manager for the Toledo Mudhens (Detroit Tigers Triple-A affiliate), attended her second Working Women event and agreed that it is a must. "To anybody who might not have come to this event, she has to come and experience it for herself. It will probably change her life -- her professional life, anyway."
The event has become so popular that not every woman who qualifies can attend. They keep a wait list and did draw from it this year when some of the attendees couldn't make it or had conflicts once in Orlando. The group has been popular and could become something larger, but organizers are concerned about maintaining the intimacy of the group. It works so well because the numbers are manageable. But just the fact that they are considering making it a larger event is encouraging. Lara Juras, director of human resources for the Atlanta Braves (who along with LA Dodgers' Assistant GM Kim Ng was one of a handful of major league executives on hand), would like to see improvement. "At the major league level it's also still significantly different in regards to percentage of females," Juras said. "It's an ongoing process that we're going to hopefully continue to improve on. There's a lot of opportunity."
This is good news for women who are hoping to work in baseball, such as Ashley Schwartz, a senior at NYU studying sports management. Schwartz is interning with MiLB for the Winter Meetings and didn't participate in the event, but she was in the room to help make sure everything ran smoothly. Talking with Schwartz, you could see her enthusiasm for the sport and for the atmosphere in the room. "When I walked in, it was empowering," Schwartz said. "You can feel the energy in the air. I go to school in a program that's very male-dominated and I thought, 'We can do this.' Not that there was doubt, but it's nice to see. There's an entirely different feel in here than out there. I love it here."
Another woman who absolutely loved it was Juliana Paoli, the chief marketing officer of the San Jose Giants (the San Francisco Giants' High-A affiliate), who attended the event for the first time after missing the first two due to conflicts. Paoli was positively glowing when I talked to her about her experiences in the room. "I am so excited because I really didn't know what to expect, and I think one of the most exciting things was that it was women from all across baseball," Paoli said. "It wasn't just minor league baseball, it was minor league and major league. Just to have that collaboration where we're all in this together. At my last table, we helped a girl who's been in a bad situation ... and who just had a breakthrough. When something like that happens it's way more powerful, and no one ever thought that would happen. This wasn't just fluff and women griping. This was legitimate."
While there were emotional bonds forged in the room, one of the primary objectives of the event is to give the women a chance to network. "Other than the bar there really is no other event where you're forced to interact with other teams," the Mudhens' Edwards said. "You can go an entire Winter Meetings, stay with your team and never interact with anybody else. This event specifically pairs you with people, creates the dialogue, and then it just happens, so I just love it." The Braves' Juras appreciates the networking as well. "I think the experience is different for women in baseball. We are not the majority so I thought it was a great way to try to connect and network. The great aspect of sharing best practices and experiences and knowing other people are in the same situation as you is just so beneficial. And obviously, as a female, I want more women in the sport. So having a group get together to network or communicate new opportunities anything along those lines was, to me, a phenomenon."
After spending two hours in the room with these women, it was evident they have a passion for the game of baseball and the desire to help make things better for each other and for women who will follow in their footsteps. The chance to attend the event, even as an observer, is certainly one of my highlights of this year's Winter Meetings. The Braves' Juras summed it up best: "There are amazing women here. And often when you're kind of secluded in your own little space you kind of forget that you can reach out. There's good mentoring relationships, advice, there's good experience, and that's the part that I always love."