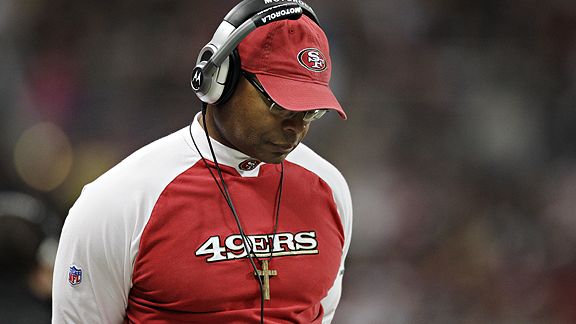 AP Photo/Jeff RobersonThe 49ers have been known more for Mike Singletary's sideline dramatics this season than their play on the field.
In mid-December 2008, David Letterman started doing a nonsensical bit with then-new 49ers head coach, Mike Singletary. OK, it wasn't Singletary himself. But the impersonator was spot-on, as he spewed out random coach-speak of the super fiery kind. This Singletary was intense, didn't think before he spoke -- yet it was a strangely compelling characterization that was, at the time, right on the money.
On Oct. 26 of that year, in his first game as interim coach, Singletary sent tight end Vernon Davis -- who had just received a personal foul for slapping an opponent -- to the locker room, with ten minutes remaining in an intra-division game against the Seahawks. He followed that up by calling Davis "uncoachable" in his postgame press conference. 49er fans didn't know what to think. Was the new guy more mad genius or megalomaniac?
To Singletary's credit, he reformed Davis, who has now become a team leader and one of the hardest-working and productive tight ends in the NFL. But Singletary's successes ended there.
The Mike Singletary Era has been tainted by bad coaching on and off the field. From terrible game management (using his three time outs in the first and third quarters) to illogical decisions (as we witnessed Sunday with Troy Smith, when he was named starting quarterback then, after winning the coin toss, had his confidence dashed when he was deferred until the second half), Singletary just never figured out a winning formula. He often chided both Alex and Troy Smith for their lack of leadership -- yet never provided an example. (Naming one of the Smiths and sticking with him for more than three weeks during the playoff fight would have been a start.) Singletary oscillates on his game plan week after week. Alex Smith in the spread offense one week. A heavy dose of Frank Gore the next. Relying on defensive turnovers the next. Opponent schemes didn't seem to matter.
The militant act might work have worked when he was a linebackers coach in Baltimore and then San Francisco. (Ray Lewis on the roster may have helped, too!) But as a leader, you must learn to develop a quarterback, the art of time management, the rules of the game, and an overall understanding that the NFL is a chess match -- not a screaming match.
Singletary ultimately failed because he doesn't have the inherent sophistication to be an NFL head coach. The non-stop yelling and straddling between being loyal and publicly damning his players just doesn't fit into the modern, media-driven NFL. Singletary rode his 1985 Bears fame to a position-coach slot and never should have risen beyond that -- at least not at this point.
The Niners -- oozing so much talent that every so-called expert expected nothing less than an NFC West title -- have a big opportunity here. With proven head coaches like Jon Gruden, Stanford coach Jim Harbaugh and Bill Cowher out there, the York family had better not make a stumble of Singletary proportions.