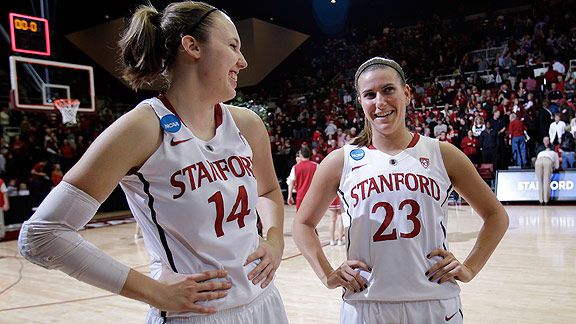 AP Photo/Paul Sakuma
Four straight Final Fours. Who does that?
How many great players -- people like Lisa Leslie and Tina Thompson -- never got to play in even one?
Stanford All-American Jeanette Pohlen understands how lucky she is to be on this team at this time, how rare her experience as a college athlete will be.
The Cardinal joins only four other programs in Division I women's basketball history (Tennessee, LSU, Connecticut and Louisiana Tech) to reach the Final Four four straight years.
The only thing missing from the experience is actually winning the NCAA title over this stretch.
"We are very focused coming into this," Pohlen said Wednesday. "We are also very excited to be able to make it to a fourth Final Four, but yeah, it's tough making it that far and not coming away with a national championship. I think that's motivating us even more because we know it's our last chance."
This might be the greatest era in Stanford women's basketball history.
It started with Candice Wiggins saying, "I'm sorry, America" into the camera while bawling her eyes out on that same floor in Spokane after Stanford beat top-seeded Maryland in 2008 and reached its first Final Four in 12 years.
It continued with the powerhouse post play of Jayne Appel, whose broken foot might have been the difference between finishing first and second last spring in San Antonio.
The baton has been passed to Kayla Pedersen and Pohlen, the heady, steady leaders of this team, who have been testaments to hard work and versatility and made their marks all over the record books. They have gone 137-13 in their Stanford careers.
And it could well continue with the Ogwumike sisters, the dynamic duo of Nneka and Chiney, who are destined for greatness.
Pedersen acknowledged feeling "on top of the world" in reaching the Final Four in every season of her college career and echoed Pohlen's desire for more.
In 2008, Stanford beat Connecticut in the semifinals, but lost to a Candace Parker-led Tennessee team in the title game. The following year, the Cardinal lost to Connecticut in the semifinals. Last year, Stanford had a halftime lead on Connecticut in the title game but ultimately watched the Huskies hoist the trophy.
"We are not satisfied," Pedersen said. "We are determined and that experience that we bring, that we've lost a bunch of times in the Final Four is really going to motivate us. We've got Texas A&M in front of us, and we are going to focus on that one and go forward."
Even for Tara VanDerveer, a coach who has done it all and may be rewarded with a spot in the Naismith Hall of Fame on Monday, this is an accomplishment to savor.
She's won two national titles. She's coached the U.S. team to Olympic gold. She's won more than 800 career games as a coach.
She's never taken an entire class to the Final Four four years running. Not once before, despite a legacy that includes such players as Jennifer Azzi, Val Whiting, Sonja Henning, Kate Starbird and Nicole Powell.
"I just believed in this team and we have worked hard," VanDerveer said. "[Former player] Trisha Stevens was in the stands [Monday] and she went to a Final Four with us and won a national championship. Rosalyn [Gold-Onwude] is here. I got texts today from Jennifer and Jayne Appel. It's just really special that we're back in the Final Four four years in a row. Tomorrow I will have to wake up and pinch myself because I'm so happy for this team."
The only thing that would make her happier would be winning the program's first national championship since 1992.