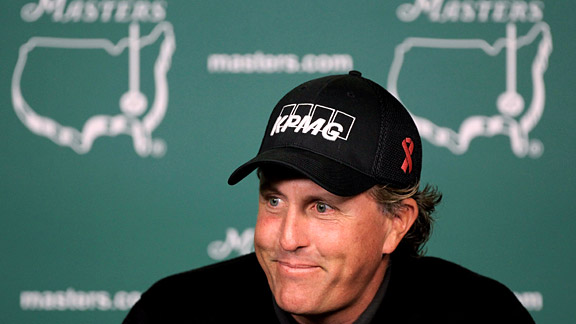 David Cannon/Getty Images
Golf: The Masters is officially under way from Augusta National Golf Club. Defending champion Phil Mickelson tees off at 1:48 p.m. ET and looks to become only the fourth player in history to win back-to-back Masters. Mickelson's group, which also includes 2006 U.S. Open champion Geoff Ogilvy and defending U.S. Amateur champion Peter Uihlein, was given a late start time and will be the second-to-last group to tee off Thursday. The group received an earlier start time for Friday, 10:30 a.m.
Tiger Woods, a four-time winner of the Masters, teed off at 10:41 a.m. His group includes 2010 U.S. Open champion Graeme McDowell and Robert Allenby of Australia. The threesome gets a later start time for Friday, 1:48 p.m. Tiger is in pursuit of his first major championship since the 2008 U.S. Open. Live coverage begins at 3 p.m. ET on ESPN.
MLB: A few teams are still in search of their first wins. The Red Sox, off to their fourth-worst start in history, hope to avoid going 0-6 for the first time since 1945, when they went 0-8. Boston concludes a three-game series at Cleveland. The other winless team in the AL East, the Tampa Bay Rays, hope their first win comes this afternoon against the White Sox in Chicago's home opener at U.S. Cellular Field. The 0-5 Astros wrap up a three-game series against the 5-0 Cincinnati Reds.
The Red Sox, Rays and Astros are the 86th through 88th teams since 1900 to start a season 0-5. Of the previous 85 teams, only two made it to the postseason: the 1974 Pittsburgh Pirates and the 1995 Cincinnati Reds. No team has made the World Series after starting 0-5.
NBA: There are only two games slated for Thursday, but one involves the top two teams in the East. In a game that could have major ramifications in the race for the top seed in the conference playoffs, the Celtics head to Chicago trailing the East-leading Bulls by three games. A loss for Boston would all but guarantee the Celtics would be out of contention for that No. 1 seed.
NHL: The Dallas Stars hope to keep momentum as they host the Colorado Avalanche. After losing six straight, Dallas has bounced back with two consecutive wins, keeping its playoff hopes alive. The Stars sit in 10th in the West, two points behind Calgary and four behind the eighth-place Chicago Blackhawks. ... The Rangers will be back on the ice for the first time since losing Ryan Callahan, their second leading scorer, indefinitely to a broken leg. New York looks to keep a handle on the eighth and final playoff spot in the East when it hosts the Atlanta Thrashers. The Rangers hold a two-point lead over ninth-place Carolina.