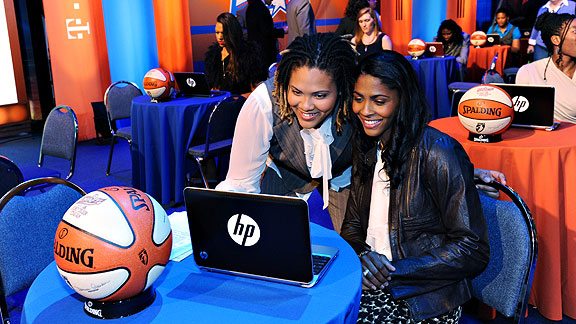 Jennifer Pottheiser/NBAE/Getty Images
Less than a week after the heady experience of winning a national championship comes an equally heady experience, getting drafted into the WNBA.
Texas A&M stars Danielle Adams and Sydney Colson had themselves an extra-interesting day at the WNBA draft.
The Aggies' twosome were the last two players in room among the 15 players invited to sit in ESPN's studio for the draft. Colson got out first, taken at No. 16 by the Connecticut Sun before she was traded to the New York Liberty about an hour after the draft ended.
Adams, the Most Outstanding Player in the women's Final Four in Indianapolis a week ago, was the last of the 15 players left in the studio waiting to be drafted on Monday. She was taken in the second round, with the 20th overall pick by the San Antonio Silver Stars.
"I tweeted her when we were the last two in the room and said 'Hey, Danielle if you're not busy, do you want to go get a bite to eat?'" Colson said. "Although most people might have been sad about the situation or bitter that they hadn't been picked yet, I wanted to be positive about the situation."
Adams was in the same frame of mind after her selection, happy that she gets to remain in Texas to continue her career. She is also excited to play with Big 12 rival Danielle Robinson with the Silver Stars. "I was a little worried when I didn't get picked in the first round, and I was getting anxious to see where I would go," Adams said. "But I've got a great team to play with. I've had to prove people wrong before and now I'll just have to prove them wrong again."
Colson is excited to go to New York, excited to play for a team where she might have a better opportunity to make the roster. "I'm just going to be grateful for the situation I was presented with," she said. "Even if I had been traded to every team in the league, I was going to be excited at the end of the day. This is an awesome opportunity, and not everyone playing women's college basketball gets to have this chance."
Colson said she had a brief opportunity to talk with Liberty head coach John Whisenant. "He was talking to me about the style of play, and how they like to play was to get after you on defense and convert on offense," she said. "He thinks I have a good chance, and I need to come in and work hard."
Sounds like what she did so well at A&M.
Colson said that she will do what she has to do to make the New York roster, admitting that she's a little nervous to be playing with Cappie Pondexter and joking that she'll "kiss their butts a little bit and wipe their sweat off the floor, off their face. I want to just learn from them."