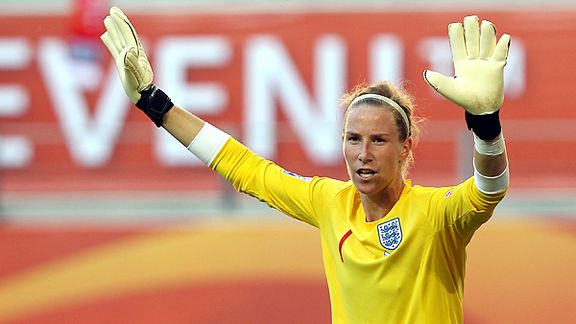 Martin Rose/Bongarts/Getty ImagesKaren Bardsley admits she was overwhelmed in her first start, a draw against Mexico, but she feels more comfortable now.
LEVERKUSEN, Germany -- Karen Bardsley can't remember exactly how old she was, perhaps 8 or 9, when the crazy realization dawned on her.
She grew up happily in Chino Hills, Calif., having Sunday roast dinners, watching "Monty Python" and "Fawlty Towers" with her dad Geoff and mom Kay, and receiving Manchester United gear for her birthday and Christmas.
Didn't everybody in California grow up with English-accented parents, drink black tea, follow proper English traditions, walk around in Man U kits and religiously watch BBC America?
"I had no idea I was different because it was all I knew," Bardsley said. "Kids in school told me my parents had accents, but I had no idea; they've always sounded that way to me. When you're a kid, and that's your life, it's a pretty big deal when you figure out that you're different when you want to fit in with everybody else.
"It took me a while to accept everything, but I am so grateful for the way my parents raised me. It's my life, it's unique, and I think it's so meaningful to me as I get older."
Bardsley continues to combine her U.S. and English sides in unique ways, playing for Team England in the 2011 FIFA Women's World Cup. As the starting goalie for England, she is under a lot of pressure in her first World Cup.
This is also her first major senior-level tournament as a starter for England. She had been a backup to established starter Rachel Brown but outplayed Brown in the months leading up to the World Cup and earned the main job.
Bardsley has been with England's national program since high school, choosing it over the U.S. system. It simply came down to familial pride: She wanted to honor her parents and family in England by representing their country. She went on to star at Cal State Fullerton and then jumped to the English senior squad.
Bardsley, 26, admits she was overwhelmed during England's first World Cup game against Mexico on June 27 in Wolfsburg. There she was, with her proud family in the stands, trying to stay focused in a potent swirl of color, sounds and pressure in a carnival-like atmosphere.
To make things worse, Mexico's Monica Ocampo started the scoring by launching a long-distance shot in the 33rd minute that surprised and eluded Bardsley. England fought to a 1-1 draw, but Bardsley still felt terrible about letting in a shaky goal.
The criticism rolled in from the English press and fans, and Bardsley stewed in her emotions. Trained as a graphic artist, she turns to sketching to release her thoughts. The sides of her soccer shoes and water bottle show evidence of her creativity.
"I don't know what I was expecting the World Cup to be like; I never thought to ask anybody, maybe I should have," Bardsley said. "I've never played in a stadium with, like, 20,000 watching. It was an intense sensory experience. I was oversaturated. I couldn't hear myself yelling to my teammates. And it's devastating to not be able to communicate like I am used to.
"I can admit it: I was just trying to keep myself together. I did, and it's been getting better every game. I feel better and stronger every time, and I think I am in a good place now."
Bardsley's game has been improving, much like the rest of Team England. The next group game was a 2-1 win over New Zealand in Dresden on July 1. And July 5 in Augsburg brought the highlight of Bardsley's tournament so far, a 2-0 shutout of Japan to win the group and advance to the quarterfinals. England will play France in Leverkusen on Saturday.
English coach Hope Powell understands Bardsley's growth curve and sees her strengthening.
"You really have to appreciate that this is her first major tournament at the senior level," Powell said. "I don't think people are aware of that. Maybe she had pre-tournament nerves. She's a levelheaded kid. Very bright, very intelligent. Really studies the game, takes notes in every debriefing session, which is fantastic. She's just striving to learn. I think she's just settled [in], and I hope that will continue."
Bardsley's American and English dual citizenship leads to some interesting quirks. She speaks with an accent, but it can waiver a little from England back to California depending on whom she is speaking with.
Is she adopting a Madonna-like hybrid of English and American accents?
"Oh no! Don't say that! I don't want to be pulling a Madonna, no way," Bardsley said, laughing. "I don't even know I am doing that. I'm trying to just talk like myself, but I guess I am picking up things depending on who I am talking to."
Bardsley counts herself lucky to have grown up in the U.S., as she feels there were more opportunities for her to play sports. She sees England evolving to provide more access and respect for female athletes and hopes this World Cup can speed things up.
"This is a huge opportunity to show what good entertainment our game is; we're playing top-notch football and should be respected," Bardsley said. "We talk sometimes about the impact we hope we're having, that little girls -- and boys -- at home are watching us on TV. We can be role models. I just want to thank everybody in England, and back home in the U.S., for their support and love. I feel it. We feel it. We're trying to do our best to honor that."