| | | |
| --- | --- | --- |
| | espnW.com: News & Opinion | |

Friday, July 29, 2011
The Enduro X factor

---
By Dory Benford


This year marks the debut of a new event: Moto Enduro X. It's an adrenaline-fueled, obstacle-filled race to the finish, in which it's not just about being the fastest or the one with the best bike. It's the toughest, strongest and most tenacious competitor who will win. EspnW sat down with X Games newbie Maria Forsberg, 24, to ask her how she got into riding Enduro, how she's prepping for Sunday's race and how new fans should watch Enduro X.

Watch the women's and men's Moto Enduro X races live Sunday from 9:15 to 11 p.m. ET on ESPN2, ESPN 3D and ESPN3.com. For race results and full event recaps, check out ESPN Action Sports.

espnW: How are you feeling about X Games this weekend?

Maria Forsberg: I am so freakin' excited, I don't even know … I was so excited when they called me. I've done a few Enduro X races in Vegas and I've done one in Oklahoma and I've practiced a bunch, so we'll see how it goes.
"

With Enduro X, you could be leading and get stuck in an obstacle, and go from first to dead last. I've seen it so many times in the pro class. You're doing really good and you have a good lead, and all of a sudden you're getting stuck and you go from first to last within seconds.

"

-- Maria Forsberg on the X Games' newest event
espnW: How is racing Enduro different from straight-up moto?
MF: Well, in Moto X there's no obstacles, just really big jumps, so it's really high speed, and you have to have a lot of guts to do the jumps. Enduro is obstacle after obstacle; there aren't breaks or straightaways. So it's really about choosing lines -- choosing good lines, like through the rock section and stuff.
espnW: Which do you like better?
MF: I like off-road better because it's more technical and I don't really like to jump. I like going through the trees. In Enduro X, you'll have sections where you might have to go over a log or an obstacle or up a big hill, and you might have to get off and push. To me, it's harder and I like that better.
espnW: What do you mean by "more technical"?
MF: Technical meaning obstacles. For example, you'll turn and corner, and you're in the trees, and you don't know what's right around that next corner. It might be up a big hill with a bunch of people stuck. Then you have to weave your way in and make your own line.
I also love Enduro because you know how in most sports you can say, "Oh, they're gonna win" -- there's a favorite. Like in track and field, if the leader is half a lap ahead, you pretty much know they're gonna win, you know? With Enduro X, you could be leading and get stuck in an obstacle, and go from first to dead last. I've seen it so many times in the pro class. You're doing really good and you have a good lead, and all of a sudden you're getting stuck and you go from first to last within seconds.
espnW: What skills do you need to succeed in this sport?
MF: For girls, it's gonna be strength and stamina, because it's such a cardio sport. You wouldn't think so, but you never get a break. So you have to go all the time, and girls usually don't have as much upper body strength as guys, so I think it's gonna be strength and cardio.
espnW: How are the men's and women's races different? Do men and women race differently?
MF: Well, the track's the same, but the guys are usually way faster than the girls. They're also taller, which helps, and stronger.
espnW: Why do you think the men's races are faster?
MF: It's because of their strength. It's kind of like anything, and I'm not trying to be sexist or anything, but if you have the best male basketball player play [against] the best female basketball player, the guy is going to be faster. In track and field, the 100-meter dash, the guys are always way faster than the girls.
For racing, it takes a lot of upper body strength to hold the bike up, and women don't have as much as men. And I'm not saying the girls aren't fast, by any means. They are really fast. But there is still a big difference between the fastest Moto X girl and the fastest Moto X guy. I would say men and women are pretty equal, technique-wise. The main difference is their strength.
espnW: What's your racing style?
MF: I would consider myself to be a pretty laid-back racer. I'm not super intense. There are some people who go out there and get all amped up and stuff, and I'm not one of those types. I'm pretty calm right before a race.
espnW: How are you prepping?
MF: I've been so excited since I got invited that I've been training harder than I ever have before. I'm working on stamina. I'm working on being fast out of the gate for the start. I've been riding on a very technical track at my buddy's house, and I've been riding with a bunch of different other people. So I feel pretty prepared.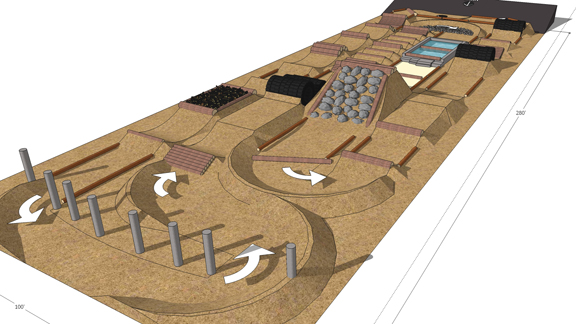 X Games 17/Schaefer Tracks The inaugural Enduro X course at the Staples Center includes classic elements like logs, rocks and water crossings.
espnW: Take me through a typical race day for you.
MF: I'll wake up in the morning and try to eat something good. Like yogurt or oatmeal or something. I don't have any weird rituals. I know a lot of people do, but I kind of just go with whatever I've got to work with. I'm most nervous when I'm sitting on the line, before they've thrown the flag -- when the race hasn't started, but they're going to any minute. During the actual race, I'm constantly thinking of how I can shave time. How I can go quicker, faster.
espnW: So how did you get into racing?
MF: My parents met racing, and that's how I got into it. I have a brother who is 2 1/2 years older, and he rides. He doesn't race nationally, but he races locally. My dad still races locally, too. My mom goes to all the races. She doesn't race anymore, but she used to.
espnW: Did you get to see your parents race?
MF: When I was younger, my dad and my brother and I all raced. My mom raced before she had us, but not so much after, so I never got to watch her race. It was fun, because we all got to watch each other and cheer each other on.
espnW: What was it like getting to watch your dad race?
MF: It was really cool to get to see my dad race. I think just like any kid, your dad is pretty much your hero and the coolest guy alive. The thing I've learned the most from my family, and the thing that's helped me the most, is to never give up. When I was younger, my parents would pay to enter me in races. Even as kids, we had a really good concept of money, so we knew how hard my dad worked during the week. It cost him money to enter my brother and me in races, so you didn't just quit. Even if you weren't doing good, you just had to finish.
espnW: How has your brother influenced your racing? Are you guys more competitive with each other or more supportive?
MF: We're supportive of each other. He's older, so I always looked up to him. I rode with him and his friends. He would always make me try new things. If we were trail riding, he would make me try a hill -- things like that. Even if I got stuck and needed help, he made me try it. That was really good, because it taught me how to how to be self-sufficient. I always give it my all.
espnW: How should fans watch the race on Sunday? Any tips?
MF: You want to watch the leader, obviously, but it's usually the people in the back who crash the most. A lot of times, the most exciting race is for last place. You know, they're trying to beat each other and they're going all out. There's a lot of crashing in Enduro X, so it's pretty fun and entertaining.
---