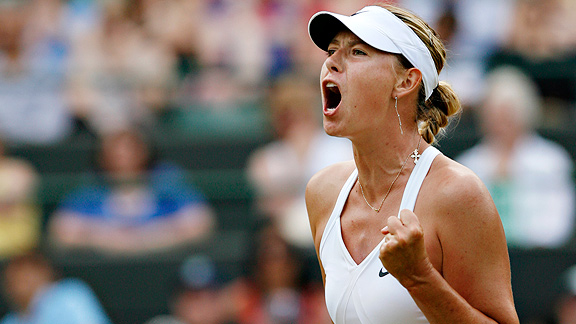 Ian Kington/Getty ImagesA resurgent Maria Sharapova, the 2006 U.S. Open champ, is enjoying her highest world ranking since her return from a 2008 shoulder injury. But Serena is still the favorite.
Sharapova's strong summer
Those hard-pressed to pick anyone besides Williams to win the Open would have to give Maria Sharapova at least an outside shot. A three-time Grand Slam champion who beat Williams to win Wimbledon in 2004 and won the U.S. Open in 2006, Sharapova is enjoying a resurgent summer -- the lopsided loss to Serena in Stanford notwithstanding. Sharapova reached the Wimbledon final, falling to Petra Kvitova, and outlasted Jelena Jankovic to capture the Western & Southern Open in Cincinnati on Aug. 21. Sharapova is No. 4 in the world entering the U.S. Open, her highest ranking since a shoulder injury knocked her out for nine months during 2008-09.