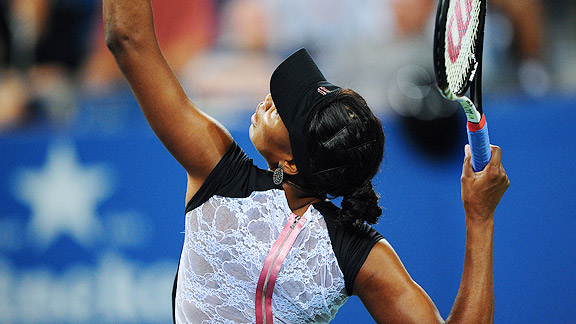 Emmanuel Dunand/AFP/Getty ImagesBefore she made headlines for withdrawing from the 2011 U.S. Open with an autoimmune disorder, Venus Williams turned heads with her lacy outfit.
Twelve years ago, Madison Keys picked up a tennis racket. Last week, the 16-year-old impressed the pundits by reaching the second round, perhaps offering a glimpse of the future of the American game with her powerful serve and groundstrokes.
The tale of how Keys took up the sport is already widely known in tennis circles. "I was 4, and I walked through my parents' bedroom. I think they were watching Wimbledon or something, and I decided I wanted Venus' dress," she recalled. "They told me if I played tennis they'd buy me a tennis dress. I said, 'All right, I'll try it.' I have been playing ever since."
The moral of the story? "I think it just kind of shows how important outfits are," quipped Keys.
Another young hopeful making an impression last week was 18-year-old Sloane Stephens, who reached the third round. "What do I like most about Venus?" Stephens said. "She's beautiful. I like how she's willing to take risks with her outfits. That's definitely something that most players won't do, so that's a step up."
Individual expression in an individual sport
Of all the sports that don't award style points, is there any that puts clothing as front and center as tennis? The reasons for this focus are both practical and cultural. Tennis is an individual sport, free from the constraints of uniforms. Its one-on-one, theatrical, combative nature encourages competitors to take full advantage of the opportunity for expression.
Ask any player: Tennis is as psychological as it is physical. The winner must establish her presence and impose her will on her opponent. Clothes may not make the player, but from Tracy Austin's pinafores to Serena Williams' catsuit, they can help define who the player is. In this era of big money, ratings and stadiums, clothes can establish a connection with the crowd.
Or not.
"I was watching a match. Two girls were playing dressed the same head to toe, both with blonde ponytails. And you couldn't tell who was who," said Bethanie Mattek-Sands, an American whose outrageous outfits have garnered her as much attention as her tennis. "I was like, 'OK, I never want that to happen to me.' And I don't think it has, so far."
At this year's U.S. Open, Mattek-Sands came on court in knee-high stars-and-stripes socks with stars-and-stripes eye black while wearing a one-sleeved shirt. It all began several years ago when Mattek-Sands' clothing sponsor decided not to renew her contract, prompting her to hit the street in search of on-court wear. The results have included leopard print and evening wear, making Mattek-Sands a cult figure on the tour -- and earning her new clothing contracts with Under Armour, Drymax Socks (which came up with the stars-and-stripes theme) and her eye black company.
[+] Enlarge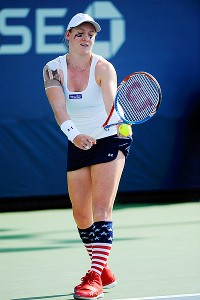 Patrick McDermott/Getty ImagesRanked No. 39, American Bethanie Mattek-Sands garners more attention for her outrageous get-ups than her tennis.
"It's really me. I'm not trying hard to force anything," Mattek-Sands said. "You know, I play that way. I like different shots, I play aggressive, I come to [the] net, try between-the-legs shots. And even off the court, I love shopping. I like finding new trends, like boutique stuff.
"I'm like that, I think, in my whole life. Most people see it out on the court."
She has even brought her own touch to the eye-black look, which she borrowed from her football-playing husband. There is now a line of Mattek-Sands leopard-print eye black.
"Tennis is cool in the fact that we kind of get to pick what we want to wear ... conservative or classic, go a little bit punk, or whatever," she said. "Tennis kind of has a name for being a little bit more stiff and conservative, and I'm kind of the opposite of that, so that's what I like to bring to it."
Few players have pushed the envelope like Mattek-Sands, but many of the big names draw on outside influences to create distinctive looks and announce their presence at a tournament. In addition to the catsuit, Serena Williams has worn a denim skirt and knee-high warmup boots for Nike. She has incorporated an actress theme into this year's outfits. The pink dress she would have worn at the French Open, for example, was designed to evoke Brigitte Bardot.
Then there is Serena's older sister Venus, who was grabbing more headlines for her clothes than her play until she announced that an energy-depleting autoimmune illness has been affecting her performance. Wearing her own EleVen brand has given her free rein to experiment with lace dresses and nude-colored undershorts, and she has produced some highly unconventional looks in the past couple of years. Maria Sharapova has had a slew of memorable Nike outfits, including an Audrey Hepburn-inspired dress at the U.S. Open and tuxedo and swan looks at Wimbledon.
During Grand Slams, the sideline chatter about what players are wearing can resemble the fashion critiques that take place on the Oscar red carpet. It's a level of attention that comparable women's sports, like golf, get noticeably less of.
Maybe it's simply that tennis is bigger, offering the status and the stage for such displays. Perhaps golf doesn't have as many Serenas, Venuses or Marias -- top players who have an interest in fashion and design and use their outfits to make a statement. Or many Mattek-Sandses, either.
"I'd do the same thing I do now," Mattek-Sands said, grinning at the possibilities of a turn on a country club course. "I think I'd go old school -- you know how they had the socks, argyle socks up to the knees with the [knickerbocker] pants."
(Newsflash: She's planning a little argyle for the tennis court next year.)