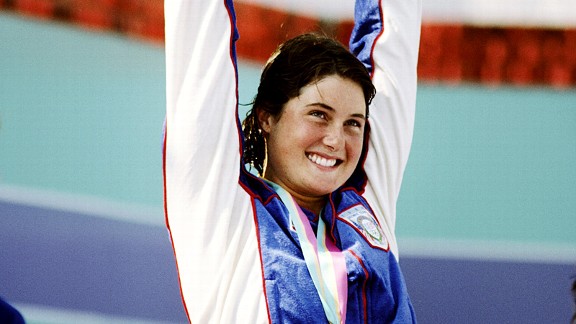 Tony Duffy/Getty Images
No. 32
Mary T. Meagher
Explaining an athlete's greatness can be tricky. And in the case of Mary T. Meagher, perhaps the greatest butterfly swimmer in history, it's nearly impossible. Her dominance was not borne of physical superiority (she was 5-foot-7, 128 pounds at her peak), but rather a deep-seated desire to perform -- one that no coach or teammate could bottle or define.
Known in the swimming world as "Madame Butterfly," Meagher won three gold medals at the 1984 Summer Olympics in Los Angeles and a bronze at the 1988 Seoul Games. But her defining moment came in August 1981, at the U.S. long course championships, when she set a pair of world records that would stand for nearly two decades. In the 100-meter butterfly, the 16-year-old Meagher knocked an incredible 1.33 seconds off her old world mark. And she was so dominant in the 200 fly, finishing nearly 10 meters in front of her nearest competitor and breaking her own record by nearly half a second, that Sports Illustrated would later recognize her swim as one of the greatest sports performances ever.
Cal-Berkeley coach Karen Moe Humphreys, herself an Olympic butterflyer, was in the stands at that 1981 meet in Brown Deer, Wis., when Meagher shocked the swimming world. "I remember standing up and saying, 'This is incredible; this is amazing,' " recalls Humphreys, who would soon recruit Meagher to Cal, where "T" won NCAA titles in each of her four years. "She nailed her starts, came up ahead, and then every stroke was a thing of beauty. And remember, I wasn't just watching as a swim fan; I was watching as someone who knew how to do what she was doing."
Meagher was born the 10th of 11 children into a strict Catholic family in Louisville, Ky. Discipline and structure reigned, with her parents demanding military-like precision from each child. In a family that large, there was a natural understanding that if you wanted attention, you needed to do something extraordinary. So Meagher did. "When you grow up in that kind of family, you have to do it all yourself," says former Cal teammate Ramey Stevens. "We would always talk about this. It was black and white, win or lose. Mary was either doing good or she was doing bad. So that carried over into the pool. Either she performed or she didn't. It was very simple to her."
And Meagher was maniacal in her preparation, often completing workouts as long as 1,600 meters, an exhausting distance for a butterflyer. She possessed a natural, rhythmic stroke from a young age, but her dominance came from a laser-like concentration that could tune out distractions. She trained obsessively, and could reach a purposeful place of self-absorption. During her Cal years, the rest of the team knew when not to invade Meagher's focused orbit.
"She took it personally, and you have to take it personally," Stevens says. "Because her worth came out of every race. The best swimmers are individuals. They're swimming for themselves, to prove something. And every time Mary swam, it seemed like she was proving something to herself. There was nobody else in her world during those moments."
Just an athlete chasing greatness.
-- Kate Fagan, espnW