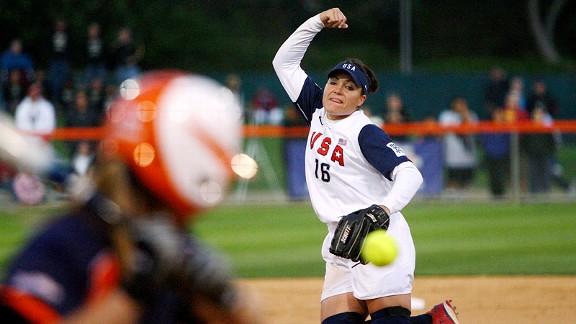 Dustin Snipes/Icon SMI
No. 18
Lisa Fernandez
After a trip to play in Japan during the prime of her softball career, Lisa Fernandez returned home to the U.S. and decided to overhaul her pitching and retool her grips -- a task akin to Tiger Woods rebuilding his golf swing.
Fernandez was nearly unhittable at the time, but she feared that batters in Japan, emerging as the main international rival to the U.S., might unlock some secret. And even the mere possibility of that was enough to push her.
"There was no player who worked harder than Lisa Fernandez," says Sue Enquist, her former coach at UCLA. "She will be the first one to tell you she wasn't granted huge gifts. But she had will and work ethic and stamina -- and a mental toughness unlike any I've ever seen in another player."
Softball has a rich history that predates the Title IX era. But Fernandez's talent as a pitcher and hitter, along with her tenacity as a competitor, helped make her synonymous with the sport at a time when it was popping up on TV screens and the international stage.
Born and raised in New York City, Fernandez moved to California in high school, then stayed there to play for UCLA, leading the Bruins to the national championship in 1990, as a freshman, and again in 1992. She went 93-7 during her four years in Westwood, including 74 shutouts and 11 no-hitters, earning national Player of the Year honors three times. As a junior, she was 29-0, with a 0.14 ERA. As a senior, she hit an NCAA-best .510, with 11 home runs and 45 RBI, playing third base when she wasn't pitching. (She would later return to UCLA as an assistant coach, where she is now in her 14th season.)
When softball made its Olympic debut at the 1996 Atlanta Games, Fernandez continued to shine, leading the Americans to gold while allowing just one run and four hits in 21 innings, with 31 strikeouts. Four years later, she dominated again, whiffing 25 batters in one game, an Olympic record, on the way to gold in Sydney. And in 2004, as in her two previous Games, she was in the pitcher's circle for the final out when Team USA captured gold in Athens; she also helped with her bat, going 12-for-22 over the fortnight.
"She had a penchant for winning," says longtime University of Hawaii coach Bob Coolen. "She could dazzle you with changeups or blow the ball by you with precision. She could hit, play third base. You name it, she did it."
As if softball fans needed any more proof of just how valuable she was, they got it in 2008, when the 37-year-old Fernandez didn't make the U.S. squad for the Beijing Games and the Americans came home with silver instead of gold. "I believe we lost that last Olympics because she wasn't there," Coolen says.
Although we'll never know for sure if he's right, counting on Lisa Fernandez was always a pretty good plan.
-- Graham Hays, ESPN.com
---
Lisa Fernandez won the Honda Award in 1991, '92 and '93 as the nation's top softball player. Click here for more on the awards.