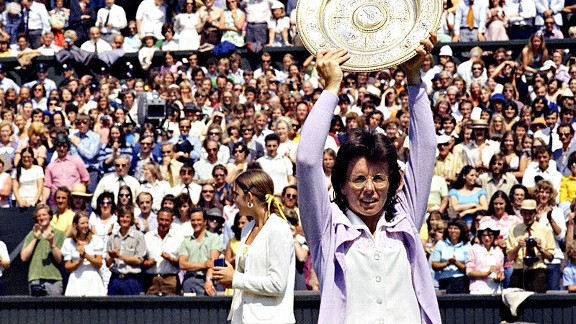 AP Photo
No. 11
Billie Jean King
It's impossible to talk about Billie Jean King without discussing a certain tennis match that took place on Sept. 20, 1973.
King, of course, played thousands of matches over her career, and won a vast majority of them, including six Wimbledon and four U.S. Open singles titles and 29 Grand Slam doubles and mixed doubles titles. She spent five years at No. 1, battling the likes of Martina Navratilova, Chris Evert and Margaret Court. But the Battle of the Sexes against Bobby Riggs in the Houston Astrodome was easily the most significant match of King's life.
She didn't go looking to take a stand. It was only after the 55-year-old Riggs, a three-time Grand Slam champ turned male chauvinistic hustler, had challenged and easily disposed of Court, the world's No. 1 female player, that King accepted the task. The pre-match festivities were hyped to a ridiculous degree. And the national fuss had the 29-year-old King worried that a poor showing would set back the feminist movement by decades.
All of which made her triumph more rich. King won handily, 6-4, 6-3, 6-3, humbling Riggs, educating men and empowering her gender.
"Most important perhaps for women everywhere, she convinced skeptics that a female athlete can survive pressure-filled situations and that men are as susceptible to nerves as women," wrote Neil Amdur of The New York Times.
Then again, King had been making her point for years. She won her first Wimbledon title in 1966 and her second the following year, before turning pro at the birth of the Open Era in 1968. So when she won Wimbledon yet again that summer, it was the first time she earned more than a trophy from the All-England Club. She took home 750 pounds; the men's champ, Rod Laver, pocketed 2,000.
It was a disparity King wouldn't forget. In 1970, she was one of nine players who broke from the tennis establishment. Accepting symbolic $1 contracts from promoter Gladys Heldman, they boycotted a tournament in which the female winner was set to receive one-eighth the prize money of the male winner. Their rebellion led to the development of the Virginia Slims Tour and, later, the Women's Tennis Association. In 1971, King was the first female athlete to earn $100,000 in a year, justifying the Virginia Slims slogan, "You've come a long way, baby!"
"The '70s were the perfect time for Billie Jean's leadership," says Pam Shriver, a 21-time Grand Slam doubles champ and now an ESPN analyst. "She was a great on-court champion, and the opportunity to dovetail with the feminist movement was perfect. She had the ideal personality; she embraced the challenge of gaining equality for women. Eventually, someone could have done it, but no one else in her era was capable of it."
In 1974, King founded the Women's Sports Foundation to better the lives of women through sports. In 1990, Life magazine named her one of the 100 most important Americans of the 20th century. And she has continued her fight into the 21st century, still very much a visible presence at age 68.
"Billie Jean has been so influential in helping women earn more in terms of respect, prize money and other opportunities," Shriver says. "Think of Maria Sharapova or Li Na in China. Commercial opportunities are huge for women tennis players, but women in all sports can tip a cap to Billie Jean."
Women out of sports, too.
-- Lindsay Berra, ESPN The Magazine