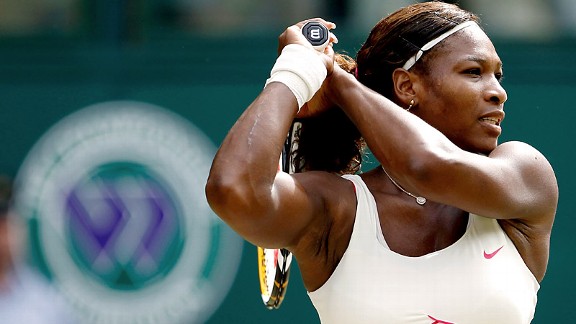 Matthew Stockman/Getty Images
No. 10
Serena Williams
She entered the 2007 Australian Open out of shape, ranked 81st in the world, and two years removed from her last tournament title. But Serena Williams didn't bother herself with such trivial details.
Instead, the unseeded but undeterred Williams proceeded to produce one of the most convincing displays in tennis history, gaining momentum and shedding weight with each round. Her extraordinary run culminated in the demolition of top-seeded Maria Sharapova, 6-1, 6-2, in the final, underscoring for the sports world that Williams was still the best women's player on the planet.
It's a position she has held for much of the past decade, if not always in the rankings, then definitely in the collective consciousness. "Some of her major finals, like that Australian, have been as good a quality as anybody has ever played," says Pam Shriver, herself a former top-10 player and now an ESPN analyst.
Serena, of course, grew up playing the game alongside older sister Venus in Compton, Calif., under the tutelage of their father, Richard. And it was the younger Williams who became the first of the siblings to claim a Grand Slam singles title when she won the 1999 U.S. Open at age 17. In 2002, she embarked on a Slam streak, winning the French Open, Wimbledon, the U.S. Open and the 2003 Australian Open. With the feat, dubbed the "Serena Slam," Williams became just the fifth woman in history to hold all four major titles at once -- and she did it by defeating her sister in each final.
"Their matches were never a thing of beauty, but I have a lot of appreciation for the way Serena got the job done more times than not," Shriver says of Serena's 6-2 career record against Venus in major finals. "The way she closed out the Serena Slam in Australia, under that great pressure, was pretty impressive."
Though injuries, surgeries and other setbacks -- most notably the 2003 murder of her half-sister Yetunde Price -- kept Williams off the court for extended stretches, she repeatedly returned to dominate women's tennis. In 2008, she won her third U.S. Open; in 2010, she won her fifth Australian Open and her fourth Wimbledon. The latter victory, her 13th in a major, moved her into sixth place on the all-time list, ahead of Billie Jean King.
Serena's success derives partially from the effectiveness of her serve, the best in the history of the women's game. "It's a very athletic, free-flowing motion that stands up to pressure," Shriver says. "She's been able to lean on it for a lot of free points in huge moments throughout her career."
Those huge moments also bring out the infamous Serena fire. Like some other tennis icons over the years (John McEnroe, Jimmy Connors), Williams is known for her occasionally over-the-top temper and her candor in news conferences. But fans eat it up. She is a glamorous red-carpet starlet whose cross-cultural appeal has made her one of the wealthiest female athletes in the world. She has won north of $36 million in career prize money -- a record in women's sports -- plus tens of millions in off-court earnings.
And 15 years since her Grand Slam debut, Williams is still the biggest draw in women's tennis. Although she hasn't won a major in two years (she missed a year of competition, from 2010 to '11, with health issues), at age 30 she remains a good bet to win every tournament she enters.
Her staying power is about more than just her talent. As she showed during that astounding run at the 2007 Aussie Open, Serena is, first and foremost, a ferocious competitor. "I think she'll be known for her intensity," Shriver says. "When she is at her most dominant, she might be the most intimidating player ever."
-- Abigail Lorge, espnW