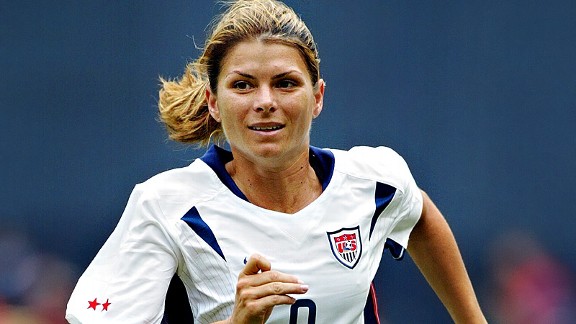 Ben Radford/Getty Images
No. 1
Mia Hamm
She was born in 1972. Of course she was.
The best women's soccer player in history came into the world the same year as Title IX, and her career is a shining example of the law's lasting benefits: the power bestowed on young girls when they're given a chance, and the gifts those empowered girls can in turn bequeath to the world.
Mia Hamm's career was indeed a gift -- to her sport, to her country and to her causes.
She helped put women's soccer on the map, and became the first global icon in women's team sports. She was talented. She was beautiful. But mostly, she won. A lot. Part of the first golden generation of U.S. players, Hamm appeared in the first four Women's World Cups, winning two of them -- including the mythic 1999 tourney on home soil. She also reaped gold in the 1996 and 2004 Summer Olympics.
For a player who relied so much on speed, Hamm played a relative eternity: 18 years with the national team, or "10 years longer than I thought I would," she once said. A true prodigy, she was the youngest woman ever to don the jersey of the U.S. senior squad, at age 15.
And she produced the entire time she was on the field. It took her 17 matches to net her first goal, but after that, she scored like clockwork, accumulating 158 international goals, more than any player ever, male or female. The best goal-scorers on hot streaks slot the ball once every other game; Hamm notched her record total in 275 appearances. (That number of games is itself incredible, and second-most in U.S. history, behind Kristine Lilly's astounding 352.) In one stretch from 1997-98, Hamm poured in 38 goals in 37 games.
But Hamm was no hog. Her 144 career assists are the most ever by an American player. "She always played with the idea of what it meant to be on a team," says Abby Wambach, who would eventually receive the torch from Hamm as national team striker. "Nothing mattered more to her than the team environment."
Of course, most fans remember something else. Hamm became an international celebrity because she put points on the board in spectacular fashion. Or, as her college coach at North Carolina, Anson Dorrance, once said, "When she gets the ball, you hold your breath."
More often than not, Hamm would then take that breath away. She possessed astonishing acceleration and made fearless runs at defenders. She also had the smarts and skills to create, with a quick juke or cutback, enough space for her hair-trigger shots. And goodness, what shots they were: violently struck missiles, with either foot, from any distance, swerving and screaming into the netting.
On those occasions when the ball didn't find the back of the net, Wambach says, "She was talking to herself and trying to correct her swing. She was a brainiac about the way the game should be played."
Hamm applied that perfectionism to all aspects of the game, and she expected everyone to compete as fiercely as she did. Her intense drive came from her well-traveled childhood, as the daughter of an Air Force father, when she tagged along behind her older brother Garrett and played all manner of games with and against the boys. (She started on her middle-school's tackle football squad.) And she cultivated that fire in Dorrance's demanding North Carolina program and with the national team.
"On the soccer field, you see her passion," former U.S. coach Tony DiCicco once said. "Her essence is about letting all her emotions be displayed, coupled with her incredible athletic abilities and her talent."
Hamm's emotions could unleash hell on halftime locker rooms and, sometimes, teammates. "She did have some tough words," Wambach says of her early days with Hamm on the Washington Freedom and the national team. "But she knew I could handle any kind of criticism."
In fact, Hamm's teammates fed off her fire, because they knew she was as committed to the team as anyone. Which made her emergence as the face of women's soccer such a struggle. Hamm hated the limelight even as it was thrust upon her in the latter half of the 1990s. She did shampoo ads and shoe ads and had a building named after her on the Nike campus, but she always tried to shift the media spotlight to other players and keep her private life, and even her personality, limited to a small circle of friends. Although she was a sarcastic jokester who cracked up teammates for two decades, she rarely showed that side in public. (And when she was divorced in 2001 from her college sweetheart, Marine helicopter pilot Christian Corry, many fans didn't know she was married.)
Eventually, though, Hamm handled her fame as she did her game: skillfully and successfully. She began to use her status to promote not herself, but her sport. "My motivation is not about personal gains," she once said. "I want to do as much as I can to get the sport out there."
Closer to home, the death of her brother Garrett in 1997, from a rare blood disorder, inspired her to start a charity that has raised hundreds of thousands of dollars for bone marrow transplant. And her marriage to Nomar Garciaparra in 2003 helped usher her into retirement the following year. But not before one more triumph: Hamm scored twice during the 2004 Athens Games, and her assist set up the winning overtime goal in the Olympic semifinal against Germany, setting the stage for a gold-medal exit from the sport.
In the end, she left the game not just a winner but a legend -- and a symbol of what women's sports can be.
-- Luke Cyphers, ESPN The Magazine
---
Mia Hamm won the Honda Award in 1993 and 1994 as the nation's top soccer player. Click here for more on the awards.