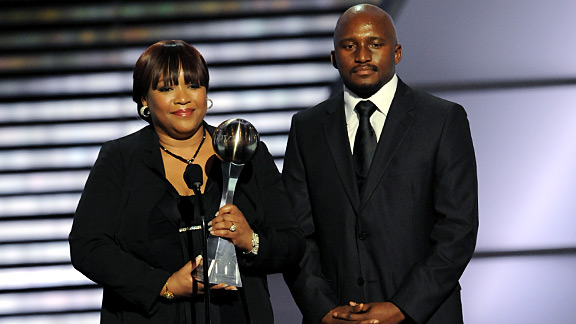 Nelson Mandela once said, "Sport has the power to unite people in a way that little else does. Sport can awaken hope where there was previously only despair."
One of his first acts as president was to bring the Rugby World Cup to South Africa in 1995, and while the national team, the Springboks, had always been the pride of white South Africa, they were also a symbol of oppression and apartheid to black South Africans. Mandela became the number one fan of the Springboks, unifying the country around the team.
At the final game, the chants of more than sixty thousand fans shouting- "NELSON! NELSON! NELSON!" - were but a whisper in comparison to the thunderous cry of millions around the country who had been united by one team, one man, and one simple, but courageous act.
Arthur Ashe Award
The Ashe Award is one of the most prestigious in sports. Recipients reflect the spirit of Arthur Ashe, possessing strength in the face of adversity, courage in the face of peril and the willingness to stand up for their beliefs no matter what the cost. The award is inspired by the life that Ashe lived, using his fame and stature to advocate for human rights, although, at the time, those positions may have been unpopular and were often controversial. From speaking out against apartheid in South Africa to revealing to the world his struggle with AIDS, Ashe never backed away from a difficult issue, even though doing so would have been easier. Winners of the Ashe Award strive to carry on Ashe's legacy in their own lives - - inspired by those who do so each day.