2013 ESPYS Gift Bag
Updated:
July 17, 2013, 3:12 AM ET
ESPN.com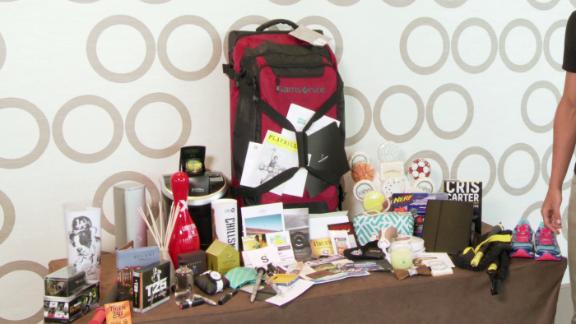 ESPYS Gift Bags
Chandler Parsons takes us through the gift bags given to the presenters and nominees at the 2013 ESPYS.
ESPYS Gift Bags
Sure, we care which athlete took home a particular award. Still, the great concern is what the nominees are taking home in their gift bag. You can get your first look here.

What They Get: Introductory Spa Package, including a Relaxing Steam, Silver Massage, Essential Facial and Tea & Cookies.
Amadeus best day spa: Allure, Citysearch, MyfoxLA, Stylegroup, LA Times, Angelino, featured: Vogue, Glamour, In-Style. "Best Day Spa" LA Times Reader's Poll 2011 & 2012
---

What They Get: VIP treatment through the aiport with Five Star Service℠ assists for two at LAX or JFK.
American Airlines serves more than 260 airports in more than 50 countries and territories with more than 3,500 daily flights worldwide.
---

What They Get: A gift certificate for a new pair of kicks from ASICS! Visit www.asics.com to explore their product selection and learn more about their award-winning shoes.
ASICS America is a leading designer and manufacturer of award-winning athletic footwear, apparel and accessories.
---

What They Get: Two-night stay in a fabulous Aulani Resort villa.
Aulani, a Disney Resort & Spa, is an unforgettable dream destination in Hawaii - a true paradise with a touch of magic.
---

What They Get: A gift certificate for a two-night stay in a luxury yurt at Summit Mountain Lodge and a customized guided tour adventure for two.
Awesome Adventures offers off-road 4x4 tours, kayaking, rappelling, ropes courses, ziplines, river trips and more in the Las Vegas and southern Utah region.
---

What They Get: Get an hour's worth of results in 25 minutes a day! Trainer Shaun T (creator of INSANITY) gives you everything you need and nothing you don't.
FOCUS T25 by Beachbody - the company that created premium products like P90X and INSANITY - enjoy your great results!
---

What They Get: Mascara, lipstick and a gift certificate.
bellapierre Cosmetics: the next generation of make-up, containing 100% pure minerals for flawless, natural looks and vibrant color options on every skin tone and type.
---

What They Get: One pair of Italian calf socks in each bag with a gift certificate.
BLACKSOCKS is a luxury online service that delivers Italian-made men's socks by sockscription. Designed to alleviate sock headaches, socks arrive automatically all year round.
---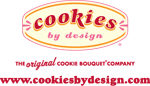 What They Get: Custom ESPYS cookie and a gift certificate for a cookie basket.
Cookies by Design, inventor of the Original Cookie Bouquet™, offers customizable, hand-decorated cookie bouquets. Celebrating its 30th anniversary, the company has 120 U.S. locations.
---

What They Get: A custom Corkcicle, Chillsner and a gift certificate.
Corkcicle makes cool things that keep their cool. Drinking warm beer or wine is never a good sport. Enjoy your drinks in style with Corkcicle.
---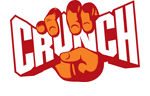 What They Get: One year membership.
Crunch is a health club chain with a philosophy of 'No Judgments' and continues to lead the fitness industry in fusing fitness and entertainment.
---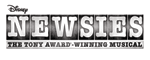 What They Get: Two tickets to the musical, NEWSIES.
Winner of the 2012 Tony Awards® for Best Score and Best Choreography, NEWSIES is an inspiring New York musical you don't want to miss.
---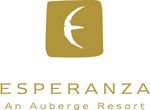 What They Get: A complimentary two-night stay in a luxurious ocean-view Casita, daily breakfast for two and one dinner for two at Cocina del Mar and a special welcome amenity upon arrival.
Esperanza, an Auberge Resort, encompasses a 57-room resort, 60 privately owned villas, 36 private residences, a full-service spa and signature dining outlets.
---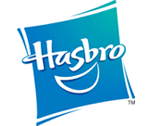 What They Get: NERF N-STRIKE ELITE FIRESTRIKE Blaster and $150 gift certificate for more great Hasbro toys and games.
Hasbro, Inc. is dedicated to fulfilling children and families fundamental need fo rplay through world-class brands like TRANSFORMERS, MONOPOLY, PLAY-DOH, MY LITTLE PONY, NERF and LITTLEST PET SHOP.
---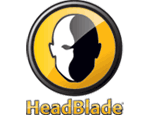 What They Get: One Limited Edition S4 Shark, plus a gift certificate for accessories and blades.
Headblade - razors and products made specifically for head shavers. Driven by design and the desire for the perfect head shaving experience.
---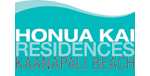 What They Get: Two-night stay in a two-bedroom ocean view suite.
Honua Kai Resort & Spa is a whole-ownership resort on Ka'anapali Beach, Maui with 628 luxury oceanfront condominium homes ranging from studio to three bedrooms.
---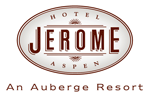 What They Get: A complimentary three-night stay in a one-bedroom suite, daily breakfast and one lunch for two at the J-Bar and one dinner for two at the resort's signature restaurant, Prospect.
Hotel Jerome, an Auberge Resort in Aspen, Colorado, began a new chapter in its storied history when it unveiled an extensive renovation last winter.
---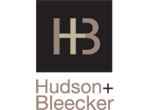 What They Get: Dopp Kit or Cosmetic Case and gift certificate.
Hudson+Bleecker is a collection of luxury + chic travel and lifestyle accessories. Known for its signature prints, Hudson + Bleecker brings modern luxury to travel essentials.
---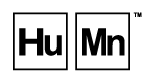 What They Get: The HuMn Wallet 2 and the MINI wallet.
HuMn Design creates modern, slim, RFID secure wallets that make it easy to carry everything you need, anywhere you need to go.
---
What They Get: Cris Carter's new book Going Deep, and a gift certificate for seven additional books.
With an accessible and enlightened approach, former wide receiver Cris Carter and ESPN journalist Jeffri Chadiha chronicle how the position exploded in the NFL.
---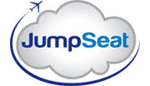 What They Get: Private FLITE/JumpSeat gift card and a custom ESPYS money clip.
A peer-to-peer private-jet sharing community for wealth-minded individuals who enjoy luxury travel and lifestyle, yet are savvy, social and fiscally responsible.
---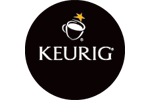 What They Get: Keurig® Vue® V700 Brewing System, including Keurig® Vue™ Pack Carousel and four boxes of Keurig® Vue® Packs.
From the leader in single cup brewing, the Keurig® Vue® V700 Brewing System gives users the ability to brew stronger, bigger and hotter beverages.
---

What They Get: A gift certificate and a bowling pin.
With multiple locations across the country, Lucky Strike is the high-energy party spot with state-of-the-art bowling, full-service bar and dining.
---
What They Get: Gift certificate for The Melon Headband and laser engraved aluminium badge.
Melon is taking brain research out of the lab and into everyday life with wearable technology products and apps. Live better through Understood Self.
---

What They Get: A gift certificate for a life-logging camera.
The Memoto Camera is designed to let you capture your unique moments unobtrusively and intelligently, giving you a searchable and sharable life log.
---

What They Get: A two-hour sailing lesson.
Offsore Sailing School, founded in 1964, teaches beginner, intermediate and advanced sailing, cruising and racing courses in Florida, the Caribbean, Maryland, New York and New Jersey.
---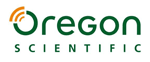 What They Get: An ATC Chameleon Action Camera.
Oregon Scientific offers six families of products, ranging from youth & learning to sports & fitness. Oregon Scientific's full line can be found on their website.
---

What They Get: Annual Golf Membership and one round of golf.
Preferred Golf, a program of Preferred Hotel Group, presents VIP access and complimentary golf to members at 70 of the world's finest golf resorts.
---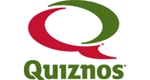 What They Get: A gift card.
Quiznos, home of the toasted sub, toasts the elite taste buds of esteemed guests at The 2013 ESPYS Awards.
---

What They Get: An iLight Spa product.
Remington offers a variety of innovative personal care products including an intense-pulsed light hair removal system, iLight, for at-home, long-lasting results.
---

What They Get: A Best of Class men's tie.
Robert Talbott, Inc. is an American purveyor of luxury apparel and accessories for men and women based in Monterey, California.
---

What They Get: Gift certificate for one scarf, gift certificate for a custom pet portrait, signed limited-edition 9x12 print of LA Bulldog and luxury titanium mirror-compact.
Born in Los Angeles, Rocky & James was created to bring the world a mix of edge and elegance for dog lovers while still giving back.
---

What They Get: A Maneuver 32" Spinner Duffel.
Samsonite is the worldwide leader in superior travel bags, luggage and accessories combining notable style with the latest design technology and the utmost attention to quality and durability.
---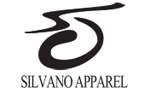 What They Get: A gift card for glasses on www.silvanoapparel.com.
Silvano Apparel is a leading designer of cutting edge accessories that focuses on the fashion conscious consumer that demands exclusivity, originality and comfortable functionality.
---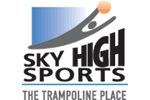 What They Get: A punch card for ten jumps and a punch card for ten AlRobics fitness classes.
The leading brand in bouncy fun and fitness! Trampoline dodgeball, AlRobics fitness classes, super-size foam pit, birthday parties and more! 16 U.S. locations.
---

What They Get: A WanderFolio Luxe iPad case and iPhone5 or Samsung Galaxy S4 phone case.
Speck (www.speckproducts.com) is a leader in designing well-crafted cases that go beyond protection to complement your favorite gadgets.
---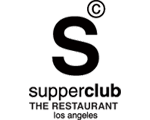 What They Get: Dinner for two at Supperclub The Restaurant.
Supperclub the restaurant offers a four-course prix fixe globally inspired menu accompanied by breath-taking artistic performances. Celebrate artfully.
---

What They Get: A gift certificate for a complimentary round trip experience on Surf Air.
Surf Air is an all-you-can-fly private air travel membership that provides business and leisure travelers with an exclusive, hassle-free experience.
---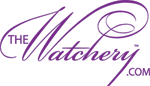 What They Get: Red Line and a_line watches.
TheWatchery.com offers genuine, luxury brand watches at substantial discounts to the manufacturer's suggested retail price. Breitling, Tag Heuer, Movado, Cartier, MOMO, Patek Philippe and more.
---
What They Get: Muscle Care Kit: 22" Tiger Tail, 18" Tiger Tail, Go Pro, To-Go, Tiger Ball and Knotty Tiger.
Really awesome massage tools from Tiger Tail USA! Trusted by million-dollar muscles. Relieves sore muscles - fast!
---

What They Get: Trapp & Evoque candles and diffusers.
At Trapp & Evoque, it's all about the fragrance. That's why we guarantee every product will fill a room with fragrance within minutes.
---

What They Get: A gift certificate for a Rip Trainer.
TRX is changing how athletes, fitness professionals and the U.S. military exercise by offering an array of body weight-based training products, education and specialized training programs.
---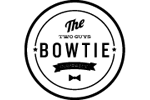 What They Get: A wooden bow tie and gift certificate.
The Two Guys Bow Tie Co. is an innovative and distinctive brand that has reinvented the classic bow tie, giving old school craftsmanship modern style.
---

What They Get: A gift certificate for a teeth whitening kit.
Our comprehensive cosmetic, restorative and preventive care includes Zoom, Invisalign, porcelain veneers, dental implants, metal-free restorations, digital x-rays and dental lasers.
---

What They Get: One month free of the Z-Pass and a subscription for 10 issues of Men's Fitness and 12 issues of Shape Magazine.
Zinio delivers the ultimate digital magazine experience! Connect with the stories that shape history, the in-depth analysis and coverage you trust, from the magazines that matter to you. To learn more, visit www.zinio.com.
---