Hopkins lends a hand ahead of Philly fight card
By Franklin McNeil
ESPN.com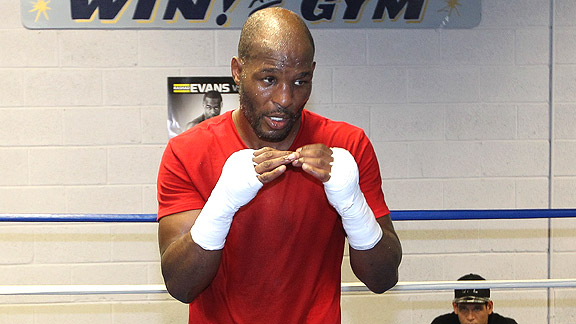 Ed Mulholland/ESPN.comBefore Tito Ortiz and Dan Henderson, there was (and still is) ageless wonder Bernard Hopkins.
PHILADELPHIA -- Several of the highest-profile fighters set to compete Saturday night at UFC 133 participated in an open workout at Joe Hand Boxing Gym -- one of the top gyms in this city that also happens to be the home of WBC light heavyweight champion Bernard Hopkins.
[+] Enlarge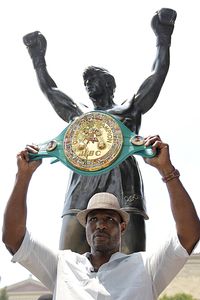 AP Photo/Matt RourkeStep aside, Rocky: Bernard Hopkins is the face of Philly's fighting heritage.
Hopkins was on hand to witness the open workouts, but it didn't take long for the fighters to express their admiration of the surefire Hall of Fame boxer.
Former UFC light heavyweight titleholder Rashad Evans, a longtime Hopkins admirer, used the opportunity to gain a few boxing tips.
"I'm a big Bernard Hopkins fan, so I was asking him about using the right hand," said Evans, who will face Tito Ortiz in Saturday's main event (pay-per-view, 9 ET). "He has the most dangerous, fastest, deadliest right hand, so I asked him how he sets it up and where he threw it from."
Middleweight contender Vitor Belfort could hardly contain his emotions when meeting the man whose career he has followed for many years.
Boxing is a major part of Belfort's mixed martial arts game, and Hopkins' fighting style has had a huge influence on it.
"It's great to see a guy who is 46 years old inspire -- not just my generation," Belfort said. "He's the type of guy I admire. He's part of the past; he's part of the present; and he's part of the future -- the same thing I am for UFC.
Follow us on Twitter
Don't miss a moment of the latest MMA coverage from around the world. Follow us on Twitter and stay informed. Join »
"I started very young. I came to UFC at 19 years old. My first world championship, I was 19 years old. So I'm part of the past, a part of the present and for sure will be part of the future."
Ortiz was all smiles while taking pictures with Hopkins. Afterward, he gushed about his improved boxing skills, which he's eager to show off against Evans.
"My boxing skills are something I've really wanted to focus on," Ortiz said. "I want to be able to knock some people out.
"I was able to hit [Ryan] Bader with a good right, a hooker-cut [hybrid hook-uppercut].
[+] Enlarge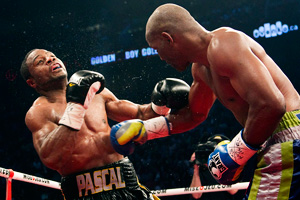 AP Photo/The Canadian Press/Ryan RemiorzBern victim: Bernard Hopkins' right hand has been known to cause drowsiness.
"It's just one of those things; it's a learning process. My job is fighting, so I'm going to learn how to punch and knock people out."
Ortiz might be confident in his boxing skills, but Hopkins likes what he sees in Evans. The boxing champion wasn't ready to give ESPN.com a prediction, but he believes it will take more than a well-placed right hand to finish Evans.
"I know a little bit about [Rashad Evans]. I like his heart and the things I've seen over his career," Hopkins told ESPN.com. "But this isn't a fight where you can say definitely one guy or the next guy is going to win.
"This is a fight that is going to take a lot of endurance. It's going to take a lot of who does the right thing, and who does the wrong thing will lose."
Time off does Brown's body good
It wasn't very long ago that Mike Thomas Brown sat atop the featherweight world. In November 2008, he dominated Urijah Faber to capture the WEC 145-pound title. He needed just one round to submit Leonard Garcia in March 2009.
UFC 133

Get ESPN.com's full coverage of Saturday's UFC 133 event.
Topic page
And three months later, Brown held off Faber to retain his crown. It seemed he would rule the featherweight division for a long time to come.
Then Brown ran into Jose Aldo, and his mixed martial arts world was turned upside down. Brown has struggled since losing his belt to Aldo in November 2009. He has lost three of his past five fights and two in a row. But Brown expects to get back on the winning track Saturday night at UFC 133 against Nam Phan.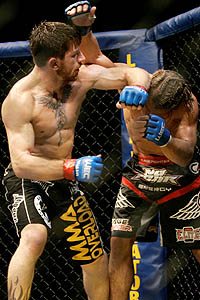 AP Photo/Jeff ChiuAfter some time off, Mike Brown feels ready to scale the same heights he reached two years ago.
"I've lost a couple of fights, so I haven't felt that feeling [of winning] in a while," Brown told ESPN.com. "I want it bad.
"I am taking care of my body better. I was sparring too much. I was sparring every day. I was accumulating a lot of injuries, overtraining. I've taken a step back."
After being out of the Octagon for seven months, Brown (24-8) is well-rested and feels great mentally and physically. He's even talking about regaining his crown.
"I definitely needed time off," Brown said. "I think I had six fights in 14 months. I needed some rest.
"I wasn't taking time off between camps to learn or to heal my body. This time, I took my time, had surgery [to repair a finger on his left hand], healed up, started strength and conditioning early, then gradually got into camp and then had a strong 10 weeks. I didn't kill myself.
"This is not a sport you want to be in if you're not doing well. I think I can be champion again. And if things go right, I will."

Ortiz: Fight now, vacation later!

UFC 133 By The Numbers
Notable Events in UFC 205-lb Title Picture
May 2010 - Evans def. Quinton Jackson in No. 1 contender bout
June 2010 - Champion Mauricio Rua undergoes knee surgery
Feb. 5 - Evans withdraws from title bout with knee injury
March 19 - Jon Jones def. Rua for LHW title
April 25 - Jones withdraws from title bout with thumb injury
July 12 - Phil Davis withdraws from bout vs. Evans with an injury
Aug. 6 - Evans vs. Ortiz
Sept. 24 - Jones vs. Jackson for LHW title
Tito Ortiz Shortest Layoffs Since 1998
| | | |
| --- | --- | --- |
| Stretch | Days | Result |
| 1998-99 | 31 | W, Jerry Bohlander |
| 2011 | 35 | ?, Rashad Evans |
| 2000-01 | 69 | W, Evan Tanner |
Most Wins at 205 Pounds In UFC History
Chuck Liddell
16
Tito Ortiz
14
Rashad Evans
9*
*Tied with 3 others
Most Wins at 205 Pounds
Since TUF 2 Finale
Rashad Evans*
9
Matt Hamill
9
Lyoto Machida
9
Jon Jones
7
Quinton Jackson
7
*Made debut at TUF 2 Finale
Most Losses in UFC History

Mendes On Fighting Career
Gross Point Blank: Tate, Mendes, more
Chad Mendes speaks about fighting Rani Yahya, what led him to MMA, his motivations as a competitor and training at Team Alpha Male

Quotables
Ortiz
"[Rashad] felt weak. He didn't feel like a light heavyweight. He felt like a 185-pounder. Rashad didn't feel that strong. Let's see if he's gotten any stronger." -- Tito Ortiz, on the strength difference between himself and Evans in their first fight
Evans
"I'm not going in there thinking that I'm fighting the same Tito Ortiz I fought back then. There are some areas he got better in, and some where he got worse." -- Rashad Evans, on his rematch with Tito Ortiz
Mendes
"If I get out there and I KO him or submit [him], that's a big statement, not only to myself and the fans, but to Dana [White] and the UFC. I'm definitely looking for a big finish in this fight."-- Chad Mendes, on impressing his fans and his boss
Hopkins
"There is a lot at stake in this fight [Evans-Ortiz 2]. And when you want to prove that you are the best, you will go all out." -- Bernard Hopkins, on what Ortiz and Evans will need to do to win Saturday