New breed of welterweights get chance to shine
A new era in the UFC welterweight division is upon us.
Even if Georges St-Pierre someday returns to the weight class he dominated for so long, this division no longer revolves around one man. Six welterweights are set to compete at UFC 171 in Dallas, all of whom are fully capable of holding the belt.
It starts with Johny Hendricks (15-2) and Robbie Lawler (22-9), who meet in the main event for the UFC title St-Pierre vacated late last year. A meeting between a former two-time NCAA Division I wrestling champion and a 13-year veteran with 18 knockouts.
[+] Enlarge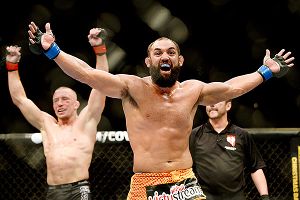 Al Powers/ESPNJohny Hendricks, with a victory over Robbie Lawler on Saturday, get his chance to once and for all ascend the top of the UFC's welterweight ladder.
Right behind is Carlos Condit (29-7) and Tyron Woodley (12-2) -- a relentless kickboxer with dangerous submissions against a former collegiate wrestler with lightweight-type speed.
To round it out, Hector Lombard (33-4-1) meets Jake Shields (29-6-1) in a matchup between an Olympic-level Judoka with knockout power and one of the most decorated, intelligent and tricky fighters on the entire UFC roster.
St-Pierre is more than welcome to return if and when he ever wants to, but the UFC's welterweight class certainly isn't boring without him.
---
MAIN EVENT: VACANT WELTERWEIGHT CHAMPIONSHIP
Breakdown: There will be plenty of talk about left hands, knockout power and Lawler's resurgence as a welterweight.
Let's not forget another major piece of this matchup, though -- the two NCAA Division-I wrestling championships on Hendricks' resume.
As it always does, Hendricks' wrestling will have a massive impact on this fight. Even if Lawler defends every takedown Hendricks attempts (I don't think he will), the constant threat of them will influence how comfortable he is on his feet.
Expect Hendricks to be active. He'll want to push Lawler backward -- doing so drains some of his power and, ideally, puts him on the fence where he's easier to take down. Lawler isn't dangerous off his back in terms of submissions, but he's good at protecting himself and hitting sweeps.
Lawler has one of the best "second gears" in the sport. In other words, when he lets it go and you can tell he's feeling it, he's exceptionally dangerous. His confidence level will be something to monitor in this fight.
Hendricks has a solid chin, however, as well as great composure. If he does get hit, unless he's basically out, I don't see him panicking and shooting a weak double that Lawler sprawls on. Hendricks will react well to getting hit, even by Lawler.
Prediction: Might seem counterintuitive against a knockout threat, but I expect Hendricks to set a high pace, similar to how he approached Carlos Condit.
Jabs, level changes, straight lefts (of course) and if Lawler retreats to the fence, drop down for the takedown. Lawler isn't going to lose without getting in his share of offense, but I think Hendricks imposes his will. HENDRICKS BY DECISION.
---
CO-MAIN EVENT: WELTERWEIGHTS
Breakdown: A wrestling pedigree helped Woodley get his career off the ground, but it has been his striking that has given opponents fits in recent fights.
Josh Koscheck went to Woodley after they fought in November and said something to the effect of, "You're just so fast." And it's true. It's hard not to be enamored by his power, but upon closer look, it's his hand speed that's truly impressive.
Condit can't match Woodley in raw athleticism, but you still favor him on the feet because of technique. And his constant activity is going to give Woodley problems.
Woodley loves to level change and come upstairs with the right hand. He'll throw it down the middle coming forward and over the top during an exchange. Previous opponents, however, have had success shutting him down with feints. As dynamic as Woodley's right hand is, he has had some trouble getting in the groove and throwing it.
Will he wrestle? He has always looked supremely confident from top position. Condit's guard is outstanding, but I doubt Woodley will avoid it. If he burns energy on busted takedown attempts though, that would be problematic.
Prediction: Woodley is the definition of dangerous right now. He wanted this fight because, in his head, he knows he can win it. He says he's hungrier than anybody in the sport right now, and I tend to believe him.
Woodley will be at the pinnacle of his game. Is that enough to beat Condit? Anybody who tells you they know for sure is a liar. Woodley's speed terrifies me, but I think Condit will have a plan to deal with it. CONDIT BY THIRD-ROUND TKO.
ESPN Staff Writer
MMA columnist for ESPN.com
Analyst for "MMA Live"
Covered MMA for Las Vegas Sun
Brett's Picks
FIGHT OF THE NIGHT
Johny Hendricks vs. Robbie Lawler: A surprise pick, with Condit and Diego Sanchez on the card, but I see it being special.
KNOCKOUT OF THE NIGHT
Hector Lombard vs. Jake Shields: Shields is a guy you never want to bet against, and he could beat Lombard. If he loses, though, it's likely by KO.
BIGGEST STORYLINE
Lawler, Woodley and Lombard: All top dogs at 170 pounds and all members of American Top Team. Could this be another teammate title fight?
BIGGEST QUESTION
Tyron Woodley: How good is Woodley? He has shown flashes of elite-level talent, now it's time to really deliver on it. If Condit blows by him, it might be a minute before he gets an opportunity like this again.
ON THE HOT SEAT
Jake Shields: He has stated he believes this is the last fight on his contract, which makes it a big one. Due to his non-fan-friendly style, pressure is always on him to win. This fight could mean a lot in terms of his future.
ONE TO WATCH
Dennis Bermudez: He typically delivers on excitement and has been steadily improving since coming off "The Ultimate Fighter" in 2011. Jimy Hettes is a tricky opponent.
By The Numbers
5
This is the fifth consecutive card for Condit that he will be in the main event or co-main event. Over his nine-fight UFC career, he has been in that position six times. It is Woodley's first time in the co-main event slot of a UFC event.
6
Since the start of 2011, Hendricks has won six performance bonuses, tied for second most in the welterweight division. Hendricks has won two fight-of-the-night bonuses and one for knockout of the night in his past three fights.
7
Either Hendricks or Lawler will become the seventh undisputed welterweight champion in UFC history. Since 1998, the following men have held the title: Pat Miletich, Carlos Newton, Hughes (twice), Penn, St-Pierre (twice) and Matt Serra.
32
Lawler has outlanded opponents 81-49 in significant strikes during his three-fight win streak since returning to the UFC, a difference of 32 significant strikes. Lawler is 3-7 in UFC/Strikeforce bouts in which he is outlanded in significant strikes.
36
In 36 fights, Condit has never been stopped by KO or TKO. Woodley has won three fights by KO/TKO, including both of his UFC wins.