Jones tangles with hard-punching Teixeira
UFC light heavyweight champion Jon Jones is fighting Glover Teixeira on Saturday at UFC 172 in Baltimore.
That's Glover Teixeira -- also known as "not Alexander Gustafsson" -- although, few seem interested in acknowledging that.
Jones (19-1) will seek his seventh title defense against Teixeira, a man who hasn't lost in 20 consecutive professional fights. Sounds intriguing enough.
The thing is, nobody seems to be talking about it. When it comes to Jones, everyone is hung up on what happened in his last fight -- a narrow unanimous-decision win over Gustafsson in September, which some felt should have gone the other way.
Jones doesn't see controversy in the scoring of that fight -- and that's made it easier for him to move on from it. Had he felt he lost, Jones says he would have admitted it and immediately asked the UFC to face Gustafsson again. That just wasn't the case.
[+] Enlarge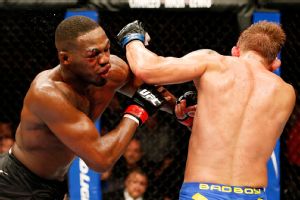 Josh Hedges/Zuffa LLC/Getty ImagesJon Jones found himself in the fight of his life last September against Alexander Gustafsson.
"Once I got out of the hospital [after the Gustafsson fight], I went to my hotel and searched the Internet for the fight," Jones said. "I found it and literally that morning, with no sleep and stitches in my eye, watched it about five times.
"I looked at it and said, 'I won. I won Rounds 2, 4 and 5. I won.' I made up my mind right then and there, 'Why would I give someone a rematch I just beat?' That doesn't benefit me at all. Yes, it was my closest match, but I won.
"If I honestly felt I had lost, there would be no question [about a rematch]. I wouldn't even want the belt. I would have made it publicly known that I didn't want the belt. But I won."
Jones admits he knew he was in the fight of his career heading into the later rounds against Gustafsson. How could he not? The bout looked nothing like Jones' previous five title defenses. At the time, he hoped that wouldn't hurt him on the scorecards.
"I knew I had been taken down and I'd never been taken down before," Jones said. "I hoped the judges weren't overthinking it. I knew I was cut and I'd never been cut before.
"There were a lot of things happening in the fight that had never happened and I was just hoping the judges weren't looking at the fight as a fan and overreacting. They kept their composure as judges. They said, 'I've never seen Jon like this before but let's judge what's actually happening.'"
---
MAIN EVENT: LIGHT HEAVYWEIGHT CHAMPIONSHIP
Breakdown: Teixeira has won 20 consecutive professional fights. You know what that tells us? He knows how to defend himself.
Any offensive genius can rip off a win streak. Winning 20 fights in a row requires, to put it simply, survival. Teixeira does that. He sees punches well, defends takedowns and submissions and -- this never hurts -- has an iron chin.
Teixeira is a big, powerful striker, but the bread and butter of his career has actually been tied to his grappling. He commits hard on mostly single-leg takedowns. He'll ground and pound, but the big guy also likes to pass guard and hunt submissions.
The challenge, as it always is for a Jones opponent, will be getting inside that 84.5-inch wingspan. One thing Teixeira has going for him in that respect is that he doesn't reach. He's short and concise with his combinations and has a deadly left hook.
Simply reaching Jones with punches can be a tall task. Consistently getting to the inside and forcing him into a close-quarters fight ... no one has really done that. Teixeira will need to become the first if he is to win this.
Prediction: When Teixeira lands a punch, everyone in the arena knows it. There is a noticeable reaction by the person absorbing it. In other words, he hits very hard.
How does he navigate through Jones' array of kicks, elbows and movement, though? As much horsepower as that single-leg takedown of his has, it won't get Jones down. Not consistently. Teixeira isn't going to go quietly. He'll stand his ground, but I don't think he'll ever make it truly competitive. JONES VIA FOURTH-ROUND TKO.
---
CO-MAIN EVENT: LIGHT HEAVYWEIGHTS
Breakdown: Johnson has looked good since abandoning the lighter weight classes of 170 and 185 pounds, but his move to 205 can't be fully evaluated until he faces an elite opponent -- like Davis.
Here's the thing -- put Johnson against your average, middle-of-the-pack light heavyweight who probably doesn't have the best cardio and is relatively flat-footed, and there is a more-than-solid chance Johnson knocks him out. Why? Because Johnson is fast for the division and he's crafty during heavy exchanges on the feet.
But what happens when Johnson faces a light heavyweight opponent who can match his speed and is mobile and in shape enough to not stand and bang with him? That's the question we'll get an answer to in this fight.
Davis is going to limit Johnson's opportunities for a knockout. He's lanky, establishes an outside kickboxing range and his footwork is getting better with every fight. His head movement is on point. Anybody can get clipped, but Davis is a tough target.
Johnson tends to put a lot behind everything he throws. Against a defensive fighter like Davis, will the inevitable swing and misses wear him out quickly at this weight? What if Davis takes him down? How does he deal with the bigger opponent on top?
None of this is to say Johnson doesn't have ways to win the fight. The explosiveness he has on his feet is a natural gift and his offensive wrestling capabilities are often overlooked. This is a tough style matchup for him, though.
Prediction: There is some pressure on Davis to not only win, but win impressively. But at the end of the day, Davis needs to forget that and just win. There's no need to get into a firefight here with Johnson. Stick, move, hunt for a takedown, avoid the big shot and win rounds. If a late submission is there, take it. Johnson is incredibly dangerous but Davis should win this. DAVIS BY DECISION.
ESPN Staff Writer
MMA columnist for ESPN.com
Analyst for "MMA Live"
Covered MMA for Las Vegas Sun
Brett's Picks
FIGHT OF THE NIGHT
Jim Miller vs. Yancy Medeiros: Longtime fans of Miller know his fights typically include action, but the same can be said of Medeiros. Miller against Bobby Green would have been a heck of a fight, but this new matchup is nearly just as good.
KNOCKOUT OF THE NIGHT
Jon Jones vs. Glover Teixeira: Both light heavyweights are more than capable of providing a highlight-reel finish.
BIGGEST STORYLINE
Joe Ellenberger: The twin brother of UFC welterweight Jake, Joe traveled a long, hard road to the four-fight UFC deal he signed early this year. The 29-year-old was diagnosed with a rare blood disease when he was 24.
BIGGEST QUESTION
Anthony Johnson: Is he a true light heavyweight? He's definitely looked like one so far, but Phil Davis might put an end to that. Johnson says he'll never again fight lower than 205. This is a big test for him at this weight.
ON THE HOT SEAT
Tim Boetsch: A once promising four-fight win streak has turned into a 1-2 skid for Boetsch. A split-decision win over C.B. Dollaway could have easily been his third consecutive loss.
ONE TO WATCH
Tim Elliott: A win over the likes of Joseph Benavidez will be tough to come by, but don't count Elliott out by any means. His awkwardness, versatility and pace should be enough to at least give Benavidez a real challenge.
By The Numbers
1
Jon Jones has just one blemish on his ledger -- a disqualification loss for illegal direct downward elbows to Matt Hamill in December 2009.
6
Glover Teixeira has stuffed all six takedown attempts by opponents while competing inside the Octagon since his UFC debut in May 2012.
19
Teixeira has 19 wins by either knockout or submission, and nine of his last 10 fights have not gone to the judges.
31
Jones has not been outstruck in the significant strikes department in his last 31 rounds, dating back to January 2009 (Round 3 against Stephan Bonnar)
96
Jones' 96 percent takedown defense is best in UFC history among those with at least five UFC fights and a minimum of 20 takedown attempts by opponents.