Johnson focused on cleaning out division
What a difference one year can make.
Nearly 12 months ago, immediately after he defended his UFC flyweight title against John Moraga, Demetrious Johnson expressed an interest in a superfight.
He spoke about fan interest in the idea of a fight between Anderson Silva and either Georges St-Pierre or Jon Jones, then basically added, "Don't forget about the little guys." A potential future matchup with the UFC bantamweight champion intrigued him.
Today, superfights are not the hot conversation they once were. Defending the belt is in. Johnson (19-2), who seeks his fourth title defense against Ali Bagautinov at UFC 174 this weekend, says he intends to fight every flyweight in the division.
Literally.
[+] Enlarge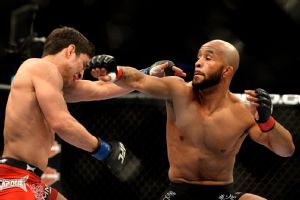 Al Powers for ESPNDespite talk of superfights, UFC flyweight champion Demetrious Johnson, right, is not looking past challenger Ali Bagautinov at UFC 175.
"When it comes to superfights, it's almost like it's kind of broken up now," Johnson told ESPN.com. "TJ Dillashaw is the new bantamweight champion, and for me, I still have a lot of work to do at 125 pounds.
"Once I beat everybody in the division, literally, to the point there is nobody else, I'd go from there. There are people in this division I haven't fought yet. I think in order for me to leave the division, I need to make sure I fight every one of them."
It's the right attitude to have as long as he's in the division. If Johnson goes into this weekend with superfights on his mind, Bagautinov is capable of humbling him.
But if he eventually made a successful run at the UFC bantamweight champion (and took his belt), he'd become just the third fighter in UFC history to win titles in multiple weight classes. That's quite a distinction.
Johnson was immediately able to list the other two fighters who have done it -- Randy Couture and B.J. Penn -- but said the thought of joining them doesn't motivate him. Right now, defending his belt against any and all flyweight challengers does.
"I can tell you the guys who did it, but it's not like I'm at home making eggs saying, 'Damn. B.J. Penn and Randy Couture,'" Johnson said. "It would be awesome to do that, but I'm more focused on my division."
---
MAIN EVENT: FLYWEIGHT CHAMPIONSHIP
Breakdown: In three UFC fights, Bagautinov has relied heavily on counter-striking -- almost to the point of being inactive.
So far, it has worked brilliantly. One has to wonder, though, whether he'll switch gears for an opponent as fast and efficient as Johnson, who will be extremely hard to counter.
Bagautinov does have cracking power in his counter left, but Johnson has held up to big shots before, and the fact that Bagautinov tends to load up on power counters might not bode well, again, when trying to land on the speedy, defensively adept Johnson.
The counter style of Bagautinov also has a tendency of placing his back to the cage, which Johnson likely will take full advantage of. Expect Johnson to set a high pace in that position, let his hands go on combinations and finish with takedowns.
Bagautinov is physically strong and reacts very well in scrambles, but Johnson likely will initiate them, and on his terms. The challenger is a skilled grappler, but he doesn't always mask his shots well -- especially not as well as Johnson does.
Prediction: Johnson's intelligence in the cage is well-known by now. Stylistically, this is his fight, but that doesn't mean he'll force an early finish. If anything, the fight could get off to a slow start, as Johnson will respect Bagautinov's punching power, but eventually he'll take over. JOHNSON BY FIFTH-ROUND TKO.
---
CO-MAIN EVENT: WELTERWEIGHTS
Breakdown: Will the real Tyron Woodley please stand up?
Woodley has looked phenomenal in his past two fights -- perhaps UFC-champion phenomenal -- but that doesn't erase the memory of some previous inconsistency.
Against MacDonald, Woodley will have to commit to walking him down throughout each round as opposed to the random blitz here and there. Woodley has that type of speed on the feet where he almost floats across the mat, but MacDonald's defensive skills will be tough to crack if Woodley chooses to attack one blitz at a time.
Both welterweights are difficult to take down. Woodley is the better pure wrestler, but in this matchup, I think I prefer MacDonald's grappling game. He'll bait Woodley into aggressive spots and change levels on a double leg.
The talk about Woodley's physique and how it potentially tires him out is probably overblown but not altogether inaccurate. MacDonald should have an advantage in his gas tank, but he doesn't always set a high-enough pace to truly capitalize on it.
Prediction: Two highly effective, but extremely different welterweights. It used to be we all raved about the potential of MacDonald. We still do, but has the athleticism of Woodley actually made him a more intriguing contender? Even if this turns into a chess match, it should be excellent to watch. MACDONALD BY DECISION.
ESPN Staff Writer
MMA columnist for ESPN.com
Analyst for "MMA Live"
Covered MMA for Las Vegas Sun
Brett's Picks
FIGHT OF THE NIGHT
Mike Easton vs. Yves Jabouin: Easton doesn't possess the cleanest technique, but that doesn't always matter when predicting fight of the night. There should be no shortages of exchanges in this one.
KNOCKOUT OF THE NIGHT
Rafael Cavalcante vs. Ryan Bader: Bader might wrestle. Even if he does, chances of a knockout are high between these two hard hitters. Both are in big need of a win as far as title aspirations go.
BIGGEST STORYLINE
Andrei Arlovski: Roll out the welcome mat. An old friend returns. Arlovski, 35, brings a name to the heavyweight division. Does he still bring elite talent along with it?
BIGGEST QUESTION
Is MacDonald or Woodley the real No. 1 contender? The answer is technically neither, as the UFC has already announced that distinction goes to the winner of a July fight between Robbie Lawler and Matt Brown. People will wonder, though.
ON THE HOT SEAT
Mike Easton: "The Hulk" will always give 100 percent. Guaranteed. The evolution in Easton's game, however, has not showed during a three-fight skid. He's faced tough competition, but no excuses. He needs a win.
By The Numbers
11
Eleven of Demetrious Johnson's 19 victories have come by way of stoppage (four by KO/TKO; seven by submission).
55
Johnson has landed 55 percent of the significant strikes he has thrown in UFC flyweight fights (highest all time in the division).
10
Ali Bagautinov has landed 10 takedowns in three UFC fights (six of those takedowns came in his last fight against John Lineker at UFC 169).
4
Tyron Woodley has gone four fights without conceding a takedown. (He has been taken down only twice in his UFC/Strikeforce career.)
4
All four of Ryan Bader's losses have come by way of stoppage (two by KO/TKO, two by submission).