Round 4 for Garcia-Jung? Just maybe …
By Brett Okamoto
ESPN.com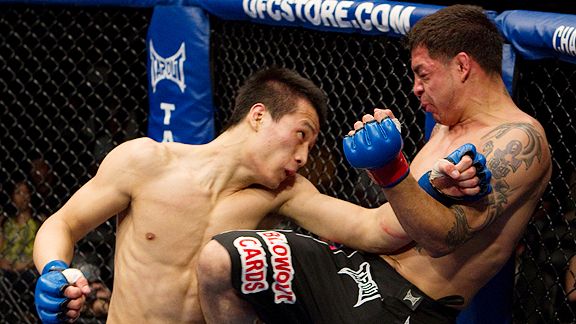 Josh Hedges/WEC Productions LLC/Getty ImagesChan Sung Jung, left, and Leonard Garcia gave the fans what they wanted in April '10.
Leonard Garcia had a game plan in mind for his rematch against Nam Phan.
Often criticized for his lack of technique, Garcia was ready to show the world a new fighter at UFC Fight Night 24 in Seattle. Patience, straighter punches, sticking and moving -- this was the plan for Phan.
Then he got a phone call.
"My manager called and said Nam Phan is injured, but there's someone else willing to fight you -- the Korean Zombie," Garcia told ESPN.com. "I just started laughing.
Follow us on Twitter
Don't miss a moment of the latest MMA coverage from around the world. Follow us on Twitter and stay informed. Join »
"When you have a fight with someone like we did, you're always thinking in the back of your mind, 'I wonder what would happen if we did it again.'"
Garcia (15-6-1) is now set to face the Zombie, Chan Sung Jung (10-3), this weekend in Seattle. The two fought an incredible, although highly non-technical, fight in April at WEC 48. Garcia took a split decision.
The secret on Garcia is that, behind the scenes, he and his coaches say they've cleaned up his striking quite a bit. The problem is he tends to revert to his old self the moment he gets hit.
The fight against Jung is a good example.
"I remember him not listening and swinging for the fences," said Garcia's coach, Greg Jackson.
The hope was that a rematch with Phan would bring out the best in him. Some thought Phan was robbed when judges awarded Garcia a split decision when they fought in December.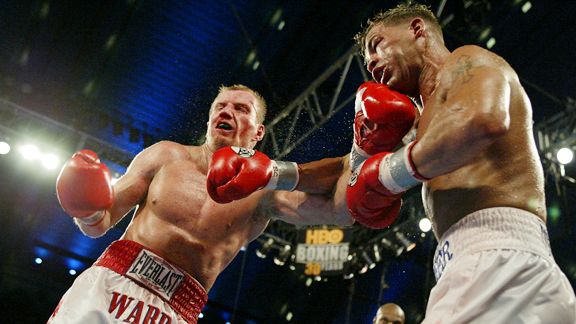 Al Bello/Getty ImagesThe ultimate fight: Leonard Garcia wouldn't mind taking a page out of boxing's Micky Ward-Arturo Gatti rivalry.
That night was filled with mixed emotions for Garcia, who was booed by the crowd despite taking the fight on eight days' notice. A rematch with Phan was an opportunity to prove he could win decisively, now that he's in shape.
But with the change in opponent, all bets are off on what to expect. Part of him is holding on to the game plan he built for Phan. Another is telling him to be the same Leonard Garcia he's always been.
"Eighty percent of me wants to go out and pick up where we left off," Garcia said. "The other 20 percent wants to show people how I've evolved. This fight is like one of those where the stars align and it's time for us to go again.
"I'd love to have something you had with Micky Ward and Arturo Gatti in boxing, where the rematch is better than the first."
Johnson tipping the scales? Weight and see
Anthony Johnson refused to reveal his weight during a UFC workout period Thursday in downtown Seattle. Those waiting to see if the welterweight will make the 171 mark will have to wait one more day.
Johnson (8-3) is coming off a knee surgery, which kept him out of action for the past 16 months. During that time, he admitted he ballooned up to 230 pounds.
Add in the fact he's had trouble making weight before and it becomes one of the biggest storylines headed into his fight against Dan Hardy this weekend.
Listen to the ESPN UFC Podcast
"You've got to see tomorrow. I'm going to make you wait," Johnson said.
While he wouldn't reveal a number, Johnson said that making weight Friday would "not be a problem." He also shot down a rumor he's considering a move to a heavier division and said he added a nutritionist to his team late last year.
"I'm still going to be at 170," Johnson said. "I did get up to 231 and that is big but I do I regret it? No. It showed me how mentally strong I am to lose this weight and still come back."
Hardy (23-8), who has been taking subtle jabs at Johnson's weight all week, said he doesn't care whether his opponent makes weight Friday.
And even if he does, that kind of cut has to take a toll on Johnson's body.
"That's a huge weight," Hardy said. "I saw some photos of him and he got fat. He had a head like a basketball. I wouldn't like a weight cut like that. Personally, I think I'm about as big as you can get for a welterweight and I get up to 210 between fights."
Davis stacks up statistically with Jones
Saturday will be the fifth time Phil Davis (8-0) enters the UFC Octagon.
With talk already circulating of a potential fight between Davis and light heavyweight champion Jon Jones (13-1), it's worth taking a look at the early numbers of their UFC careers.
Through four fights, Davis holds a significant strike percentage of 53.5 percent and has held opponents' sig strike percentage to 23.3 percent. Jones scored slightly lower in those categories, 46 and 35.5 percent, respectively, during his first four fights.
Takedown advantage during that time was nearly identical. Davis secured nine takedowns in his first four fights while Jones secured 10. Neither was taken down once.
One of the most telling numbers of all is pass advantage. Davis has passed his opponent's guard 32 times through four fights. Jones did it only eight times. Neither fighter has ever had his guard passed.
The discrepancy doesn't necessarily mean Davis is better on the ground, but it shows how different his style is.
And although Jones has shown brutal strikes from on top, it's not a stretch to say Davis has been more dominant there, considering his pass percentage.
"It's just what I do," said Davis, when asked about his dominance from top position. "I don't know how I do it. My jiu-jitsu game uses a lot of wrestling positions so it's not traditional jiu-jitsu. It doesn't always look like it should work, but it does."
Brett Okamoto covers MMA for ESPN.com. Follow him on Twitter at bokamotoESPN.

Lil Nog, Big Fights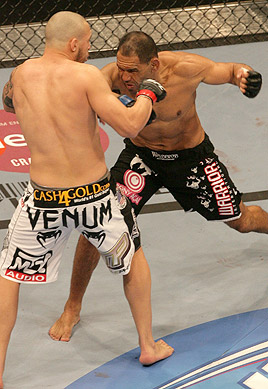 Ed Mulholland for ESPN.com
Whether it's to outsmart an opponent or to absorb an elbow, Antonio Rogerio Nogueira is always using his head. Gallery


UFN 24 By The Numbers
Longest Layoffs
Anthony Johnson's Career
| Years | Days | Next Fight |
| --- | --- | --- |
| 2009-11 | 490 | ?, Dan Hardy |
| 2006-07 | 269 | W, Chad Reiner |
| 2009 | 259 | W, Yoshiyuki Yoshida |
| 2007-08 | 193 | W, Tom Speer |
First 4 UFC Bouts
Stats
Davis
Jones
W-L
4-0
3-1*
Sig strike pct
53.5
46.0
Opp sig strike pct
23.3
35.5
Takedown advantage
9-0
10-0
Pass advantage
32-0
8-0
*Loss by DQ
Leonard Garcia-Chan Sung Jung I
Breaking down their WEC 48 bout
Stats
Garcia
Jung
Sig strikes
64-188
89-190
Sig strike pct
34.0
46.8
Knockdowns
0
1
Takedowns
0-2
0-0
Passes
0
1
*Garcia won by split decision
Most Strikes Landed/Minute Since '00
Minimum 5 UFC Bouts
Fighters
Stats
Junior Dos Santos
7.1
Cain Velasquez
7.1
Shane Carwin
6.5
Drew McFedries
5.1
Amir Sadollah
5.0
*Source: FightMetric.com

Davis discusses Nog fight

Quotables
Hardy
"The thing I don't like about getting knocked out is my opponent thinks he's better than me. I know Carlos Condit isn't better than me and I'm annoyed he thinks that because I gave him that impression. I can't retire until I knock him out." -- Hardy, on his first KO loss to Carlos Condit
Davis
"I can't just let it get crushed by me and some Neanderthal [training partner]. I just wanted to save the little guy. I've heard they're good luck." -- Davis, on taking the time to remove a ladybug that was on the mats during open workouts
Johnson
"No. It's not happening, dog. I want to punch Dan between his eyes. He wants to punch me between my eyes and my mouth and everywhere else he can. That's how it's going to be." -- Johnson, on any chance at all he or Hardy will take the fight to the ground