Nogueira looks for fresh start against Nelson
ideo1>
It took 37 professional fights and nearly 10 years before anybody stopped Antonio Rodrigo Nogueira in mixed martial arts.
And then in a seven-fight span, it happened four times.
Nogueira (34-8-1) returns to the Octagon this week for the first time since a loss to Fabricio Werdum in June. The Brazilian heavyweight will meet knockout specialist Roy Nelson at UFC Fight Night 39 on Friday in Abu Dhabi.
At this point in his career, Nogueira, 37, seems to understand that every opportunity he gets to look reinvigorated in the cage is also an opportunity to look the opposite.
Nogueira says anyone who fights long enough will inevitably get stopped, but he knows his career can only afford so many of them. His health is always a concern, as he has undergone surgeries on his knees, hips and arm recently.
[+] Enlarge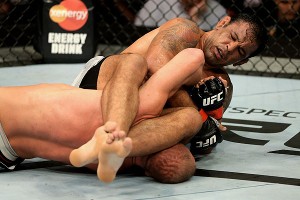 Josh Hedges/Getty ImagesAt 37, Antonio Rodrigo Nogueira looks to extend his career in Friday's meeting with Roy Nelson at UFC Fight Night 39 in Abu Dhabi.
"This happens when you fight tough guys," Nogueira told ESPN.com. "The two losses [via submission to Frank Mir and to Werdum], they had good technique. They did it. What can I do? I never expect to get submitted, but that is the game.
"Let's see what I can still show. If I'm not showing well or I'm not motivated, there is no way I can be fighting anymore. If I keep doing good and I'm exciting, I think I've still got energy to keep fighting."
In preparation for Nelson, Nogueira says his sparring partners exposed him to a lot of overhand rights during training camp. His main focus was improving his boxing defense. He intends to weigh in lighter than usual to increase his speed.
The lighter frame should also help Nogueira in later rounds. Despite the fact he's coming back from a layoff, Nogueira doesn't mind the possibility of a five-rounder.
"The people who are at home watching want to see the fourth and fifth round," Nogueira said. "In five rounds, the guy who is better prepared is going to win the fight, so I like the idea of a five-round fight."
---
Breakdown: The secret is pretty much out on Nelson -- stay busy, make him work, avoid the right hand and get your hand raised. It's as straightforward as that.
Nogueira cannot afford to hang out in the pocket in this fight. That's crucial. He likes to walk opponents back to the fence, which is fine, but if he thinks he can stand flat-footed and keep Nelson on the end of his punches, that's highly risky.
In space, you want to move in and out of Nelson's range and use feints to throw off his offense. On the fence, stay close and force him to wear your weight. Then smother or back off and make him chase. Do not hang out in his wheelhouse.
None of this is necessarily Nogueira's style, however. He's not extremely mobile at age 37. He doesn't bounce in and out of range and he tends to hold that left hand a little low, which is begging for trouble in this fight. We haven't discussed his ground game, but I don't think we need to. It is unlikely Nogueira manages to take Nelson down.
Prediction: Nelson is 3-3 in his last six fights. The three wins came via knockout in the first round. All three losses came via three-round decision. That trend ends here. Nogueira will look good at certain times, but he's too stationary of a target for a Nelson right hand. NELSON BY THIRD-ROUND TKO.
---
CO-MAIN EVENT: FEATHERWEIGHTS
Breakdown: A Kawajiri takedown isn't always the most beautiful thing to watch, but he tends to make it happen nevertheless.
Guida's first priority here will be to stay off his back. Stylistically, he should be able to do that. Kawajiri tends to score takedowns by forcing the issue and securing a bodylock inside. Guida's ability to scramble should mostly negate that.
There's a good chance Guida looks to frustrate Kawajiri here. He's not a tremendous counter puncher, but with his cardio and cage awareness, I think he can get Kawajiri to chase if that's his game plan.
Once you get Kawajiri reaching, his takedowns are far less effective and he's more open to short counter punches. He also opens himself to the possibility of Guida taking him down. If Guida has come to bang though, anything can happen. Both of these guys have been willing participants in a few brawls over the years.
Prediction: A 1-3 record in his last four fights will have Guida fighting smart. He'll use defense to set up offense and look to win rounds. Guida circles the cage for much of the fight, then circles after with his hands raised in celebration. GUIDA BY DECISION.
ESPN Staff Writer
MMA columnist for ESPN.com
Analyst for "MMA Live"
Covered MMA for Las Vegas Sun
Brett's Picks
FIGHT OF THE NIGHT
Beneil Dariush vs. Ramsey Nijem: Dariush has wicked potential and unfaltering confidence in the cage but it's a big opportunity for Nijem to get an upset win.
KNOCKOUT OF THE NIGHT
Roy Nelson vs. Antonio Rodrigo Nogueira: It has to come from this fight. Nelson is always a threat with the right hand, but don't sleep on the possibility of Nogueira overwhelming Nelson and finishing him inside five. It could happen.
BIGGEST STORYLINE
Tatsuya Kawajiri: The Japanese featherweight tries for win No. 2 in the UFC against a game Clay Guida: He would likely sink in the deeper waters of this division with a loss, but it'd be fun to see the veteran get a shot in a high-profile fight.
BIGGEST QUESTION
Nogueira: Is another brutal finish in store for "Big Nog"? He is 3-4 since late 2008 and all four losses have come in relatively spectacular fashion. If Nelson puts him away in similar fashion, how loud will retirement talk get for Nogueira?
ON THE HOT SEAT
Nogueira: This card is built heavily around the main event and Nogueira needs to perform. He and Nelson are both 37, but it feels like Nogueira is an old 37. Another injury or knockout loss would only add to that.
ONE TO WATCH
Dariush: He's a talented grappler with pop in his punches and ice in his veins. This southpaw could be a very interesting addition to 155.
By The Numbers
3
Nogueira's last three fights have ended by submission (a loss via kimura to Frank Mir; a win via armbar over Dave Herman and a loss via armbar to Fabricio Werdum).
4
Nogueira will have a four-inch reach advantage over Nelson (Nogueira possesses a 77-inch reach; Nelson's reach is 73 inches).
5
Built for punishment: The durable Nelson absorbs five significant strikes per minute, almost three more than Nogueira.
33
Nelson lands an average of 33 percent of his significant strikes in the Octagon, while Nogueira lands 42 percent.
37
Age of both Antonio Rodrigo Nogueira and Roy Nelson heading into this fight.