Smaller heavies step up in big way
By Brett Okamoto
ESPN.com
LOS ANGELES -- Immediately after Cain Velasquez knocked out Brock Lesnar for the UFC heavyweight title in October 2010, commentator Joe Rogan described it as "technique over horsepower." A closer look at the heavyweight picture in mixed martial arts suggests this might wind up being a recurring theme for years to come.
Ironic, isn't it, that the biggest heavyweight fight in UFC history, set to take place Saturday, features two of the smallest men in the division? It wasn't all that long ago that so much was made of a literally massive fight between Brock Lesnar and Shane Carwin -- two men who, at the time, actually cut weight to reach the 265-pound limit.
The new breed of heavyweight contenders, like Velasquez and Junior dos Santos, don't weigh anywhere near 265 pounds. They are quick and visibly athletic. They've shown that attributes like speed and endurance can trump raw size and strength.
"I think Cain Velasquez has proven it doesn't matter how big you are," UFC president Dana White told ESPN.com. "You saw that in his fight with Brock Lesnar, if you ever doubted it."
Is this a new trend that will stick in the UFC? Or will the pendulum swing back to the monsters pushing 265 on weigh-in day? It does seem as though 250 pounds is the new 265. Instead of packing on weight, we've seen a number of heavyweights -- Shane Carwin, Roy Nelson, Frank Mir -- actually slim down in the past 12 months.
Two of the most successful contestants on Season 10 of "The Ultimate Fighter" reality series, Matt Mitrione and Brendan Schaub, were the most athletic of the group. It's a matter of speed and, perhaps more importantly, endurance.
"I think I'm not small; I think I'm big," Dos Santos said. "I think the difference between us and huge guys is the speed. We can have good strength and even more speed.
"Cain Velasquez walks forward all the time in the fight. He has amazing stamina. That's my way to fight, too."
This isn't to say there are no successful heavier fighters left. Just like it's not to say there haven't been successful lighter heavyweight fighters in the past. But we may be seeing a permanent change in what the prototype of a heavyweight fighter looks like. Instead of the biggest, toughest guy at the bar, it's a world-class athlete with technique.
Ever wonder how an athlete like LeBron James -- 250 pounds -- would perform in MMA? We're starting to see the answer.
"I really think you'll see a lot more athletes migrate to mixed martial arts and become world champions."
Five questions ahead of UFC on Fox
By Chuck Mindenhall
ESPN.com
Q: Will Saturday be the Super Bowl of MMA?
A: If you judge strictly by the extensive prefight programming, maybe, but only to diehards. There will be three hours of panel discussion, countdown shows, prelims and Lesnar trying not to smite his chest leading up to the Fox presentation of dos Santos and Velasquez. It will be spread out over several channels and Facebook. Will it be overkill? Only if you have a mission control-type setup with multiple screens running concurrently. The event itself is the Super Bowl of heavyweights, though -- it's the clear-cut No. 1 versus No. 2, with a style clash that becomes impossible to pinpoint an overall advantage. The casual fan will see it as an hour-long show.
Q: Is this the most important moment in MMA history?
A: There's a gray mass of humanity that would never stumble onto the addictive, fruit-bearing allure of an MMA fight by themselves, and the UFC plans to drop the Octagon into their living rooms like an H-bomb. The previous record for a television rating was Kimbo Slice versus Roy Nelson on Spike (6.5 million), and it's possible Saturday's fights will outdo that number by a couple of million. It helps that there's a very real promise of a knockout in the hour-long block designated for the main event, to make for a memorable first, second or millionth impression.
Q: Does the winner of Clay Guida/Ben Henderson get a title shot?
A: Lost in the shuffle of the uber-magnified main event is a penultimate clash between lightweights Clay Guida and Ben Henderson. With Gilbert Melendez booked to fight Jorge Masvidal in December, and Melvin Guillard and Jim Miller having lost recently, things have become far less clogged at the top. The winner of this seemingly orphaned bout should be next in line to challenge Frankie Edgar, who will be watching with his own secret rooting interest (possibly).
Q: Can Dos Santos keep it standing?
A: If he hadn't thwarted Carwin as effectively as he did at UFC 131, this wouldn't be a question so much as a strong hunch. As is, Dos Santos forced Carwin to stand on his feet and rocked him to his heels on several occasions. He even took him down toward the end of the fight just to add some garlands and tinsel. Against Velasquez, he will be meeting a wrestler of the most stubborn nature, who looks at double legs like a gateway to salvation. We know Velasquez is dogged in his pursuit and that he has a chin -- the Cheick Kongo fight proved that -- so if Dos Santos keeps it standing, it means it's his fight. And it'll begin to look like he's the greatest heavyweight the UFC has seen.
Q: Bigger fight -- Velasquez/Dos Santos or Alistair Overeem/Lesnar?
A: For all the bells and whistles and accessibility of this weekend's title fight between the two best heavyweights in the UFC, the bigger name brand is Brock Lesnar. It's behemoth versus behemoth in his battle with Alistair Overeem, who isn't as known in the States but with promotional efforts will be made to look indestructible. There won't be a belt on the line on Dec. 30 at UFC 141, but a promise to fight for the belt. The simple answer is that this weekend's title fight is the bigger battle, until Monday, when it shifts to Lesnar/Overeem.
Five things to know
By Josh Gross
ESPN.com
1. A classic heavyweight showdown. They have nothing to do with one another, but it's nonetheless notable that the week heavyweight boxing giant Joe Frazier passed away, the best heavyweight bout in combat sports is on the docket. Frazier didn't know much about MMA when I spoke to him a couple of years ago. He appreciated how hard mixed martial artists went after one another and wished boxers would do the same. He wanted them to fight like he used to. And in that vein, it's going to be a great disappointment to many fans if Velasquez and dos Santos don't deliver their own kind of thriller. Action in MMA is unquestionably different than that produced by boxing -- simply stated, it's rare for MMA to deliver the sort of drama that can unfold over 12 rounds of boxing. If it's going to happen in a heavyweight context, there aren't any better men than Velasquez and dos Santos to accomplish such a feat. Expect a fight heavy on drama Saturday night, one that tests both men in a major way -- something Frazier would have loved to take part in.
2. He who dictates range wins. Velasquez and dos Santos have fans and media split on the outcome. The key, best as I can tell, is no different than most of life's struggles: establishing and maintaining control. In this context, that will be determined by the fighter who initiates and dominates range. We're talking two mobile, in-their-prime heavyweights here. Velasquez has an edge in wrestling. Dos Santos is the better natural puncher, and with long arms and competent boxing he can take control. Pay attention early on how Velasquez attempts to establish distance. Is he punching to get inside? Will he kick high, knowing dos Santos likely won't initiate a takedown? I think the UFC champion will punch to get to the inside, work inside and try takedowns from the clinch. Dos Santos must move, keep an active jab, and not get overzealous in his desire to knock Velasquez's large target of a head into the cheap seats.
3. SoCal has been kind to Cain. Velasquez has every reason to feel comfortable heading into the most important fight of his life -- he's doing so in Southern California, a potential home-field advantage that could play to his benefit. Mexican-American fans came out strong for Velasquez the last time he was here, and if the Honda Center is rocking anything like it was last year when he bested Brock Lesnar, the UFC champion will enjoy a wide margin of support over his Brazilian challenger. For his part, dos Santos doesn't seem to care. JDS has the proper attitude on display this week. He comes across as at ease and comfortable in the role of spoiler.
4. Different feel for a UFC card. If Saturday's event feels anything like a boxing card, there's good reason for that. While MMA fans have grown accustomed to several hours' worth of top-to-bottom action, Saturday's focus, understandably so, is centered on one fight. This is much closer to the boxing model that has been panned by MMA supporters than the MMA model that has been embraced by so many fans. Fox is investing its resources on fight night toward selling one bout, two men and a shiny gold UFC belt. In that sense, this is an out-of-the-ordinary event that will help shine a spotlight on two of the most dangerous fighters in MMA.
5. Edgar's next challenger. Notwithstanding what I just wrote about Velasquez and dos Santos dominating the promotion of Saturday's broadcast from Anaheim, Calif., lightweights Clay Guida and Ben Henderson definitely aren't forgotten. UFC president Dana White said the winner will earn the right to meet Edgar in the cage. Guida and Henderson may not receive the attention people around them hoped for when they took a risk and booked it, hoping the bout would reach Fox's airwaves, yet with such a large prize waiting in the wings it'll feel big no matter who's watching. Rest assured -- Edgar will be keeping an eye on the lightweight pair.
Who's on the hot seat?
By Chad Dundas
ESPN.com
At what might turn out to be the most-watched UFC event of all time, it goes without saying that there is a lot to be gained and a lot to be lost. Well, at least for the two guys whose bout will make the hour-long network television broadcast. For everybody else, UFC on Fox 1 might seem like -- ahem -- business as usual.
That said, the stakes are still high for a few guys. Here's a look at whose seats are the hottest heading into Saturday's event in Anaheim.
Most to gain:
1. Dos Santos. I mean, obviously. Dos Santos is undefeated through seven fights in the Octagon, but is probably still known to few outside the sport's hardcore fan base. That could all change this weekend, when an audience of millions is expected to tune in to watch him fight Cain Velasquez for the heavyweight title. If dos Santos were to win -- and win in impressive fashion -- it's not unthinkable that he'd instantly become one of the most famous MMA fighters in the world. Weird as that sounds, it's the brave new world we're living in as the UFC prepares to make its network television debut.
2. Henderson and Guida. Kind of a shame, but due to time constraints these two won't make the televised broadcast, no matter how much hair flies and/or what kind of crazy pace they can keep up for 15 minutes. As a consolation prize, the winner becomes the odds-on favorite for the next crack at Frankie Edgar's lightweight title. Short of a double knockout -- which can't fully be discounted, considering the way things will be going -- either Bendo or Guida will become the first guy not named Maynard or Penn to get a shot at 155-pound gold since April 2010. That should take some of sting off it.
3. Darren Uyenoyama. After years of eking out a living fighting overseas, Uyenoyama is about to make his UFC debut at age 32, against a borderline legend in the sport and at an event steeped in history. The only way to script it out any better would be for Uyenoyama to nab a win over the flagging Norifumi Yamamoto and become a full-time player in the bantamweight division. He says he's got his heart set on fighting in February when the UFC returns to Japan, and it'll be a true feel-good story if he can make a go of it in the big-time.
Most to lose:
1. Velasquez. As always, it's a fine line between most to gain and most to lose. Many of the things said above about dos Santos go double for Velasquez. He stands to become one of MMA's most recognizable faces if things go well for him Saturday night. However, if they don't, the fall from grace will be much further and more precipitous than the stakes faced by the Brazilian challenger. The troubled history of the UFC's 265-pound title isn't exactly on Velasquez's side, either. On the other hand, if there's one person who can give the fight company the dominant heavyweight champ it's always dreamed of having, it's Cardio Cain.
2. Dustin Poirier. After a slip-up in his WEC debut back in August, 2010, the 22-year-old Poirier has been on a tear, rising as high as the No. 7 spot in the ESPN.com featherweight power rankings. This weekend, the only thing standing in the way of his continued success is Pablo Garza, who, through two fights at 145 pounds, has been impressive with back-to-back flying knee and flying triangle victories. If you're Poirier, the last thing you need right now is to wind up on the wrong end of yet another Garza highlight reel.
3. Norifumi "Kid" Yamamoto. At this point, it feels like we could just cut and paste the story of what happens to many high-profile international imports when they arrive in the UFC. Yamamoto is currently 1-3 in his last four fights, and his career in the Octagon got off to a less-than-stellar start when he ran into the buzzsaw that is Demetrious Johnson in February. Now, the once-fearsome "Kid" faces a must-win against the unheralded Uyenoyama. It may not be a potential cut fight for Yamamoto, but any semblance of relevance he still clings to might well evaporate if he can't make a statement against the UFC rookie.

UFC on Fox: The Big Show
Gross Point Blank
Gross Point Blank: Javier Mendez, UFC on Fox
Javier Mendez talks about his charge, Cain Velasquez, and the test in front of him Saturday versus Junior dos Santos
Listen to the ESPN UFC podcast

UFC on Fox By The Numbers
UFC Title Bouts On Cable TV
Event
Fight
Network
UFC on Fox
C. Velasquez vs J. dos Santos
FOX
UFC on Versus 6
D. Cruz vs D. Johnson
Versus
UFC 75
Q. Jackson vs D. Henderson
Spike*
UFC 17
F. Shamrock vs J. Horn
Showtime
*Tape delay
Longest Heavyweight Winning Streaks in UFC History
Longest Active Win Streaks in UFC
Best Records in UFC History
| | |
| --- | --- |
| Anderson Silva | 14-0 |
| Junior dos Santos | 7-0 |
| Cain Velasquez | 7-0 |
Longest Win Streaks to Begin UFC Career
Cain Velasquez Longest Layoffs of UFC Career
| Years | Days | Result |
| --- | --- | --- |
| 2010-11 | 385 | ?, Junior dos Santos |
| 2010 | 245 | W, Brock Lesnar |
| 2008-09 | 203 | W, Denis Stojnic |
Most Strikes Landed Per Minute in UFC Since 2000
Best Strike Diff in UFC Since 2000
Best Sig Strike Pct in UFC Since 2000
| | |
| --- | --- |
| Anderson Silva | 68.5 |
| Cain Velasquez | 60.9 |
| Evan Tanner | 59.0 |
| Lyoto Machida | 58.2 |
| Randy Couture | 58.0 |
Fewest Strikes Absorbed Per Minute in UFC Since 2000
| | |
| --- | --- |
| Phil Davis | 0.38 |
| Chael Sonnen | 0.96 |
| Pete Spratt | 1.04 |
| Cain Velasquez | 1.15 |
Best Takedown Pct in UFC Since 2000
| | |
| --- | --- |
| Georges St. Pierre | 77.3 |
| Nate Marquardt | 72.9 |
| Jonathan Goulet | 70.0 |
| Cain Velasquez | 68.2 |

The Contender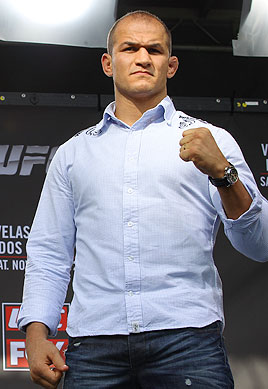 Ed Mulholland for ESPN.com
Junior dos Santos, during Wednesday's final news conference

Quotables
Velasquez
"From both of us, [expect] exciting fighting styles. We don't go out there and have boring fights. None of our fights have been boring. We're going to go out there try to go forward. That's what fans are going to see, that's what people who have never watched the sport are going to see. We're going to go forward and battle it out." -- Cain Velasquez, promising to deliver fireworks
White
"This is definitely a huge game-changer for us. Just look at the deal that we have on the Fox platforms, it's going to be awesome … What could be a better, more perfect night for fight fans then to see the UFC heavyweight championship for free on Fox and then an hour later watch Manny Pacquiao fight? It's perfect." -- Dana White, on Saturday's night of fights
Dos Santos
"I just keep my focus on the fight, on Cain Velasquez. I think for sure, there are going to be a lot of people rooting for him on Saturday night, but I know I'm going to get a lot of people rooting for me too. That's the energy I will bring with me inside the cage and use in the fight … It's going to be a big war like the [Mexico versus Brazil] soccer games used to be, but I will give my best to make this belt a Brazilian belt." -- Junior dos Santos, on fan support in Velasquez's home state
Velasquez
"I represent hardworking people. That's what my family is, that is who I was brought up around. I'm happy that Mexicans are known who have a lot of heart. I try to use that in my fighting. I go out there with a lot of heart, a lot of blood and always going forward." -- Cain Velasquez, on his heritage