UFC 124: St. Pierre vs. Koscheck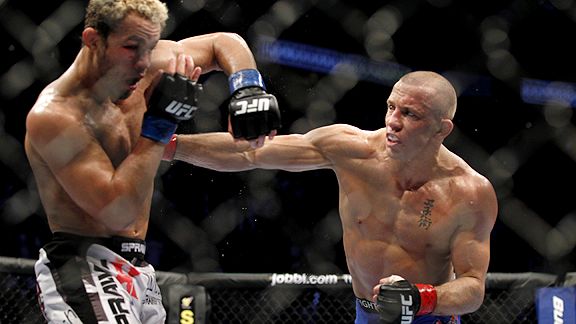 UFC 124: St. Pierre-Koscheck was an Ultimate Fighting Championship mixed martial arts event that took place at the Bell Centre in Montreal on Dec. 11, 2010. In the feature match of the night, Canadian Georges St. Pierre successfully defended his welterweight title with a victory by unanimous decision over Josh Koscheck. Heavyweight Stefan Struve's win by first-round TKO over Sean McCorkle was another highlight on the main fight card at UFC 124, which was the fourth UFC event to be held at the Bell Centre.
MAIN CARD
Georges St-Pierre successfully defends his welterweight title for the fifth straight time, tying Matt Hughes for the most consecutive title defenses in welterweight history, and the second-longest streak in any UFC division. Fighting in front of his hometown crowd for the second time in his UFC career, St-Pierre is dominant from the opening bell with effective jabs and lead hooks in a mostly stand-up fight. Koscheck's right eye becomes swollen shut by the middle rounds, as he is unable to threaten the Canadian, who easily takes all five rounds. St-Pierre claims his eighth straight win overall, tying for the second longest streak in UFC history.
Stefan Struve vs. Sean McCorkle (heavyweight bout)
Struve takes the bout by TKO at 3:55 of the first round to raise his record to 5-2 in the UFC. After spending part of the round on his back, Struve sweeps McCorkle and pounds on his opponent from the mount to get the stoppage. McCorkle had made his UFC debut in September with a submission victory over veteran Mark Hunt, but suffers the first loss of his MMA career (after starting 10-0).
Jim Miller vs. Charles Oliveira (lightweight bout)
Miller takes his win streak to six by getting Oliveira to tap out to a kneebar at 1:59 of the first round. The 21-year-old Oliveira loses for the first time in is career, after 14 wins that included two submission victories in the UFC. Miller is now 7-2 in the UFC, with his only losses coming to the men who will battle for the UFC lightweight title on January 1, Frankie Edgar and Gray Maynard.
Danzig wins the matchup of two former TUF champions, knocking out Stevenson at 1:54 of the first round by catching him with a short left that sends him to the mat. The refree steps in after a couple of follow-up punches and awards the fight to Danzig, who rebounds after losing four of his last five bouts.
Thiago Alves vs. John Howard (welterweight bout)
Alves rebounds from only the second two-fight losing streak of his career with a unanimous-decision victory over Howard. In command throughout, Alves puts on a clinic and lands some punishing leg kicks on Howard, who suffers a second consecutive loss after falling to Jake Ellenberger in August.
PRELIMINARY CARD
Joe Doerksen vs Dan Miller (middleweight bout)
Miller wins his second straight by taking a split-decision victory in the final preliminary match that involved mostly grappling. Doerksen, from Manitoba, had a strong second round before Miller gained control in the third and pounded away on the Canadian, who falls to 2-7 in his UFC career.
Mark Bocek vs. Dustin Hazelett (lightweight bout)
Bocek gains his fourth victory in his last five matches by getting Hazelett to tap out at 2:33 of the first round. The Toronto native gets a quick takedown and is able to lock a topside triangle and then work the submission from Hazelett, who had dropped down to lightweight after suffering two knockouts at the welterweight level.
Jesse Bongfeldt vs. Rafael Natal (middleweight bout)
Another match goes the distance, and is scored a draw by the judges. Natal, a BJJ black belt in his second Octagon appearance, gets the better of the sloppy grappling action in the first two rounds, before UFC newbie Bongfeldt captures the final round by taking Natal down with a right and punishing his opponent until the final bell.
Matt Riddle vs Sean Pierson (welterweight bout)
The third fight of the night is the third to go the distance, with Pierson winning by unanimous decision in his action-packed UFC debut. Using his jab to full effect throughout the match, Pierson combats his opponent's advances while being able to land some damaging blows on Riddle, the TUF 7 alum who fails in his attempt for the second three-bout win streak of his MMA career.
Almeida, making his third appearance since dropping from middleweight, controls the action throughout the match to claim a unanimous-decision victory. Grant is unable to earn back-to-back wins for the first time in his career after being taken down a number of times by the Brazilian, who rebounds from the first submission loss of his MMA career.
Pat Audinwood vs. John Makdessi (lightweight bout)
Makdessi, from Quebec, wins by unanimous decision in his UFC debut to remain undefeated in eight pro bouts. The Canadian dominates the standing battle, landing numerous kicks and punches throughout the three rounds against Audinwood, who is now winless in two appearances in the Octagon.
NEWS RESULTS FOR UFC 124: ST. PIERRE VS. KOSCHECK
TOP STORY
Dominant Display
Georges St. Pierre put on a masterful performance in front of a home crowd, easily defeating Josh Koscheck by unanimous decision to retain his welterweight title. Story »
SHERDOG

Follow Sherdog.com's coverage of UFC 124 -- St. Pierres vs. Koscheck, including news, video previews and full fight histories on all the fighters. UFC 124 -- St. Pierres vs. Koscheck »