UFC 132: Cruz vs. Faber 2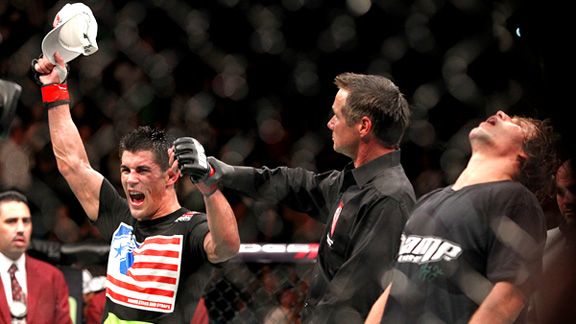 UFC 132: Cruz vs. Faber 2 was an Ultimate Fighting Championship event held on July 2, 2011, at the MGM Grand Garden Arena in Las Vegas, Nevada. The featured match of the night was the bantamweight championship match between Dominick Cruz and Urijah Faber. Cruz won a unanimous decision to avenge the only loss of his MMA career and retain the title.
In other notable fights, Chris Leben knocked out Wanderlei Silva in just 27 seconds, while Tito Ortiz defeated Ryan Bader in the first round to earn his first win since 2006.
MAIN CARD
Dominick Cruz def. Urijah Faber
Cruz avenges the only loss of his MMA career in the first bantamweight title bout in UFC history, earning a unanimous decision over Faber. The three judges scored the fight 50-45, 49-46 and 48-47 for Cruz. Cruz makes his third title defense dating back to the WEC title. He is 18-1 overall with nine straight wins since losing to Faber by first-round guillotine choke for the WEC featherweight title in 2007. Faber loses for the first time since dropping to bantamweight (2-1) and has now lost his last four title bouts. Cruz-Faber earned the Fight of the Night bonus.
Chris Leben def. Wanderlei Silva
Leben jumps all over Silva from the opening bell, knocking him out just 27 seconds into the fight. Leben bounces back from his loss at UFC 125 to earn his 4th win in his last five fights. He improves to 26-7-0 in his MMA career, and 12-6 since debuting with UFC in 2005. Silva, fighting for the first time in 16 months, loses for the 3rd time in his last four fights. He falls to 33-11-1 (1 no contest) in his MMA career, with six of his 11 career losses coming by knockout.
Dennis Siver def. Matt Wiman
Both fighters end up bloodied in a close fight that ends up in a unanimous decision victory for Dennis Siver, who has now won four bouts in a row. Siver spent most of the second round on his back, with his face covered in blood after Wiman opened up a bad cut on his forehead, but Siver got the 29-28 nod from all three judges. Siver improves to 19-7-0 in his MMA career, earning just his 5th win by decision. Wiman falls to 13-6-0 in his career, suffering his first loss since 2009. Five of his six career defeats have come by decision.
Tito Ortiz def. Ryan Bader
Ortiz, who hadn't won a fight since 2006, gets Bader in a guillotine choke and forces a tap out 1:56 into in the first round, snapping a five-fight winless drought. It's Ortiz's 16th career win, all but one of which have come in the UFC. This is just the third win by submission in Ortiz's career, and first since 2000. It's Ortiz's first fight that didn't go the distance since his loss to Chuck Liddell at UFC 66. Bader, falls to 12-2-0 in his MMA career, suffering his second consecutive loss, each by guillotine choke. Ortiz earned Submission of the Night honors for his win.
Carlos Condit def. Dong Hyun Kim
Condit knocks down Kim with a flying knee to the chin, then swarmed him on the canvas, earning a first-round victory. It's his fourth straight win in the UFC. The former WEC welterweight champion is 12-1 in his last 13 bouts. He has finished 26 of his 27 career wins (13 KO, 13 submission), including knockouts in each of his last thee. Kim suffers his first MMA defeat (14-1-1, 1 NC). He is 5-1, 1 NC in the UFC. Condit earned the Knockout of the Night bonus.
PRELIMINARY CARD
Melvin Guillard def. Shane Roller
Just two minutes into the first round, Guillard dropped Roller with a left. While Roller was able to get up, Guillard knocked him down again just seconds later, earning his fifth consecutive UFC win. The knockout at 2:12 of the first round is Guillard's second consecutive first-round victory. He improves to 29-8-2 (1 no contest) overall. Three of Guillard's last four wins have come by knockout, and he has 19 career knockout victories. Roller loses for just the 4th time, falling to 10-4 on his career, and 1-1 with UFC.
Rafael dos Anjos def. George Sotiropoulos
Dos Anjos drops Sotiroploulos with a haymaker less than a minute into the fight (officially 0:59), and the referee quickly steps in to stop the fight, giving dos Anjos just his second career knockout win. Dos Anjos improves to 15-5-0 overall in his career, and 4-3 with UFC. This was his first fight since UFC 117 and his first win since UFC 112. It's his first win in the first round since 2008. Sotiropoulos suffers his second consecutive loss after opening his UFC career with seven consecutive wins. He's now 14-4-0 in MMA overall.
Brian Bowles def. Takeya Mizugaki
Bowles improves to 2-0 with UFC and 10-1-0 overall with a unanimous decision. It's the first time in his career that a fight has gone the distance, with all nine of his previous wins coming by knockout or submission. Mizugaki falls to 14-6-2 overally, and 1-1 with UFC. Six of his last seven fights have gone the distance, with Mizugaki going 3-3 in those six bouts.
Aaron Simpson def. Brad Tavares
Simpson wins all three rounds on all three judges cards to earn a dominating unanimous decision. It's Simpson's second consecutive win in 2011, following back-to-back losses to end 2010. He improves to 5-2-0 with UFC and 10-2-0 in his MMA career. Tavares, fighting for the first time since Jan. 1, suffers his first career MMA loss (7-1-0).
Anthony Njokuani def. Andre Winner
Njokuani bounces back from his loss at UFC 128 to win by unanimous decision. He improves to 14-5-0 (1 no contest). Winner has now lost each of his last three fights, and is 11-6-1 in his MMA career, and just 2-4 with UFC.
Jeff Hougland def. Donny Walker
Hougland wins by unanimous decision in his UFC debut. He is now 10-4-0 in his MMA career, with wins in his last nine fights. Walker's seven-fight win streak comes to an end, and he falls to 15-7-0 in his MMA career.
NEWS RESULTS FOR UFC 132: CRUZ VS. FABER 2
TOP STORY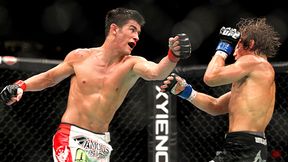 Cruz avenges loss, defeats Faber
Dominick Cruz avenged the only blemish on his MMA record, defeating Urijah Faber to retain the UFC bantamweight championship. Story »
SHERDOG

Follow Sherdog.com's coverage of UFC 132 -- Cruz vs. Faber, including news, video previews and full fight histories on all the fighters. UFC 132 -- Cruz vs. Faber »