UFC 136: Edgar vs. Maynard III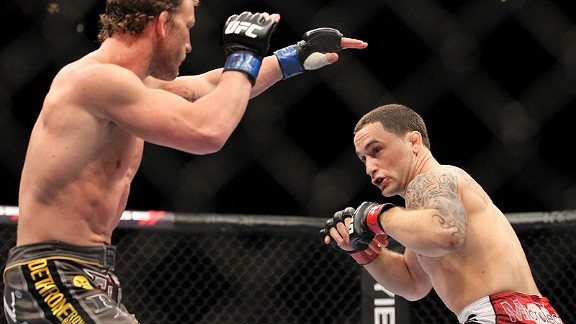 "UFC 136: Edgar vs. Maynard III" was an Ultimate Fighting Championship held on Oct. 8, 2011 at the Toyota Center in Houston. The main event featured the third fight between UFC lightweight championship Frankie Edgar and Gray Maynard. Edgar retained his belt with a fourth-round TKO, handing Maynard the first loss of his MMA career.
The co-main event was a featherweight championship bout in which reigning champion Jose Aldo defeated Kenny Florian.
Main card
Lightweight Championship bout: Frankie Edgar def. Gray Maynard
TKO, 3:54 of fourth round
After getting dominated, and nearly knocked out, in the first round, Frankie Edgar rebounded to knock out Gray Maynard in the fourth round to avenge the only blemishes on his record and retain the lightweight championship. Edgar successfully defends his title for the third time, matching BJ Penn's UFC lightweight record. Edgar improves to 14-1-1 overall, earning his first stoppage win since 2009 and just the third knockout win of his career. Maynard, who beat Edgar in 2008 and fought him to a draw on Jan. 1, 2011, suffers his first career MMA loss. He is now 10-1-1 with 1 no contest.
Featherweight Championship bout: Jose Aldo def. Kenny Florian
Unanimous decision: 49-46, 49-46, 49-46
Jose Aldo successfully makes his second title defense in the UFC and fourth dating to the WEC title. He is 13-0 since 2006 and 20-1 overall. Just six of his 20 career wins have come via decision, but he's gone the distance in three of his four fights since the start of 2010. Kenny Florian loses in his third shot at a UFC title after two unsuccessful attempts at lightweight. Since The Ultimate Fighter 1 Finale, Florian is 0-4 in title and number-one contender bouts while 12-0 in all other fights. He falls to 14-6 overall, with four of his six losses coming via decision.
Chael Sonnen def. Brian Stann
Submission, 3:51 of second round
Chael Sonnen gets Brian Stann in an arm bar and forces a tap out in the second round, in his first fight since losing to Anderson Silva in 2010 then getting suspended for a drug violation. After the fight, Sonnen challenged Silva to a rematch, saying if he won, Silva would leave the middleweight division, but if he lost, he would leave UFC. Sonnen improves to 27-11-1, with wins in five of his last six fights. Stann falls to 11-4 overall, snapping his three-fight win streak.
Nam Phan def. Leonard Garcia
Unanimous decision: 29-28, 29-28, 29-28
In a rematch of their December 2010 bout won by Garcia in a controversial split decision, Phan and Garcia traded powerful strikes, with Phan coming away with the unanimous decision victory. Phan dominated the action in the first two rounds, but Garcia nearly stole the fight in the third with wild strikes. Phan snaps a two-fight losing streak and avoids the first three-fight losing streak of his career. He picks up his first decision victory since 2006 and just the fifth out of his 17 career wins. Garcia loses his second consecutive bout since his win over Phan and falls to 15-8-1 overall. Six of his eight career losses have come via decision.
Joe Lauzon def. Melvin Guillard
Submission, 0:47 of first round
Lauzon gets Guillard into a choke and forces a submission just 47 seconds into the first round, his second consecutive first-round win. He improves to 21-6 overall with 17 of his 21 career victories coming via submission, including each of the last four. Lauzon wins consecutive bouts for the first time since 2008-09, while Guillard's five-match win streak comes to a quick end. He leaves the Octagon a loser for the first time since 2009, falling to 29-9-2 overall. Eight of his nine losses have come via submission.
Preliminary card (Spike TV)
Demian Maia def. Jorge Santiago
Unanimous decision: 30-27, 30-27, 30-27.
Maia spent most of the match on top of Santiago and despite not being able to finish him off still earned a unanimous decision victory. Maia improves to 15-3 overall, winning for the third time in his last four fights. Each of his last six fights has gone the distance. Santiago drops his second fight in a row, falling to 23-10 overall. It's the first time Santiago's lost back-to-back fights since 2006.
Anthony Pettis def. Jeremy Stephens
Split decision: 29-28, 28-29, 29-28
Pettis earns his first UFC win with a close split decision victory that could have gone either way. He improves to 14-2 overall and has won five of his last six fights. It's just the third of his 14 career victories to come via decision. Stephens falls to 20-7 overall, bringing his two-fight win streak to an end. It's just his second loss in his last six bouts. Each of his last three losses have come via decision.
Preliminary card (Facebook)
Stipe Miocic def. Joey Beltran
Unanimous decision: 29-28, 30-27, 29-28
Miocic earns a unanimous decision in his UFC debut, moving his career record to 7-0 overall. It's his first career win via decision, after five knockouts and one submission. Beltran falls to 13-6 overall, with five of his six career losses coming via decision. He's lost three of his last four bouts.
Darren Elkins def. Tie Quan Zhang
Unanimous Decision: 30-27, 30-26, 30-27
Elkins earns his second consecutive unanimous decision victory, improving to 3-1 with UFC and 13-2 overall. Elkins has won five of his last six fights dating to 2009, with three of those five wins coming via decision. Zhang falls to 15-2 overall, suffering his second loss in his last three fights, both coming via decision. He's just 1-2 after opening his career with 14 consecutive victories.
Aaron Simpson def. Eric Schafer
Unanimous Decision: 30-27, 30-27, 30-27
Simpson earns his third consecutive UFC victory to improve his overall record to 11-2. Each of his last three wins have come via decision. Schafer loses for the third time in his last four bouts to fall to 12-6-2 overall. Schafer's last three losses have all been decisions, the only three decision losses in his career.
Mike Massenzio def. Steve Cantwell
Unanimous decision: 29-28, 30-27, 29-28
Cantwell dropped down from 205 to 185, and dominated the first round. However Massenzio took control in the second and third rounds, breaking Cantwell's nose and bloodying his face to earn the decision victory. Massenzio improves to 13-5 overall, with wins in two of his last three bouts. Cantwell has lost four consecutive fights to fall to 7-5 overall. All four losses during the streak have come via decision.
NEWS RESULTS FOR UFC 136: EDGAR VS. MAYNARD III
TOP STORY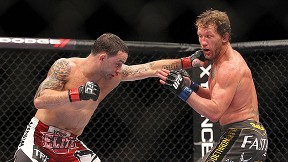 Score Settled
Frankie Edgar defended his belt, exacted revenge and put closure to his rivalry by stopping Gray Maynard in a wild affair at UFC 136 in Houston. Recap » Sonnen calls out Silva »
SHERDOG

Follow Sherdog.com's coverage of UFC 136, including news, video previews and full fight histories on all the fighters. UFC 136 »