UFC 145: Jones vs. Evans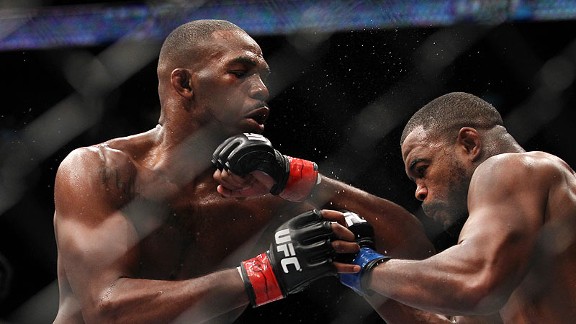 UFC 145: Jones vs. Evans was an Ultimate Fighting Championship event held on April 21, 2012, at Philips Arena in Atlanta. The main event featured light heavyweight champion Jon Jones defending his title against former champion and teammate Rashad Evans. Jones won in a lopsided unanimous decision.
UFC 145 was originally scheduled for late March in Montreal, but because of scheduling issues the Montreal card was canceled and the fights that had been booked for that event were shifted to the Atlanta event, which was previously set to be UFC 146.
Main Event
Light Heavyweight Championship: Jon Jones def. Rashad Evans
Unanimous decision: 49-46, 49-46, 50-45
Jones dominates the action against his former teammate, earning a lopsided unanimous decision to retain the title. Jones improves to 16-1 with his third successful defense of the title he took from Mauricio Rua at UFC 128. It's just the third time in his career that Jones has been forced to go the distance, and the first since he beat Stephan Bonnar at UFC 94. Jones has now won seven fights in a row since suffering his only loss via disqualification. Evans, the former champion and longtime teammate of Jones, falls to 17-2-1 in his career. It's his first defeat since losing to Lyoto Machida at UFC 98, and the first time in his career he's lost a decision. Evans has gone the distance in four of his last five fights.
Rory MacDonald def. Che Mills
TKO, 2:20 of second round
MacDonald lands a series of strikes to Mills's head, forcing a stoppage at 2:20 of the second round. MacDonald also dominated the first round, badly bloodying Mills's face. MacDonald improves to 13-1 overall, winning for the third consecutive time since his loss to Carlos Condit at UFC 115. Six of his 13 career wins have come via knockout. Mills sees his five-fight win streak come to an end, falling to 14-5 overall in the process. This is the first of his five career losses to come via knockout.
Ben Rothwell def. Brendan Schaub
Knockout, 1:10 of first round
Rothwell fells Schaub with a brutal left hook, and follows with a right that forces referee Herb Dean to jump in and stop the fight just 70 seconds into the action. Rothwell improves to 32-8 overall with his 18th knockout victory. This is his first first-round victory since 2008, and his fastest victory since knocking out Krzysztof Soszynski 13 seconds into their 2007 bout. Schaub suffers his second consecutive loss to fall to 8-3 overall. All three of his career losses have been first-round knockouts.
Michael McDonald def.Miguel Torres
Knockout, 3:18 of first round
McDonald uses a strong right uppercut to knock out Torres just over three minutes into the first round, scoring his eighth consecutive win. McDonald improves to 15-1 overall, with nine of his 15 victories coming via knockout. He's ended each of his last two fights in the first round. Only four of his 16 career fights have gone beyond the first round. Torres falls to 40-5 overall, suffering his second loss in his last three fights. This marked only the second time in his career that Torres was knocked out.
Eddie Yagin def. Mark Hominick
Split decision: 29-28, 28-29, 29-28
Yagin earns a decision victory for the fifth time in his career to improve to 15-5-1 overall. He's won 3 of his last four fights, and is now 1-1 fighting for UFC. He's gone the distance in both of his UFC fights, the other being a loss to Junior Assuncao at UFC 135. Hominick falls to 20-10 overall and has now lost three consecutive fights for the second time in his career. "The Machine" hasn't won since Jan. 22, 2011.
Mark Bocek def. John Alessio
Unanimous decision: 30-27, 29-28, 30-27
Bocek wins his second consecutive decision to improve to 11-4 overall. Each of his last three fights has gone the distance. All five decisions in his career (three wins, two losses) have been unanimous. Alessio, fighting under the UFC banner for the first time since 2006, falls to 34-15 overall. The loss snaps a three-fight win streak for Alessio, who is now 0-3 in UFC fights.
Preliminary Card
Travis Browne def. Chad Griggs
Submission, 2:29 of first round
The undefeated Browne gets Griggs into an arm-triangle choke and forces him to tap out halfway through the first round. Browne improves to 13-0-1, with just the second submission victory of his career. He's now won three consecutive fights since his draw with Cheick Kongo at UFC 120, ending two of them in the first round. Griggs suffers the second loss of his career, snapping a six fight win streak. He's now 11-2 overall, 0-1 in UFC.
Matt Brown def. Stephen Thompson
Unanimous decision: 30-27, 29-27, 30-27
Brown wins his second consecutive bout to improve to 14-11 overall. He's now 3-1 in his last four fights after losing the previous three. This is just Brown's second win via decision, though both have come in the last year. Thompson suffers his first career loss after opening 6-0.
Anthony Njokuani def. John Makdessi
Unanimous decision: 30-27, 30-27, 30-27
Njokuani wins for just the third time in his last seven fights to improve to 15-6 (1 NC) overall. Seven of his 15 career victories, including each of the last two, have come via decision. He's now 2-2 since coming over to UFC from WEC. Makdessi falls for the second consecutive bout, dropping his career record to 9-2. This is just the third time in his career he's been forced to go the distance.
Mac Danzig def. Efrain Escudero
Unanimous decision: 30-27, 30-27, 29-28
Danzig gets the decision victory to improve to 20-9-1 overall. It's just his third win in his last eight fights dating to 2008. It's only the sixth time in his MMA career he's won a decision. Escudero suffers his second consecutive loss, dropping his overall record to 18-5. He's just 6-5 since the start of 2010, after opening his career with 12 consecutive wins.
Chris Clements def. Keith Wisniewski
Split decision: 29-28, 28-29, 30-27
Clements earns the decision to push his record to 11-4 overall. It's the first of his 11 career wins that didn't come via knockout or TKO. He has now won five consecutive fights. Wisniewski falls to 28-14 overall, including 0-3 with UFC. Seven of his 14 career losses have come via decision.
Marcus Brimage def. Maximo Blanco
Split decision: 28-29, 30-27, 29-28
Brimage improves to 5-1 in his MMA career, including 2-0 with UFC (both wins via decision). He has won three consecutive fights. Blanco falls to 8-4-1 (1 NC) with his second consecutive loss. This is only the third of his 14 career bouts to go the distance.
NEWS RESULTS FOR UFC 145: JONES VS. EVANS
TOP STORY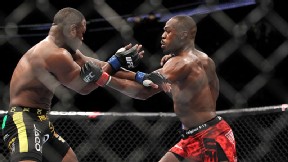 Jones retains title in decision
Rashad Evans took Jon Jones the distance, but didn't do quite enough to win. Jones retained his title belt with a five-round decision win over his former teammate. Roundup » Chat Wrap »
SHERDOG

Follow Sherdog.com's coverage of UFC 145, including news, video previews and full fight histories on all the fighters. UFC 145 »