UFC 147: Silva vs. Franklin 2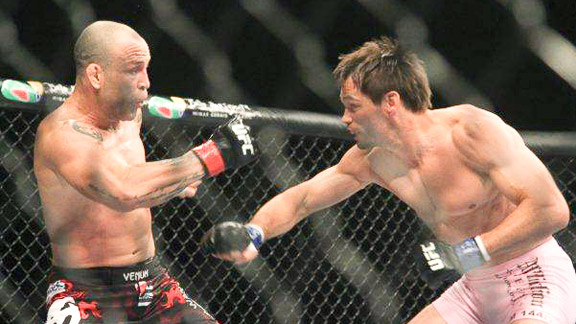 UFC 147 was an Ultimate Fighting Championship event, held June 23 in Belo Horizonte, Brazil. The main event on the card was a fight between Wanderlei Silva and Rich Franklin, which Franklin won via unanimous decision.
Originally, UFC 147 was expected to host a highly anticipated fight between Anderson Silva and Chael Sonnen, but due to scheduling conflicts with the Rio+20 conference, that fight was moved to UFC 148 in Las Vegas. At the time, the new UFC 147 main event was announced as Wanderlei Silva vs. Vitor Belfort. However in late May, Belfort was forced to withdraw due to a broken hand. He was replaced with Franklin, who met Wanderlei Silva at a 190-pound catchweight.
UFC 147 also hosted the live finale to "The Ultimate Fighter: Brazil" as part of its card.
Main Card
Main Event: Rich Franklin def. Wanderlei Silva
Unanimous decisoin: 49-46, 49-46, 49-46
TUF Brazil Middleweight Final: Cezar Ferreira def. Sergio Moraes
Unanimous decision: 29-28, 30-27, 30-27
TUF Brazil Featherweight Final: Rony Mariano Bezerra def. Godofredo Pepey
Unanimous decision: 29-28, 29-28, 29-28
Fabricio Werdum def. Mike Russow
TKO, 2:28 of first round
Hacran Dias def. Yuri Alcantara
Unanimous decision: 29-28, 30-27, 30-27
Preliminary Card
Rodrigo Damm def. Anistavio Medeiros
Submission, 2:12 of first round
Francisco Trinaldo def. Delson Heleno
TKO, 4:21 of first round
Hugo Viana def. John Teixeira
Split decision: 29-28, 28-29, 29-28
Thiago Perpétuo def. Leonardo Mafra
TKO, 0:41 of third round
Marcos Vinicius Borges Pancini def. Wagner Campos
TKO, 1:04 of third round
Felipe Arantes vs. Milton Vieira
Split draw: 29-28 Arantes, 29-28 Vieira, 28-28
TOP STORY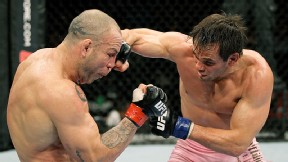 Repeat Performance
Rich Franklin again proved too active and too accurate for Wanderlei Silva in earning a unanimous decision in their rematch at UFC 147. Roundup » Analysis » Fight center »
SHERDOG

Follow Sherdog.com's coverage of UFC 147, including news, video previews and full fight histories on all the fighters. UFC 147 »