UFC 148: Silva vs. Sonnen 2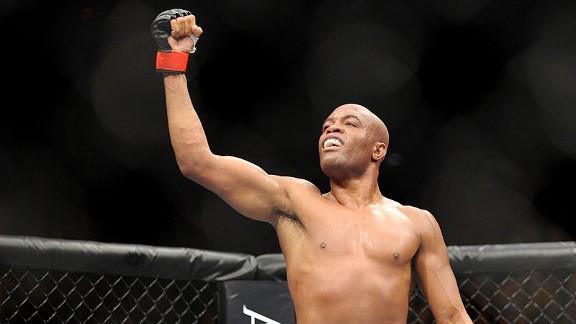 UFC 148 was an Ultimate Fighting Championship event held July 7 at the MGM Grand in Las Vegas. The main event was a highly anticipated rematch between Anderson Silva and Chael Sonnen, which Silva won via second-round TKO to retain his middleweight title.
Originally, the Silva-Sonnen rematch was scheduled to take place at UFC 147 in Rio, but scheduling conflicts with that event forced the organizers to move the fight to UFC 148. This will be the first meeting between Silva and Sonnen since UFC 117, when Sonnen was credited with beating Silva in each of the first four rounds before succumbing to a triangle choke in the fifth round.
Urijah Faber and Dominick Cruz were scheduled to meet in the co-main event, following their stint as coaches on "The Ultimate Fighter." But Cruz suffered a torn ACL and the fight was dropped. Faber was moved to the UFC 149 main event.
The replacement co-main event was the rubber match between Forrest Griffin and Tito Ortiz. Griffin won via unanimous decision, earning his second win over Ortiz, who was inducted into the UFC Hall of Fame the day before the event.
Main card
Middleweight championship bout: Anderson Silva def. Chael Sonnen
TKO, 1:55 of second round
Silva uses a knee to the chest to drop Silva, ending the much-anticipated rematch in the second round. Unlike the first meeting between the two fighters, Silva didn't need a miraculous fifth-round finish to retain his title. Silva stretches his record win streak to 16 fights, including a perfect 15-0 mark inside The Octagon. This win was his 10th title defense, four more than any other UFC champion has ever had. Sonnen falls to 27-12-1 overall. His only two losses in his last seven bouts have come against Silva.
Forrest Griffin def. Tito Ortiz
Unanimous decision: 29-28, 29-28, 29-28
In the rubber match of their epic trilogy, Griffin gets the better of Ortiz for the second time, earning a unanimous decision victory. Griffin bounces back from his loss to Mauricio Rua at UFC 134 to improve to 18-7 overall. He has wins in three of his last four bouts, with two of those coming over Oritz. His last four victories, dating to 2008, have all come via decision. Ortiz, fresh off his induction into the UFC Hall of Fame, falls to 16-11-1 overal. He is just 1-7-1 in his last nine fights.
Cung Le def. Patrick Cote
Unanimous decision: 30-27, 30-27, 30-27
Le bounces back from his loss to Wanderlei Silva to improve to 8-2 overall. This is the first time Le was forced to go the distance in any of his 10 career fights. Cote's four-fight win streak comes to an end, as he falls to 17-7 overall. This was his first fight under the UFC banner since UFC 121. He's lost his last four fights inside The Octagon.
Demian Maia def. Dong Hyun Kim
TKO, 0:47 of first round
Maia throws Kim to the ground, injuring his rib in the process and forcing a stoppage of the fight after just 47 seconds. Maia improves to 16-4 overall, but has alternated wins and losses in his last four fights. This was his fastest victory since a 35-second submission of Fabio Nascimento in October 2006. Kim suffers just the second loss of his career, both coming via first-round TKO. His record now stands at 15-2-1 (1 NC) with two losses in his last three fights.
Chad Mendes def. Cody McKenzie
TKO, 0:31 of first round
Mendes lands a body shot that drops McKenzie and follows it with a series of strikes, forcing a stoppage just 31 seconds into the first round. Mendes, coming off the only loss of his career, improves to 12-1 overall. This is just the third of his 12 victories to come via knockout, the first since July 2009. Just five of Mendes's 13 career fights have ended in the first round. McKenzie suffers his third loss in his last four bouts, dropping his career record to 13-3 overall.
Mike Easton def. Ivan Menjivar
Unanimous decision: 30-27, 29-28, 30-27
Easton earns the unanimous decision victory to improve to 12-1 in his MMA career. He's won all three of his fights under the UFC banner, and eight in a row overall. Three of his last four wins have gone the distance. Menjivar falls to 24-9 overall. The loss snaps his three-fight win streak and drops him to 3-1 in The Octagon. Six of his nine career losses, including each of the last four, have come via decision.
Preliminary Card
Melvin Guillard def. Fabricio Camoes
Unanimous decision: 30-27, 30-27, 30-27
Khabib Nurmagomedov def. Gleison Tibau
Unanimous decision: 30-27, 30-27, 30-27
Constantinos Philippou def. Riki Fukuda
Unanimous decision: 30-27, 30-27, 29-28
Shane Roller def. John Alessio
Unanimous decision: 29-28, 29-28, 29-28
Rafaello Oliveira def. Yoislandy Izquierdo
Unanimous decision: 29-28, 29-28, 29-28
NEWS RESULTS FOR UFC 148: SILVA VS. SONNEN 2
TOP STORY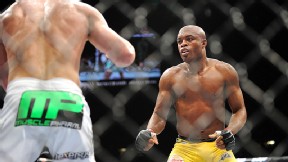 Knee You Later!
Anderson Silva used a knee to the body to stop Chael Sonnen in Round 2 and defend his middleweight title. Recap » Chat wrap »
SHERDOG

Follow Sherdog.com's coverage of UFC 148, including news, video previews and full fight histories on all the fighters. UFC 148 »