UFC 149: Faber vs. Barao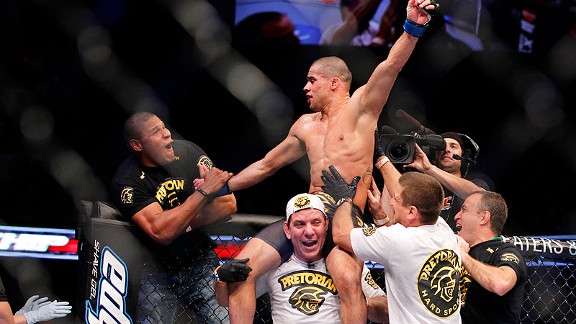 UFC 149 was an Ultimate Fighting Championship event, held July 21 at the Scotiabank Saddledome in Calgary. It was the first UFC event held in Alberta, Canada.
The main event at UFC 149 featured Renan Barao winning a unanimous decision over Urijah Faber for the interim bantamweight championship.
Originally when the card was announced, the main event was a featherweight title bout between Jose Aldo and Erik Koch, but an undisclosed injury forced Aldo off the card, moving Faber and Barao up to the featured slot.
Injuries affected the card from top to bottom, with Michael Bisping, Yoshihiro Akiyama, Thiago Alves, Thiago Silva, Antonio Rodrigo Nogueira and Claude Patrick among those joining Aldo on the sideline.
Main Card
Renan Barao def. Urijah Faber
Unanimous decision, 49-46, 50-45, 49-46
Barao dominates the fight from start to finish to take the interim bantamweight championship. Barao improves to 29-1 (1 NC) overall, continuing his remarkable run. The Brazilian has not lost since his MMA debut and is now 4-0 inside The Octagon. Barao gets the interim belt, while reigning bantamweight champion Dominick Cruz recovers from a torn ACL. Faber falls to 26-6 overall, losing for the second time in his last three bouts. Each of his last four losses have come in title fights.
Tim Boetsch def. Hector Lombard
Split decision, 29-28, 28-29, 29-28
In his UFC debut, Lombard drops a split decision to Boetsch, falling to 31-3-1 (1 NC) overall. Lombard had won his previous 20 fights, most of them under the Bellator promotion, and hadn't lost since 2006. Boetsch improves to 16-4 overall, earning his fourth consecutive victory. Four of his 16 career victories have come via decision. Boetsch is 5-1 since returning to UFC in 2010.
Cheick Kongo def. Shawn Jordan
Unanimous decision, 30-28, 30-27, 30-27
In a fight light on action, the judges give the victory to Kongo. The French heavyweight bounces back from his loss to Mark Hunt at UFC 144 to improve to 18-7-2 overall. He's won four of his last six fights, since suffering back-to-back losses to Cain Velasquez and Frank Mir in 2009. This was just the fifth of his 18 career wins to go the distance. Jordan falls to 13-4 overall, suffering his first defeat in his last three bouts. He's 1-1 since moving over to UFC from Strikeforce.
James Head def. Brian Ebersole
Split decision, 29-28, 28-29, 29-28
In a fight that could have gone either way, Head earns the decision, giving him his second consecutive victory. Head improves to 9-2 overall, with two career wins via decision. Ebersole's 11-fight win streak comes to an end, as he falls for the first time since 2008. His overall record drops to 50-15-1 (1 NC). This is the sixth of his 15 losses to come via decision, the first since 2007.
Matt Riddle def. Chris Clements
Submission, 2:02 of third round
Riddle forces Clements to submit in the third round with an arm triangle, snapping Clements's five-fight win streak. With the win, Riddle improves to 7-3 overall, with this being his first victory via submission. Riddle has won two fights in a row, after having lost his previous two fights. Clements falls to 11-5 overall, with four of his five losses coming via submission.
Preliminary Card
Nick Ring def. Court McGee
Unanimous decision: 29-28, 29-28, 29-28
Francisco Rivera def. Roland Delorme
KO, 4:19 of first round
Ryan Jimmo def. Anthony Perosh
KO, 0:07 of first round
Bryan Caraway def. Mitch Gagnon
Submission, 1:39 of third round
Antonio Carvalho def. Daniel Pineda
TKO, 1:11 of first round
Anton Kuivanen def. Mitch Clarke
Split decision: 29-28, 28-29, 29-28
TOP STORY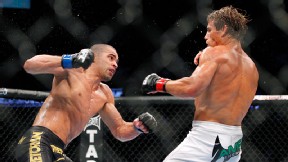 Renan Shine
It wasn't the barn-burner he had promised, but Renan Barao landed enough to earn a decision over Urijah Faber at UFC 149. Roundup »
SHERDOG

Follow Sherdog.com's coverage of UFC 149, including news, video previews and full fight histories on all the fighters. UFC 149 »