UFC 150: Henderson vs. Edgar II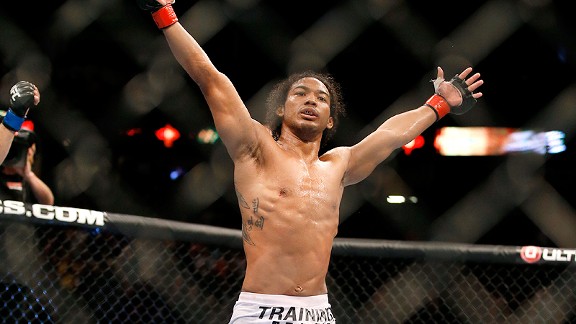 UFC 150 was an Ultimate Fighting Championship event held Aug. 11 at the Pepsi Center in Denver. It will be the first UFC event in Denver since UFC 135 and the fifth overall. Only Las Vegas and Atlantic City, N.J. have hosted more UFC events.
The main event was a lightweight championship bout between Benson Henderson and Frankie Edgar. The fight was a rematch of their meeting at UFC 144, in which Henderson defeated Edgar to win the title. Henderson won the rematch via split decision.
Main Card
Lightweight championship bout: Benson Henderson def. Frankie Edgar
Split decision: 46-49, 48-47, 48-47
Henderson earns a split decision victory, his second win in a row over Edgar and fifth straight overall, to retain his lightweight title. Henderson is 17-2 overall, and 5-0 since joining UFC. Seven of his 17 wins have come via decision. Edgar drops his second consecutive fight to fall to 14-3-1 overall. He's just 1-2-1 in his last four fights. All three of Edgar's career losses have been via decision. Henderson is the first fighter to defeat Edgar twice.
Donald Cerrone def. Melvin Guillard
Knockout, 1:16 of first round
Cerrone scores the knockout just over a minute into the first round, winning his second consecutive fight after his loss to Nate Diaz at UFC 141. Cerrone improves to 19-4 overall (1 no contest), scoring his second career win via knockout. Guillard, who missed weight and had to forfeit a portion of his purse, falls to 30-11-2 overall (1 no contest). He's lost three of his last four fights.
Jake Shields def. Ed Herman
Unanimous decision: 29-28, 30-27, 30-27
Shields earns the unanimous decision to improve to 28-6-1 overall. He's now won two consecutive fights after having dropped his previous two. Each of Shields' last two wins, and 15 of his 28 in his career, have come via decision. Herman falls to 20-9 overall, snapping his three-fight losing streak. This is just his third career loss via decision and first since 2008.
Yushin Okami def. Buddy Roberts
TKO, 3:09 of second round
Okami snaps his two-fight losing streak, bringing an end to the fight in the second round with a series of right hands. Okami improves to 27-7 overall, with 10 of his 27 career victories coming via knockout. This is his first win since November 2010 at UFC 122. Okami is 11-4 inside The Octagon. Roberts suffers his first loss since July 2009, ending his six-fight win streak. His record drops to 12-3 overall.
Max Holloway def. Justin Lawrence
TKO, 4:49 of second round
Holloway uses a series of strikes to bring an end to the fight late in the second round. He improves to 6-1 overall with his second career victory via knockout. Lawrence suffers his first career loss, falling to 4-1 overall.
Preliminary Card
Dennis Bermudez def. Tommy Hayden
Submission, 4:43 of first round
Michael Kuiper def. Jared Hamman
TKO, 2:16 of second round
Erik Perez def. Ken Stone
KO, 0:17 of first round
Chico Camus def. Dustin Pague
Unanimous decision: 29-28, 30-27, 29-28
Nik Lentz def. Eiji Mitsuoka
TKO, 3:45 of first round
TOP STORY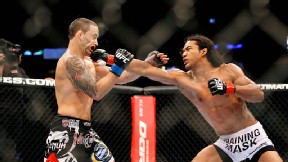 Outside Forces
Benson Henderson kept his distance to earn a split decision over Frankie Edgar and defend his title at UFC 150. Recap » Chat wrap »
SHERDOG

Follow Sherdog.com's coverage of UFC 150, including news, video previews and full fight histories on all the fighters. UFC 150 »