UFC on FOX: Velasquez vs. Dos Santos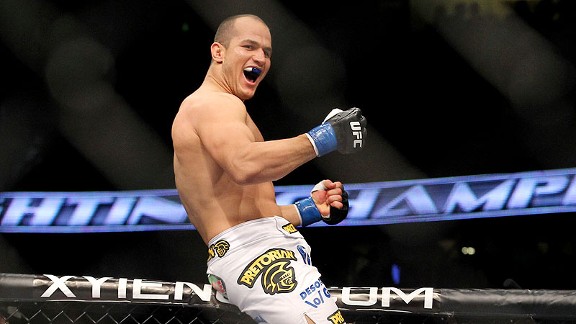 "UFC on Fox: Velasquez vs. Dos Santos" was an Ultimate Fighting Championship event held Nov. 12, 2011, at the Honda Center in Anaheim, Calif. The event marked UFC's debut on Fox, after the organization's multiyear contract with Spike TV expired.
The main event for UFC on Fox was a heavyweight championship bout between Cain Velasquez and Junior dos Santos. The challenger dos Santos knocked out Velasquez just over a minute into the first round, ending both his undefeated run and reign as heavyweight champion. Dos Santos remained undefeated inside The Octagon, becoming the first brazilian heavyweight champion since Antonio Rodrigo Nogueria.
Main Event
Heavyweight Championship Fight: Junior dos Santos def. Cain Velasquez
TKO, 1:04 of 1st Round
Junior dos Santos lands an overhand right to the temple of Cain Velasquez, sending him to the canvas. Dos Santos followed with a series of lefts to end the fight just 64 seconds into UFC's network television debut, becoming the new heavyweight champion. Dos Santos improves to 8-0 in his UFC career and 14-1 overall. He's won nine straight fights with seven finishes in that span (six KO, one submissions). He has finished 12 of his 14 career victories, with 11 coming in the first round. Dos Santos's win streak is the longest by a heavyweight in UFC history, breaking a tie with Velasquez and hall-of-famer Randy Couture. Velasquez was fighting for the first time since winning the belt from Brock Lesnar, and his 14-month reign as the heavyweight champion was over in less than two minutes. He suffers the first loss of his career, falling to 9-1 overall.
Preliminary Fights
Ben Henderson def. Clay Guida
Unanimous decision: 29-28, 30-27, 30-27
In an action-packed fight, Henderson and Guida trade takedowns and choke attempts, but end up going the distance, and the judges favor the former WEC lightweight championship. Henderson improves to 3-0 since joining the UFC and has won 13 of his last 14 bouts overall. The win puts him in line for a shot at the UFC lightweight title. Guida's four-fight win streak comes to an end, as he suffers his first loss since UFC 107 against Kenny Florian. He falls to 29-12 overall, with five of his 12 career losses coming via decision.
Dustin Poirier def. Pablo Garza
Submission, 1:32 of 2nd Round
The two fighters go to the ground early in the second round, and when Garza tries to sit up and escape, he leaves his neck open. Poirier gets him in a deep choke and rolls Garza to his back, forcing a tap out at 1:32 of the second round. Poirier improves to 11-1 overall, having won each of his last four fights. He's now 3-0 inside The Octagon in his career. Garza falls to 11-2 overall, suffering his first lost since WEC 51 in September of 2010. Both of his career losses have come via submission.
Ricardo Lamas def. Cub Swanson
Submission, 2:16 of 2nd Round
Lamas gets Swanson into an arm-triangle choke and forces a submission midway through the second round, earning his second consecutive victory since joining UFC. He improves to 11-2 overall in his career, with six of his 11 wins coming via stoppage (either KO or submission). This is his first submission victory since 2008. Swanson falls to 15-5 overall, with three losses in his last five fights. This was his first fight in 366 days, having last seen action at WEC 52 against Mackens Semerzier.
DaMarques Johnson def. Clay Harvison
KO, 1:34 of 1st Round
Johnson sends Harvison to the canvas with a left uppercut, and raises his fists in victory. However, referee Herb Dean doesn't stop the fight immediately, so Johnson lands a pair of rights to the laid-out Harvison, putting a stop to the action less than two minutes into the first round. Johnson improves to 13-9 overall, with six of his 13 wins coming via knockout. He's split his last four fights, alternating wins and losses. Harvison falls to 9-4 overall, dropping his second consecutive fight. He's 0-2 since defeating Justin Edwards at the TUF 13 finale.
Darren Uyenoyama def. Norifumi Yamamoto
Unanimous decision: 30-27, 30-27, 30-26
Uyenoyama wins in his UFC debut, improving to 7-3 overall in his career. He's won his last two fights and three of his last four, dating to 2008. This was his first fight after nearly 14 months off. Yamamoto falls to 18-5 overall (1 NC), with four of his 5 losses coming via decision. He's now 0-2 inside the Octagon, and has lost four of his last five fights overall, dating to 2009.
Robert Peralta def. Mackens Semerzier
TKO, 1:54 of 3rd Round
An accidental heatbutt opens up a gash over Semerzier's left eye in the third round. Despite the injury, Semerzier tried to continue, but Peralta swarmed him with punches, forcing the referee to stop the fight and give a TKO victory to Peralta. If the result stands, it would mark Peralta's ninth consecutive victory, moving his career mark to 16-3 overall. It'd be his first win via knockout since a 1st-minute stoppage of Randy Connelly in 2010. Semerzier falls to 6-4 overall with the loss, with all four career defeats coming in his last five fights.
Alex Caceres def. Cole Escovedo
Unanimous decision: 30-27, 30-27, 30-27
Caceres dominates the action, earning a unanimous decision victory to improve to 6-4 overall. The man known as "Bruce Leroy" snaps a two fight losing streak and wins for the first time on a UFC card. It's the first of his 10 career fights to go the distance. Escovedo falls to 17-9 overall, suffering his third consecuve loss and fifth in his last six fights. He remains winless inside The Octagon.
Mike Pierce def. Paul Bradley
Split decision: 29-28, 28-29, 30-27
In a close fight that could have gone either way, Pierce earns his 13th career victory, improving to 13-4 overall. He's won four of his last five fights, and each of his last two fights (one win, one loss) have come down to a split decision. Bradley suffers his second consecutive loss, falling to 18-4 overall with one no contest. Three of his four career losses have been via decision.
Aaron Rosa def. Matt Lucas
Majority decision: 30-26, 30-26, 28-28
Rosa earns his first career UFC victory, and his 17th overall, scoring the majority decision over Lucas. It's the seventh career decision victory for Rosa, who has won five of his last six fights. Lucas, making his UFC debut, falls to 14-3 overall and sees his five-fight win streak come to an end.
TOP STORY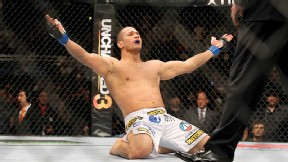 Raizing Cain
Junior dos Santos destroyed Cain Velasquez in one round to become the new UFC heavyweight champion. Recap » Analysis »
SHERDOG

Follow Sherdog.com's coverage of UFC on Fox 1, including news, video previews and full fight histories on all the fighters. UFC on Fox 1 »