Harper exceeding high expectations
Take a moment to appreciate what we're witnessing.

Just a year after Mike Trout, then 20, enjoyed a 10.9 WAR (wins above replacement) season that rated among the best in the game's history -- 21st in the modern era, going by Baseball-Reference.com's WAR -- let alone the best all time by a player of that age, we're perhaps about to be greeted by a second consecutive all-time-great of a year by a 20-year-old.
Bryce Harper is treating us, thus far, to that kind of an age-20 campaign.
Think, for a second, about what that means. In the history of baseball, only 10 players have managed a season of at least a .280 batting average, 20 home runs and a 3.0 WAR at the age of 20. Six of the seven Hall of Fame eligibles from that group were inducted (Vada Pinson was the only one who wasn't). The other three: Ken Griffey Jr. and Alex Rodriguez, who should eventually make it in, and Trout.
Harper indeed has put himself on that kind of Hall of Fame trajectory, not that that's particularly shocking considering the glowing statements made about him as far back as his high school days in Las Vegas. He is a player whom most everyone has forecasted a future MVP, this columnist included. At the time of our annual baseball summit in January, I said, "If you're asking me to compose my 2014 rankings right now, Harper will unquestionably be in my top 10 overall."
Apparently, I'll be a year late on that forecast.
Harper's level of advancement this season vaults him into MVP-caliber territory right now; and considering the history of similar hitters to break into the majors at as young an age as him, I should've known it might happen. Using Baseball-Reference.com's Play Index tool, the following chart identifies the 10 best 19-year-olds of the modern era, going by WAR batting runs (they define this as "number of runs better or worse than average the player was as a hitter"), then shows how they fared in their follow-up, age-20 campaigns:
Age 19 Season

Age 20 Season

Player

Year

PA

BA/OBP/SLG

HR/SB

Year

PA

BA/OBP/SLG

HR /SB

Mel Ott
1928
500
.322/.397/.524
18/3
1929
675
.328/.449/.635
42/6
Tony Conigliaro
1964
444
.290/.354/.530
24/2
1965
585
.269/.338/.512
32/4
Bryce Harper
2012
597
.270/.340/.477
22/18
2013
80
.366/.438/.718
7/1
Ty Cobb
1906
394
.316/.355/.394
1/23
1907
642
.350/.380/.468
5/53
Cesar Cedeno
1970
377
.310/.340/.451
7/17
1971
649
.264/.293/.398
10/20
Sherry Magee
1904
387
.277/.308/.409
3/11
1905
669
.299/.354/.420
5/48
Mickey Mantle
1951
386
.267/.349/.443
13/8
1952
626
.311/.394/.530
23/4
C. Washington
1974
237
.285/.326/.376
0/6
1975
635
.308/.345/.424
10/40
Ken Griffey Jr.
1989
506
.264/.329/.420
16/16
1990
666
.300/.366/.481
22/16
Jimmie Foxx
1927
147
.323/.393/.515
3/2
1928
473
.328/.416/.548
13/3
Eight of these nine hitters (Harper represents the 10th) improved in WAR batting runs at age 20, and Hall of Famers Cobb, Foxx, Mantle and Ott exhibited the largest improvements of the group. And that's the upshot here: Hall of Fame-caliber talent tends to exceed expectations, not to mention deviate from traditional aging curves. For Harper to have even reached the majors at 19 was remarkable, so his prospects as a 20-year-old should've been far greater from a typical player of that age. He's effectively on Ott's career trajectory -- naturally, Ott is Harper's second-closest player comparable per Baseball-Reference.com. Incidentally, Ott managed at least 20 homers and 100 RBIs in every one of his ages 20-27 seasons, averaging 32-124 numbers during that eight-year span.
My mistake projecting Harper this preseason was failing to account for the possibility he could reach Ott's level of year-over-year improvement at 20. I had two significant questions: (1) Would he hit for a high enough batting average to drive his fantasy value into the top 25 overall. (2) Was he likely to manage another 24 steals attempts -- 27 if you project to a full 162-game schedule?
The batting average question was the grave error.
Small-sample caveats aside, Harper's contact-rate improvement erases many of the concerns about his batting average. Through 80 plate appearances, he has a 16.3 percent strikeout rate, almost 4 percent beneath his 2012 number (20.1 percent); tossing in his 16.7 percent K rate during spring training only helps support the fact that he has improved in this regard. Projecting a 680-PA season -- that about the midway point between Harper's current pace in the category (648) as well as the majors' 2012 average for a No. 3 hitter (717) -- Harper would've effectively shaved 26 K's off his seasonal total if he maintains his current rate.
Harper is also making a slightly higher rate of hard contact, another fact that should drive his batting average north. Thus far, 31 percent of his balls in play have been judged hard contact by ESPN's pitch-tracking tool, while another 17 percent have been judged "medium" contact; last season he managed 29 and 16 percent numbers in those departments. Consider that, so far in 2013, 70 percent of balls in play judged hard contact resulted in hits (16 percent of those home runs), and 38 percent judged medium contact resulted in hits.
[+] Enlarge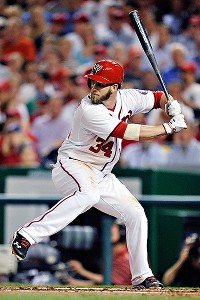 Joy R. Absalon/USA TODAY SportsBryce Harper has shown so far this season he can be a .300 hitter, in addition to the power and speed.
Perhaps, if Harper was subject to some sort of adjustment at the big league level, we already saw it. Consider that, coming out of the 2012 All-Star break, he endured a rocky, 37-game stretch, but he quickly corrected it to conclude the year:
July 13-Aug. 21: 37 G, .186/.266/.307 rates, 23.8 K%, 10.0 BB%
Aug. 22 forward: 39 G, .331/.390/.648 rates, 18.1 K%, 8.1 BB%
Could this mean Harper is actually a .300 hitter? There's no reason to think he can't do it. Eighteen batting-title eligibles managed hard contact on at least 30 percent of their balls in play with a strikeout rate beneath 20 percent; that group combined to bat .302, 11 of the 18 managing an average of .300 or better.
That said, Harper hasn't completely settled in as a hitter. Hard heat -- fastballs clocked at 94 mph or faster -- continue to fluster him, as he's a .194/.304/.343 hitter in 80 career plate appearances that ended with one. But imagine if he begins catching up with those pitches.
As for the stolen bases, who'd have guessed that that might be the more legitimate question? Harper is 1-for-2 in stolen base attempts through 20 Washington Nationals games, putting him on pace for only 16 attempts all year. He has also attempted a steal on only 8.3 percent of his opportunities (those judged by Baseball-Reference.com), down from 12.2 percent in 2012.
That's not to say that Harper can't regain some of his aggressiveness on the base paths and get into the 20s in steals, but he wouldn't be the first to tone it down in the steals department as the value of his bat increases, if that's the end result. The upshot is that, even if he finishes in the 10- to 15-steal range, his owners aren't going to care if they come with a .300 average and 30-plus homers.
Sadly, I liked Harper -- liked him a lot -- in the preseason, placing him 53rd overall. That would've been his effective 2012 Player Rater finish if we credited him the 20 Nationals games before his April promotion at the per-game rates he exhibited; the concern was that he might bat .260, so I wasn't prepared to push him much higher until I first saw him make these adjustments.
Kudos to colleagues Eric Karabell, who had Harper 20th in the preseason, and Matthew Berry, who had him 27th, and to those of you who got him within range of his No. 28 ADP in ESPN live drafts in the preseason.
Even at those price points, you got yourself quite a value. And it's for that reason Harper has soared to my No. 12 overall hitter this week.
TOP 150 HITTERS
Note: Tristan H. Cockcroft's top 150 hitters are ranked for their expected performance from this point forward, not for statistics that have already been accrued. For position-specific rankings, see the "Pos Rnk" column; these rankings can also be seen split up by position at this link. Previous Ranking ("Prev Rnk") is ESPN's preseason ranking among all hitters.
#

Player, Team

Pos
Rk

Prv
Rk

#

Player, Team

Pos
Rk

Prv
Rk

1
Ryan Braun, Mil
OF1
2
76
Josh Willingham, Min
OF38
67
2
Miguel Cabrera, Det
3B1
1
77
Nelson Cruz, Tex
OF39
88
3
Mike Trout, LAA
OF2
4
78
Rickie Weeks, Mil
2B7
76
4
Andrew McCutchen, Pit
OF3
3
79
Jed Lowrie, Oak
SS8
79
5
Justin Upton, Atl
OF4
6
80
Howie Kendrick, LAA
2B8
86
6
Robinson Cano, NYY
2B1
5
81
Ike Davis, NYM
1B11
75
7
Carlos Gonzalez, Col
OF5
7
82
Jason Kipnis, Cle
2B9
72
8
Prince Fielder, Det
1B1
8
83
Aaron Hill, Ari
2B10
84
9
Joey Votto, Cin
1B2
9
84
Torii Hunter, Det
OF40
83
10
David Wright, NYM
3B2
10
85
Aramis Ramirez, Mil
3B11
82
11
Troy Tulowitzki, Col
SS1
12
86
Carl Crawford, LAD
OF41
91
12
Bryce Harper, Wsh
OF6
20
87
Eric Hosmer, KC
1B12
69
13
Matt Kemp, LAD
OF7
11
88
Josh Reddick, Oak
OF42
95
14
Evan Longoria, TB
3B3
14
89
Ben Revere, Phi
OF43
85
15
Albert Pujols, LAA
1B3
13
90
Wilin Rosario, Col
C6
99
16
Adam Jones, Bal
OF8
16
91
Kevin Youkilis, NYY
3B12
87
17
Ian Kinsler, Tex
2B2
17
92
Miguel Montero, Ari
C7
90
18
Jose Bautista, Tor
OF9
15
93
David Ortiz, Bos
DH1
97
19
Buster Posey, SF
C1
19
94
Michael Cuddyer, Col
OF44
107
20
Jacoby Ellsbury, Bos
OF10
22
95
Neil Walker, Pit
2B11
93
21
Giancarlo Stanton, Mia
OF11
18
96
Alejandro De Aza, CWS
OF45
98
22
Adrian Beltre, Tex
3B4
21
97
Paul Konerko, CWS
1B13
102
23
Dustin Pedroia, Bos
2B3
24
98
Coco Crisp, Oak
OF46
104
24
Brandon Phillips, Cin
2B4
26
99
Kendrys Morales, Sea
1B14
105
25
Paul Goldschmidt, Ari
1B4
31
100
Mark Teixeira, NYY
1B15
92
26
Starlin Castro, ChC
SS2
27
101
Nick Swisher, Cle
OF47
109
27
Jay Bruce, Cin
OF12
30
102
Erick Aybar, LAA
SS9
96
28
Austin Jackson, Det
OF13
29
103
David Freese, StL
3B13
100
29
Billy Butler, KC
1B5
25
104
Manny Machado, Bal
3B14
115
30
Edwin Encarnacion, Tor
1B6
28
105
Everth Cabrera, SD
SS10
116
31
Jason Heyward, Atl
OF14
23
106
Norichika Aoki, Mil
OF48
103
32
Desmond Jennings, TB
OF15
36
107
Ryan Howard, Phi
1B16
94
33
B.J. Upton, Atl
OF16
33
108
Jayson Werth, Wsh
OF49
108
34
Matt Holliday, StL
OF17
32
109
Andre Ethier, LAD
OF50
101
35
Adrian Gonzalez, LAD
1B7
37
110
Mike Napoli, Bos
C8
122
36
Jimmy Rollins, Phi
SS3
35
111
Victor Martinez, Det
C9
89
37
Josh Hamilton, LAA
OF18
34
112
Lance Berkman, Tex
1B17
114
38
Ben Zobrist, TB
OF19
39
113
Adam LaRoche, Wsh
1B18
106
39
Shin-Soo Choo, Cin
OF20
42
114
Daniel Murphy, NYM
2B12
117
40
Elvis Andrus, Tex
SS4
38
115
Nick Markakis, Bal
OF51
112
41
Ian Desmond, Wsh
SS5
40
116
Jean Segura, Mil
SS11
130
42
Pablo Sandoval, SF
3B5
44
117
Kyle Seager, Sea
3B15
124
43
Yoenis Cespedes, Oak
OF21
51
118
Dan Uggla, Atl
2B13
111
44
Alex Rios, CWS
OF22
41
119
Jason Kubel, Ari
OF52
113
45
Alex Gordon, KC
OF23
43
120
Josh Rutledge, Col
SS12
133
46
Carlos Santana, Cle
C2
50
121
Will Middlebrooks, Bos
3B16
118
47
Yadier Molina, StL
C3
47
122
Brandon Moss, Oak
1B19
128
48
Allen Craig, StL
1B8
49
123
Justin Morneau, Min
1B20
120
49
Michael Bourn, Cle
OF24
46
124
Jose Reyes, Tor
SS13
123
50
Dexter Fowler, Col
OF25
53
125
Pedro Alvarez, Pit
3B17
134
51
Chris Davis, Bal
OF26
55
126
J.J. Hardy, Bal
SS14
129
52
Martin Prado, Ari
OF27
48
127
Jonathan Lucroy, Mil
C10
138
53
Chase Headley, SD
3B6
54
128
Danny Espinosa, Wsh
2B14
125
54
Ryan Zimmerman, Wsh
3B7
45
129
Salvador Perez, KC
C11
121
55
Mark Trumbo, LAA
OF28
56
130
Starling Marte, Pit
OF53
126
56
Joe Mauer, Min
C4
52
131
Matt Carpenter, StL
1B21
127
57
Freddie Freeman, Atl
1B9
74
132
Mike Moustakas, KC
3B18
119
58
Brett Lawrie, Tor
3B8
59
133
Mark Reynolds, Cle
1B22
141
59
Jose Altuve, Hou
2B5
60
134
J.P. Arencibia, Tor
C12
150
60
Matt Wieters, Bal
C5
58
135
Michael Saunders, Sea
OF54
132
61
Curtis Granderson, NYY
OF29
62
136
Chris Young, Oak
OF55
135
62
Michael Morse, Sea
OF30
57
137
Alexei Ramirez, CWS
SS15
137
63
Hunter Pence, SF
OF31
63
138
Lorenzo Cain, KC
OF56
NR
64
Hanley Ramirez, LAD
3B9
64
139
Justin Ruggiano, Mia
OF57
NR
65
Chase Utley, Phi
2B6
65
140
Trevor Plouffe, Min
3B19
131
66
Todd Frazier, Cin
3B10
71
141
Andrelton Simmons, Atl
SS16
139
67
Anthony Rizzo, ChC
1B10
70
142
Chris Carter, Hou
1B23
136
68
Shane Victorino, Bos
OF32
68
143
Lucas Duda, NYM
OF58
NR
69
Carlos Gomez, Mil
OF33
78
144
Michael Young, Phi
1B24
140
70
Asdrubal Cabrera, Cle
SS6
61
145
Evan Gattis, Atl
C13
148
71
Carlos Beltran, StL
OF34
80
146
Zack Cozart, Cin
SS17
149
72
Melky Cabrera, Tor
OF35
66
147
Chris Johnson, Atl
3B20
NR
73
Angel Pagan, SF
OF36
73
148
Gerardo Parra, Ari
OF59
NR
74
Alcides Escobar, KC
SS7
77
149
Franklin Gutierrez, Sea
OF60
146
75
Brett Gardner, NYY
OF37
81
150
Matt Adams, StL
1B25
147
Fantasy
Staff writer for ESPN.com
Two-time LABR, 2012 Tout Wars Champion
Member of FSWA Hall of Fame
SPONSORED HEADLINES
FANTASY TOP HEADLINES
MOST SENT STORIES ON ESPN.COM
EDITORS' PICKS
Tristan H. Cockcroft looks at the impact of Robinson Cano to the Mariners.

Tristan H. Cockcroft looks at the impact of Jacoby Ellsbury to the Yankees.

What does the closer landscape look like after a couple of big moves?