Improving hitting stats
What numbers must you reach and which hitters can help you get there?
Is there a deadline to make a comeback in a fantasy baseball league?

It's the question we asked in Wednesday's 60 Feet, 6 Inches, in which the consensus take, examining the five prominent rotisserie pitching categories, was that mid-May represented a sort of breaking point for improving one's squad. Beyond June 1, improvement -- especially to your ratios -- was more difficult.
It's the question we now ask today, turning our attention to the five prominent rotisserie hitting categories -- and it turns out that fantasy owners can afford to wait a little longer before improvement becomes more difficult.
But not much longer.
To illustrate, the chart below shows you what an average team's statistical contributions were in ESPN standard 10-team mixed leagues in 2012. These numbers should help you set full-season categorical goals. Every league will vary, but these are good baselines for setting your projections.
| Place | AVG | HR | RBI | SB | R |
| --- | --- | --- | --- | --- | --- |
| 1 | .275 | 292 | 1,061 | 189 | 1,118 |
| 2 | .273 | 283 | 1,039 | 178 | 1,089 |
| 3 | .272 | 276 | 1,024 | 172 | 1,069 |
| 4 | .272 | 272 | 1,013 | 167 | 1,054 |
| 5 | .271 | 268 | 998 | 161 | 1,032 |
| 6 | .271 | 261 | 980 | 158 | 1,018 |
| 7 | .271 | 255 | 961 | 154 | 996 |
| 8 | .270 | 249 | 941 | 149 | 974 |
| 9 | .270 | 242 | 918 | 143 | 951 |
| 10 | .269 | 231 | 879 | 136 | 912 |
First, compare your team's full-season paces by category to the chart above. Are you considerably ahead of pace, or might you be surprised to learn that your "hot-starting" team is actually further behind than you thought? Take special note of any categories in which your team is noticeably ahead of the average first-place team or behind the last-place team; those are probably your excesses and weaknesses.
Returning to the initial question, let's assume for this exercise that your team is pacing for last-place numbers by category and your goal is to improve your overall rotisserie point total into the 80-point range -- that's eight, or third place, in each of the 10 standard categories -- to give yourself an excellent chance of winning. (The average winner's total in 2012 was 81.36 points.)
The chart below shows you what, using 2012 team averages, you'll need to gain from each of your 13 active hitting spots during the remainder of the season in order to make up the ground necessary to reach the 80-point threshold. To show degree of difficulty by stage of season, six start dates are used: May 1, May 16, June 1, June 16, July 1 and the All-Star break.
| Date | Banked AB | AVG | HR/Spot | R/Spot | RBI/Spot | SB/Spot |
| --- | --- | --- | --- | --- | --- | --- |
| 5/1 | 1043 | .273 | 0.74 | 2.54 | 2.25 | 0.66 |
| 5/16 | 1605 | .274 | 1.15 | 3.91 | 3.46 | 1.01 |
| 6/1 | 2167 | .274 | 1.55 | 5.28 | 4.68 | 1.36 |
| 6/16 | 2728 | .275 | 1.95 | 6.65 | 5.89 | 1.72 |
| 7/1 | 3290 | .276 | 2.35 | 8.01 | 7.10 | 2.07 |
| ASB | 3812 | .278 | 2.72 | 9.28 | 8.23 | 2.40 |
Oddly, unlike on the pitching side, where two of the five categories are ratios, on the hitting side, the one ratio category -- batting average -- might appear at first glance to be the easiest in which to gain ground.
Not so -- but at least you can afford to wait longer than you could for ERA or WHIP.
Batting average
Remember that the deeper we get into the season, the larger the sample size from which your team's batting average is drawn. In other words, a two-point difference in the standings has more weight in, say, July than it does today.
Let's analyze this statistically: If you're pacing for last-place numbers in batting average, you're batting .269 today (and with some hope, not worse than that). Your goal to finish third would be a .272 batting average.
As with ERA and WHIP, let's assume that some of your team's misfortunes were mere bad luck; you might have a team that also would place dead last in BABIP, or you own several players with horrible BABIP numbers. For this exercise, let's assume your team should regress to the mean in future weeks, meaning your squad should be capable of a .271 mark from this point forward, which was the league-average number in ESPN standard leagues in 2012.
If that's true, then you'll need one of your 13 hitting spots to provide you a .295 batting average over 420 remaining at-bats from May 1 forward, or you will need two of those 13 spots to provide a .283 mark, assuming the remainder of your squad hits exactly .271. From May 1 forward last season, 32 players managed at least a .295 mark in 420 or more at-bats, and 49 managed at least a .283 batting average in the requisite at-bats. Those hint that there's plenty of time to correct your batting-average problems if you act today.
Now, let's try this with May 16 as our starting point: You would need a .303 batting average from one player, a mark that 24 qualified hitters achieved after that date last season, or a .287 mark from two, which 47 managed in 2012.
[+] Enlarge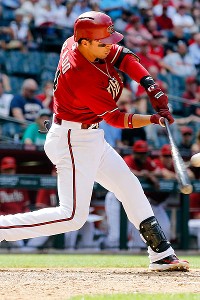 AP Photo/Matt YorkMartin Prado's batting average should get back to its normal level soon.
That still seems manageable, right?
Let's jump ahead by a month and use June 16 as our starting point: From that point forward, you would need one player to bat at least .324 or two to bat .296 around the remainder of your lineup that bats the league-average .271. Last season, only 11 players managed to bat .324 in the requisite at-bats after June 16, but 35 hitters managed to bat .296 or better.
That June 16 date is the first point at which the degree of difficulty significantly increases, but at the same time those numbers show that such improvement isn't impossible. The primary difference is that, 6-7 weeks from now, you might need to acquire two batting-average specialists, rather than one, to make up ground.
Here are some potential batting-average contributors you might acquire cheaply:
Martin Prado: His .225 batting average is 35 points beneath his worst single (full) year number (.260 in 2011), and it's 65 points worse than his .290 mark in the past three seasons combined. A .223 BABIP has a lot to do with it; Prado's batted-ball rates are largely the same as they've always been, and he has made as consistently hard contact as he always has. An added advantage if you target him via trade: He's both outfield and third-base eligible.
Adrian Beltre: Granted, he's not making quite as quality contact as he did during his previous two years with the Texas Rangers -- his well-hit average (percentage of at-bats that resulted in hard contact) is .214, down from .309 in 2011 and .284 in 2012 -- but Beltre still has a good chance at finishing with a batting average in the .290 range. After all, it's difficult to imagine a hitter with a mere 11.3 percent strikeout rate since the beginning of 2011 batting a mere .214.
Billy Butler: He batted .306 from 2009-12 combined, never finishing with a single-year mark beneath .291, and he's a lifetime .300 hitter in the majors after hitting .336 during his minor league career, yet he's batting only .272 in 2013. Fortunately, it's not a product of Butler making bad decisions at the plate. He has an elevated 18.2 percent walk rate and opposing pitchers have thrown him only 47 percent of his pitches in the strike zone (50 percent from 2010-12).
Now, let's address the other counting categories on the hitting side, ranking them from easiest to most difficult in which to gain ground:
Stolen bases
There's a reason steals are the easiest category -- among the five rotisserie hitting ones -- in which to singularly gain ground: It's that speedsters are easy to identify, and many of them suffer in terms of perceived value because of the old "one-category player" stigma. Ask Juan Pierre; for a decade he has gotten a bad rap for "helping you in steals only," yet year after year he's about as smart a trade target as there is for a steals-seeking team.
Consider that if you make a move for a speedster today, all you need as a last-place team seeking a third-place finish is to pick up an additional 8.5 steals from your 13 lineup spots. Look at some of 2012's biggest surprises: Mike Trout swiped 49 bags, Everth Cabrera 44, Norichika Aoki 30, Jarrod Dyson 30 and Tony Campana 30.
[+] Enlarge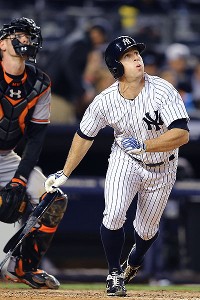 Al Bello/Getty ImagesIt should be a matter of time before Brett Gardner has far more stolen bases than home runs.
Frankly, you could wait until as late as mid-June, if you're willing to trade for your steals, considering the chart above shows that a team needs to gain 22.3 steals from its roster from June 16 forward. If there's any difference between now and then, it's that you might be able to scoop up steals off the waiver wire; by June, you'll almost certainly have to get it via trade.
Here are some potential speedsters you could target:
Angel Pagan: He swiped 37, 32 and 29 bases the past three seasons, working forward, and has the on-base skills necessary to give himself another reasonable chance at 30 come year's end. There's little in Pagan's profile to suggest he's slowing down, yet to date he's on pace for only 23 steals. You might be running out of time, though; he has three steals in his past six games.
Brett Gardner: He hasn't appeared quite his usual self through the season's first month. His walk rate down (9.1 percent, after 12.1 percent from 2010-12 combined), and his season pace for stolen bases is merely 24. But considering Gardner missed almost the entire 2012 campaign with elbow issues, might it be understandable that he needed some time to get comfortable at the plate? There's no question he has the on-base skills to drive his stolen-base opportunities and the speed to get his final number into the 40-45 range.
B.J. Upton: He's off to an awful start with his new team, the Atlanta Braves, but has everyone simply forgotten how hot and cold Upton has been throughout the course of his career? The main reason his slump is more noticeable is that it's coming at the beginning of the year. His June 2012 was every bit as poor, as he batted .194 with only one home run and three stolen bases in 27 games that month. If Upton's owner is in a panic, swoop in. He's probably just adjusting to a new league and team and is bound for a hit streak soon.
Runs scored
This is a category in which your standing can quickly get out of hand, but unlike RBIs, it's not necessarily as difficult to address because of how frequently it's underrated by fantasy owners. It's often tied to other rotisserie departments, as home run hitters and speedsters tend to also be solid contributors in runs.
[+] Enlarge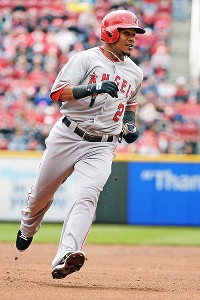 AP Photo/David DurochikErick Aybar could be in for a bunch of runs leading off a talented Angels lineup.
Here are some potential runs scored contributors you could target:
Everth Cabrera: There are few smarter runs scored targets than speedsters who bat first or second and know how to draw a walk. Cabrera is one of the quickest players in the game -- he has 51 steals in 58 chances since the beginning of last season -- and he has an 11.3 percent walk rate in 2013.
Desmond Jennings: He brings with him some danger in the batting-average department -- a .245 career hitter in the bigs -- but he's adept at drawing walks with a career rate of 9.1 percent, he's the table setter for the Tampa Bay Rays, and he lacks any significant competition for either his center-field or leadoff role.
Erick Aybar: Now healthy, Aybar has returned as the Los Angeles Angels' leadoff hitter -- effectively swapping spots with new No. 2 hitter Mike Trout -- and that means getting to bat ahead of run producers like Trout, Albert Pujols, Josh Hamilton and Mark Trumbo.
RBIs
RBIs tend to be a difficult category to address the deeper we get into the season, primarily because of their correlation to home runs -- the next category we'll discuss. Still, those seeking improvement in this category might want to target slow-starting players ticketed for middle-of-the-order jobs over the long haul or players who hit reasonably high in loaded lineups.
[+] Enlarge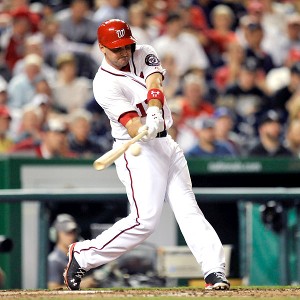 Joy R. Absalon/USA TODAY SportsRyan Zimmerman could be back soon off the DL to provide plenty of RBIs in the middle of a solid Nationals lineup.
Here are some potential RBI producers you could target:
Miguel Montero: He's the No. 4 or 5 hitter in a lineup in which the leadoff/No. 2 hitter (Martin Prado) sports a puzzling .271 on-base percentage and in which both Adam Eaton and Aaron Hill should return in several weeks to capture two more of those top 3-4 spots. Montero himself is off to a slow start; his .194 batting average is 77 points beneath his career average, and he has slugged at least .435 in each of the past five seasons.
Ryan Zimmerman: He's a streaky, injury-prone player, but he's also one destined to slot back into the heart of the Washington Nationals order, behind the hot-starting Bryce Harper (who, granted, is now day-to-day). Remember, Zimmerman batted .319/.384/.580 with 20 home runs and 64 RBIs in 83 games over the final four months of last season, so he has the ability to get massively hot.
Home runs
Why are home runs the most difficult category, being that they're a counting category? Simple: People place more of a premium on home runs than the other four categories. The chart above illustrates that, come June 1, you would need to pick up an additional 20.1 homers from your squad in the final four months in order to make the nine-point rally you would need to go from last to third place.
[+] Enlarge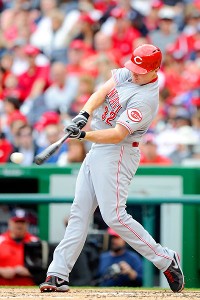 G Fiume/Getty ImagesJay Bruce finished third in the National League in home runs (30) and second in RBIs (109) last year.
In other words, you would need to specifically target potential league leaders in homers, players available to you only via trade, and you're going to play a hefty price because the majority of them are valued in or near the top 25 players overall. This is the category in which you will want to make your move sooner rather than later -- especially since right now is a good buy-low time.
Here are some potential home run hitters you could target:
Jay Bruce: He is a streaky hitter, period, best illustrated by his career .256 batting average and 23.8 percent strikeout rate, so his current season total of one home run shouldn't come across as completely shocking. Remember, this is a slugger who once belted seven home runs in an 11-game span right around this time in 2012 -- April 26 to May 8 -- and his current 4.0 home run/fly ball percentage is ridiculously beneath his 16.3 percent number from 2010-12 combined.
Ike Davis: I'm still buying, but I've always been clear that this is not the kind of player you want for his batting-average contributions. Slow starts are nothing new to Davis. He was batting .170/.228/.296 with five home runs through May last season, meaning he was off to an even worse start than now. From June 12 forward last season, Davis hit 27 home runs, a number exceeded by only nine players in baseball.
TOP 150 HITTERS
Note: Tristan H. Cockcroft's top 150 hitters are ranked for their expected performance from this point forward, not for statistics that have already been accrued. For position-specific rankings, see the "Pos Rk" column; these rankings can also be seen split up by position. Previous Ranking ("Prv Rk") is ESPN's preseason ranking among all hitters.
#

Player, Team

Pos
Rk

Prv
Rk

#

Player, Team

Pos
Rk

Prv
Rk

1
Ryan Braun, Mil
OF1
1
76
Rickie Weeks, Mil
2B7
78
2
Miguel Cabrera, Det
3B1
2
77
Matt Wieters, Bal
C5
60
3
Mike Trout, LAA
OF2
3
78
Nelson Cruz, Tex
OF39
77
4
Robinson Cano, NYY
2B1
6
79
Torii Hunter, Det
OF40
84
5
Justin Upton, Atl
OF3
5
80
Wilin Rosario, Col
C6
90
6
Andrew McCutchen, Pit
OF4
4
81
Aaron Hill, Ari
2B8
83
7
Carlos Gonzalez, Col
OF5
7
82
Melky Cabrera, Tor
OF41
72
8
Prince Fielder, Det
1B1
8
83
Jed Lowrie, Oak
SS8
79
9
Joey Votto, Cin
1B2
9
84
Aramis Ramirez, Mil
3B11
85
10
David Wright, NYM
3B2
10
85
Jason Kipnis, Cle
2B9
82
11
Troy Tulowitzki, Col
SS1
11
86
Howie Kendrick, LAA
2B10
80
12
Bryce Harper, Wsh
OF6
12
87
David Ortiz, Bos
DH1
93
13
Evan Longoria, TB
3B3
14
88
Michael Cuddyer, Col
OF42
94
14
Albert Pujols, LAA
1B3
15
89
Manny Machado, Bal
3B12
104
15
Matt Kemp, LAD
OF7
13
90
Alejandro De Aza, CWS
OF43
96
16
Ian Kinsler, Tex
2B2
17
91
Paul Konerko, CWS
1B11
97
17
Adam Jones, Bal
OF8
16
92
Mike Napoli, Bos
C7
110
18
Jose Bautista, Tor
OF9
18
93
Jean Segura, Mil
SS9
116
19
Jacoby Ellsbury, Bos
OF10
20
94
Josh Reddick, Oak
OF44
88
20
Buster Posey, SF
C1
19
95
Miguel Montero, Ari
C8
92
21
Dustin Pedroia, Bos
2B3
23
96
Everth Cabrera, SD
SS10
105
22
Edwin Encarnacion, Tor
1B4
30
97
Ike Davis, NYM
1B12
81
23
Brandon Phillips, Cin
2B4
24
98
Erick Aybar, LAA
SS11
102
24
Paul Goldschmidt, Ari
1B5
25
99
Kendrys Morales, Sea
1B13
99
25
Adrian Beltre, Tex
3B4
22
100
Ben Revere, Phi
OF45
89
26
Austin Jackson, Det
OF11
28
101
Ryan Howard, Phi
1B14
107
27
Starlin Castro, ChC
SS2
26
102
Norichika Aoki, Mil
OF46
106
28
Jay Bruce, Cin
OF12
27
103
Kevin Youkilis, NYY
3B13
91
29
Adrian Gonzalez, LAD
1B6
35
104
Kyle Seager, Sea
3B14
117
30
Matt Holliday, StL
OF13
34
105
Nick Markakis, Bal
OF47
115
31
Billy Butler, KC
1B7
29
106
Brandon Moss, Oak
1B15
122
32
Hanley Ramirez, LAD
3B5
64
107
Neil Walker, Pit
2B11
95
33
Pablo Sandoval, SF
3B6
42
108
Nick Swisher, Cle
OF48
101
34
Ben Zobrist, TB
OF14
38
109
Starling Marte, Pit
OF49
130
35
Desmond Jennings, TB
OF15
32
110
David Freese, StL
3B15
103
36
Alex Rios, CWS
OF16
44
111
Jayson Werth, Wsh
OF50
108
37
Alex Gordon, KC
OF17
45
112
Lance Berkman, Tex
1B16
112
38
Ian Desmond, Wsh
SS3
41
113
Josh Rutledge, Col
SS12
120
39
B.J. Upton, Atl
OF18
33
114
Pedro Alvarez, Pit
3B16
125
40
Shin-Soo Choo, Cin
OF19
39
115
Eric Hosmer, KC
1B17
87
41
Yoenis Cespedes, Oak
OF20
43
116
Andre Ethier, LAD
OF51
109
42
Josh Hamilton, LAA
OF21
37
117
Mark Teixeira, NYY
1B18
100
43
Elvis Andrus, Tex
SS4
40
118
Jason Kubel, Ari
OF52
119
44
Carlos Santana, Cle
C2
46
119
Will Middlebrooks, Bos
3B17
121
45
Chris Davis, Bal
OF22
51
120
Jose Reyes, Tor
SS13
124
46
Jason Heyward, Atl
OF23
31
121
Matt Carpenter, StL
1B19
131
47
Dexter Fowler, Col
OF24
50
122
Mark Reynolds, Cle
1B20
133
48
Chase Headley, SD
3B7
53
123
Lorenzo Cain, KC
OF53
138
49
Carl Crawford, LAD
OF25
86
124
Mike Moustakas, KC
3B18
132
50
Michael Bourn, Cle
OF26
49
125
Daniel Murphy, NYM
2B12
114
51
Jimmy Rollins, Phi
SS5
36
126
Justin Morneau, Min
1B21
123
52
Mark Trumbo, LAA
OF27
55
127
Dan Uggla, Atl
2B13
118
53
Yadier Molina, StL
C3
47
128
Jonathan Lucroy, Mil
C9
127
54
Ryan Zimmerman, Wsh
3B8
54
129
J.J. Hardy, Bal
SS14
126
55
Brett Lawrie, Tor
3B9
58
130
Victor Martinez, Det
C10
111
56
Michael Morse, Sea
OF28
62
131
Chris Young, Oak
OF54
136
57
Martin Prado, Ari
OF29
52
132
Carlos Ruiz, Phi
C11
NR
58
Allen Craig, StL
1B8
48
133
Adam LaRoche, Wsh
1B22
113
59
Freddie Freeman, Atl
1B9
57
134
Danny Espinosa, Wsh
2B14
128
60
Giancarlo Stanton, Mia
OF30
21
135
Salvador Perez, KC
C12
129
61
Jose Altuve, Hou
2B5
59
136
Michael Saunders, Sea
OF55
135
62
Curtis Granderson, NYY
OF31
61
137
Chris Carter, Hou
1B23
142
63
Carlos Gomez, Mil
OF32
69
138
Yonder Alonso, SD
1B24
NR
64
Hunter Pence, SF
OF33
63
139
Coco Crisp, Oak
OF56
98
65
Anthony Rizzo, ChC
1B10
67
140
Andrelton Simmons, Atl
SS15
141
66
Chase Utley, Phi
2B6
65
141
Chris Johnson, Atl
3B19
147
67
Todd Frazier, Cin
3B10
66
142
J.P. Arencibia, Tor
C13
134
68
Joe Mauer, Min
C4
56
143
Justin Ruggiano, Mia
OF57
139
69
Angel Pagan, SF
OF34
73
144
Brandon Belt, SF
1B25
NR
70
Alcides Escobar, KC
SS6
74
145
Josh Donaldson, Oak
3B20
NR
71
Carlos Beltran, StL
OF35
71
146
Alexei Ramirez, CWS
SS16
137
72
Asdrubal Cabrera, Cle
SS7
70
147
Vernon Wells, NYY
OF58
NR
73
Shane Victorino, Bos
OF36
68
148
Nate McLouth, Bal
OF59
NR
74
Brett Gardner, NYY
OF37
75
149
Juan Pierre, Mia
OF60
NR
75
Josh Willingham, Min
OF38
76
150
Adam Dunn, CWS
1B26
NR
Fantasy
Senior writer for ESPN.com
Co-host of the Fantasy Focus Baseball podcast
Two-time LABR, three-time Tout Wars champion
Member of the FSWA Hall of Fame
EDITORS' PICKS
Check out our Fantasy Baseball draft kit and sign up to play Fantasy Baseball today!

Eric Karabell conducts his "perfect" draft.
Story

Tristan Cockcroft's 20 top values for 2015.
MOST SENT STORIES ON ESPN.COM