2013 Position Preview: Third base
Updated:
February 20, 2013, 3:52 PM ET
By
Brian Gramling
| Special to ESPN.com
The third base position has often been one of great strength in recent years, and this season is no exception. The hot corner is no longer a final resting point for once-agile shortstops or once-speedy outfielders. Now it's the position some of the brightest young stars in the game call home. Of the top 17 third basemen in the rankings, only two are above the age of 30 -- Adrian Beltre and Aramis Ramirez -- and both of those sluggers are still hitting like they're in their prime.
The top third-sackers will certainly help fantasy teams in four Roto categories: batting average, home runs, RBIs and runs. Of the 17 third basemen that qualified for the batting title last season, a dozen hit better than .270, with the top 5 reaching the .300 plateau. And the only batting average wrecker was Kevin Youkilis, who batted .235, well below his career mark of .283. (Mark Reynolds batted .221, but he played only 15 games at the hot corner.)
Although just four third basemen smacked 30 homers, a whopping 19 players hit at least 15 homers. And though four third-sackers drove in 100 runs, 17 players piled up at least 60 RBIs.
Runs were nearly as plentiful, with six third basemen scoring 90-plus times and 15 third basemen surpassing 60 runs. And there's even a little speed at the position, as seven players reached double digits in steals, while 11 third basemen swiped more than five bags, more than double the number of first basemen eclipsing five steals last season. Simply put, the third base position has enough depth to bolster offensive production across the board.
Cream of the crop
The top tier of fantasy third basemen consists of four studs. Miguel Cabrera is clearly the best, and should be the first infielder taken in fantasy drafts. The reigning Triple Crown winner has logged at least 150 games in nine straight seasons, and his per-year averages over this time are quite impressive: .321 batting average, 34 homers, 118 RBIs, 102 runs and four steals. Comerica Park ranked 17th in ESPN's Park Factors ratings for 2012 in terms of homers, yet Cabrera smacked 28 longballs and posted a 1.095 OPS in his home park last year. As long as the Tigers' leadoff hitters (mostly Austin Jackson) post something close to the collective .364 OBP they had last season, Cabrera's run production will rule the American League once again.
[+] Enlarge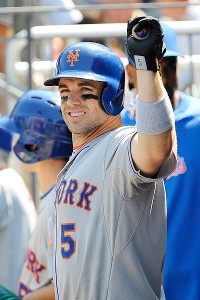 AP Photo/Chris BernacchiDavid Wright had a nice bounce-back campaign in 2012.
The other three players in this category are a notch below Cabrera, but they're still worthy of at least second-round picks in standard leagues. The order of these three can be interchangeable depending on the particular scoring system. David Wright is the most complete third-sacker on the list. Even including his injury-shortened 102 games in 2011, his average season since 2005 has looked like this: 149 games, .301 BA, 24 homers, 97 RBIs, 94 runs and 20 steals. The moving-in of the fences at Citi Field seemed to help boost his home OPS from .767 in 2011 to .859 last season, and now that he has a long-term contract extension, he can be more relaxed and help mentor the wealth of young talent on the Mets' roster, which should in turn help Wright continue to tally triple digits in runs and RBIs.
Adrian Beltre provides sheer power. He may be past his prime at age 33, but Beltre can still produce runs with the best of them, posting three straight 100-RBI seasons with an average of 32 taters and 87 runs scored. His Texas Rangers lineup probably won't be as potent without Josh Hamilton and Mike Napoli, but Beltre will still have plenty of RBI chances to knock home Ian Kinsler, Elvis Andrus and, at some point, stud prospect Jurickson Profar.
The only question mark surrounding Evan Longoria is his health -- he has missed 117 games over the past two seasons -- but at age 27, he still has a long career ahead of him. He'll also have plenty of new faces alongside him in the infield with his Tampa Bay Rays signing James Loney, Kelly Johnson and Yunel Escobar in the offseason. Longoria also has learned how to prosper in Tropicana Field, which is the fifth hardest stadium to get hits in, according to the Park Factors ratings. After slashing an anemic .235/.350/.462 at the Trop in 2011, he boosted those numbers to .339/.409/.609 last season.
The next best thing
This next tier of players is clearly a notch below the fantastic four, but there are certainly no slouches in this group. Chase Headley had a final stat line that was really hard to fathom (.286 batting average, 31 homers, 115 RBIs, 95 runs, 17 steals), as he bested previous career highs in the run-producing categories by 19 homers, 51 RBIs and 18 runs. Headley smacked 19 homers with 63 RBIs after Aug. 1, producing a final two-month slash of .318/.389/.632! This put him 14th overall in the final 2012 Player Rater. If those last nine weeks are a sign that the 28-year-old has hit his prime, he'll be a top-25 fantasy option for years to come, even while playing half his games at pitcher-friendly Petco Park.
Play Fantasy Baseball
You lose 100 percent of the leagues you don't join.

Play For Free on ESPN.com »
Ryan Zimmerman has played at least 140 games in five of the past seven years, and has averaged 25 homers and 97 RBIs in these five seasons. Yet the feeling among many is that the best is still to come for this 28-year-old. And after a monster second half of the 2012 season (.319/.381/.564, 17 homers, 55 RBIs), you can reasonably expect 2013 to be the year he takes his numbers up a notch from good to great.
Brett Lawrie is arguably the player with the most upside in this tier. That's because he's just 23 years old and has legitimate 20-homer/20-steal potential. He also stands to benefit greatly from all the offseason additions to the Toronto Blue Jays lineup, no matter where he's slotted in the batting order. Lawrie has hit .300 with an .860 OPS in Rogers Centre in his young career (317 at-bats), and isn't afraid of big situations, posting a slash line of .298/.357/.454 with runners on base.
Where's the ceiling?
Mike Moustakas certainly has some question marks, with 124 K's and just 39 walks last season, but this ratio isn't too uncommon for a 24-year-old slugger completing his first big league campaign. His post-All-Star break numbers were very disappointing, most notably his .325 slugging percentage, but the lefty made great strides hitting off southpaws. After posting a horrific .494 OPS in 89 at-bats versus lefties in his rookie season, Moustakas increased that to a respectable .704 OPS in 169 at-bats against lefties in 2012. However, considering the massive depth at the third base position (and corner infielders in general), you shouldn't spend too many dollars banking on a breakthrough year coming from him in 2013.
Todd Frazier is a former first-round draft pick, and now he should get his chance to play every day for the Cincinnati Reds. He did an admirable job as an injury replacement for both Scott Rolen at third base and Joey Votto at first base last season, tallying a .498 slugging percentage in 128 games. Frazier finished the season with 19 homers, and actually hit much better on the road (.286 BA, .871 OPS) than in his hitter-friendly home ballpark (.258 BA, .786 OPS). He's not a prospect anymore, but the 27-year-old could make for a nice mid-round sleeper in 2013.
Manny Machado is only 20 years old, which is why he can be forgiven for drawing just nine walks in 202 plate appearances as a rookie last season. But he also played outstanding defense (five errors in 51 starts) despite not playing a single inning at third base in his minor league career. One of the great things about Machado for long-term keeper leagues and dynasty formats is that he eventually will go back to his natural shortstop position, which gives him much more value in fantasy baseball. The Baltimore Orioles organization raves about his maturity and composure, especially for his age (20), and unlike past Orioles "can't-miss" youngsters (apologies to Jeffrey Hammonds, Ben McDonald and Matt Riley), Machado appears to be a legitimate stud prospect for the Orioles with a long and prosperous MLB career ahead of him.
Where's the basement?
Kevin Youkilis will don the New York Yankees pinstripes this season, which is great news for Yankee fans considering he's a .300 hitter with a .915 OPS in 350 career at-bats versus the Bronx Bombers. Youkilis batted a career-low .235 last season in his split time with the different colored Sox (Boston Red Sox and Chicago White Sox), but still managed to hit 15-plus homers for the sixth straight year. He's on the downside of his career, but the plethora of big bats surrounding him in the New York batting order likely will rejuvenate him a bit. He's not somebody worth drafting until the later rounds, though, especially since he'll be out of a starting job if/when Alex Rodriguez returns.
Speaking of Rodriguez, he actually has become undervalued in his later years, probably because he's running low on supporters with his postseason futility (3-for-25, 12 K's in 2012 playoffs) and questionable character. He can now be gotten at a bargain-basement price, and if he recovers from his hip injury and returns to the form of even a couple of years ago (30 homers, 125 RBIs in 2010), Rodriguez is certainly capable of providing reliable run production in the middle of what will still be an excellent Yankees batting order.
Michael Young's move from the Texas Rangers to the Philadelphia Phillies doesn't appear to be a great career move for a 36-year-old who batted .320 with an .848 OPS in more than 900 career games at Rangers Ballpark. These numbers are considerably higher than what he has done on the road in his career (.283 BA, .736 OPS). Young is coming off a career-low .682 OPS, as he managed just eight homers in 651 plate appearances during the 2012 campaign. His lack of power would be OK if he still hit for a high average, but a .277 clip (his 2012 average) just won't make up for that subpar run production. Leave him be until the end of your draft, if even then.
Steady as he goes
[+] Enlarge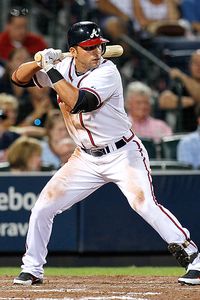 Kevin C. Cox/Getty ImagesMartin Prado hit .301 with 42 doubles, 10 homers and 17 steals last season.
The players in this group are your bankable commodities. They're consistent and durable enough to be counted on for productive seasons. Martin Prado in Arizona is an interesting case, because although he moves to more hitter-friendly Chase Field (sixth in hits, according to Park Factors) from Turner Field (13th in hits), the Arizona Diamondbacks' lineup is not as impressive as the one he had been in with the Atlanta Braves. Despite Prado switching positions and roles as everything from a part-timer to an everyday player over the past few seasons, he still has batted better than .300 four times in the past five years, notching four straight campaigns of at least 10 homers and 64 runs. Tack on his 17 steals from a year ago and you have a pretty well-rounded ball player who hasn't even turned 30 yet.
Aramis Ramirez seemed to be fading after an injury-riddled 2009 campaign, followed by a .241 batting average during a subpar 2010 season. But in the past two years, Ramirez has found a fountain of youth, posting a .300-plus batting average in each of the past two seasons, with a combined 53 homers, 198 RBIs and 172 runs. Signing with the Milwaukee Brewers was a great decision, as he exploded for a .990 OPS at Miller Park last season with a .320 average, 15 homers and 58 RBIs in 75 games. At age 34, the expectation of similar gaudy numbers is not unreasonable.
Even after his 2011 postseason heroics, David Freese wasn't taken seriously as a fantasy option because he doesn't really excel in any particular area. But after playing full-time for an entire season, his final numbers -- .293 batting average, 20 homers, 79 RBIs and 70 runs -- contributed more value than what most experts thought possible. His home/road and first-half/second-half splits were remarkably similar, showing that he is someone you can rely on in all situations.
Start 'em elsewhere
Hanley Ramirez has both shortstop and third base eligibility, but with shortstop being the weaker position in fantasy, he makes for a better start there. Martin Prado can also play the outfield, and really can be interchangeable in either position depending on the makeup of a particular fantasy roster. Todd Frazier, Kevin Youkilis and Michael Young are all 1B/3B eligible, but because first base packs more punch from one to 30 than the slightly more top-heavy hot corner spot, keep all these players at the position they will play more often this season, which is third base. For larger leagues, Jeff Keppinger, Chris Nelson and Maicer Izturis are all eligible to play at second base, and that is where they should be slotted for a fantasy team, because none of these guys will come close to matching the production of any of the top-20 third basemen.
Points versus Roto
Points-based fantasy leagues seek the all-category helpers, and the trend has been for leagues to adopt OBP or OPS to value guys who get on base and hit for extra bases instead of the sometimes-flawed batting average metric. Kevin Youkilis carries a high on-base percentage, as does his new teammate Alex Rodriguez. David Freese and Martin Prado are also tough outs, and can do a bit of everything. Freese also sports a high slugging percentage, as does Pedro Alvarez and Todd Frazier. For deeper leagues and/or NL-only formats, Juan Francisco and Eric Chavez will rack up total bases when called upon, but might not get enough at-bats to make a huge splash here.
For Roto leagues, though this position is loaded with good hitters, stolen bases can be found here, too. Seven third-sackers are projected to swipe 10-plus bags in 2012, with three of these players not among the top-10 third basemen: Pedro Ciriaco, Kyle Seager and Manny Machado. Ciriaco is penciled in for 13 swipes in just 305 plate appearances, so the 25-steal potential is there if he finds regular playing time either at second base (if Dustin Pedroia gets injured again) or third base (if Will Middlebrooks is ineffective). For owners digging the long ball, Pedro Alvarez, Todd Frazier, Will Middlebrooks and Mike Moustakas are players to target in the middle rounds when the top-10 third basemen are no longer available. In terms of guys that can help you win a batting title, Jeff Keppinger, David Freese and Jordan Pacheco should all bat .290 or higher in 2013, and can be had for a smaller salary in auction drafts than some of the big home run hitters.
Bottom line
Third base is stacked, with a monster front four and a whole lot of fine players that comprise the top 10 at this position. Run production is most prevalent with these top-tier players, but batting average and speed can also be had here. The majority of the third-sackers occupying the starting positions in fantasy baseball are under 30, which is why there are a ton of great options to choose from. And even in shallow fantasy formats, no longer is that corner infield slot strictly for first base overflow, so don't forget about the hot corner once your starter has been picked.
Fantasy
Brian Gramling is a fantasy baseball, football and college basketball analyst for ESPN Fantasy Games.
SPONSORED HEADLINES
FANTASY TOP HEADLINES
MOST SENT STORIES ON ESPN.COM
2013 Fantasy Baseball Draft Kit
ESPN.com's experts have all the information you need to succeed in your fantasy draft.
Draft Kit home
Play for free
2013 Projections and Profiles
• All players | Sortable statistics
• More: C | 1B | 2B | 3B | SS | OF | SP | RP
2013 Rankings
• Top 300 | AL-only | NL-only
• Points Leagues | Cheat sheets
• Catcher: Rankings | Preview | Video


• First Base: Rankings | Preview | Video


• Second Base: Rankings | Preview | Video


• Third Base: Rankings | Preview | Video


• Shortstop: Rankings | Preview | Video


• Outfield: Rankings | Preview | Video


• Designated Hitter: Rankings
• Start. Pitcher: Ranks | Preview | Video


• Relief Pitcher: Ranks | Preview | Video


• Updated closer chart
• Matthew Berry's Top 200
• Top 50 prospects for 2013


• Tristan H. Cockcroft's Top 250 keepers
• Custom roto dollar value generator

Talented Mr. Roto
• Matthew Berry's Top 200
• The Draft-Day Pamphlet
• 100 facts you need to know
Mock Drafts
• 10-team head-to-head roto
• 10-team head-to-head points
• 12-team standard roto
• 10-team standard roto
• Dynasty: 10-team standard roto
• Mock Draft Lobby
• Live Draft Results
Analysis
• Cockcroft: Impact of lineup positions
• Gramling: Most fantasy-noteworthy stat splits
• Sheets: Bullpen breakdown, all 30 teams
• Cockcroft: 2012 Consistency Ratings
• Cockcroft: Position battle updates
• Mass: ADP risers, fallers
• Staff: 2013 Sleepers and Busts
• Cockcroft: Deep sleepers for 2013
• Cockcroft: My annual "Bleagh!" guys
• Cockcroft: Tristan's Twenty
• Cockcroft: Effects of Petco, Safeco changes
• Cockcroft: Kings of Command
• Cockcroft: Components of ERA
• Mass: Value of negative batting average
• Mass: Mulligan ERAs: Impact of awful starts
• Mass: Dissecting pitcher wins
• Cockcroft: BABIP primer
• Cockcroft: Spring watch list
• Sheets: 2013 free agents to be
• Gramling: Value of multi-position eligibility
• Cockcroft: Impact of Astros' move to AL
• Cockcroft: Players with surprising eligibility
• Notable offseason moves | Signings roundup
• Complete list of free-agent signings
Spring Fever
Strategy
• Mass: Points league strategy
• Simon: Defense league strategy, rankings
• Cockcroft: Expand to try a 6x6 league
• Fantasy 101: Intro to fantasy baseball
• Drafting a league constitution
Stephania Bell
• Injuries: C | 1B | 2B | 3B | SS | OF | SP | RP
Insider
• Law: Divisive players: Yea or Nay?


• Zola: Guys I Like/Guys I Don't Like


• Karabell: Sleeper Tour -- Mike Morse


• Law: Breakout picks for 2013


• Karabell: My 2013 'Do Not Draft' list


• Karabell: Players I like more


• Zola: How to approach steals category


• Zola: Mathematical method to drafting SPs


• Sleeper stolen base options: AL

| NL


• Szymborski: Truth about pitching depth

• Szymborski: The Top 30 players in 2018

• Karabell: Risky early-round picks


• Karabell: When to draft starting pitchers


• Zola: Finding hidden value in player pool


• Law: Top 100 prospects


• Lindbergh: Ten players who will regress


• Zola: Is position scarcity a myth?


• Karabell: Top bounce-back candidates


• Karabell: Undervalued veterans to watch


• Szymborski: WAR's most divisive players

• Karabell: My Top 100 rankings


• Karabell: Top 10 prospects for 2013

Video
• Karabell/Cockcroft: Underowned pitchers


• Bell: March 26 Injury Report


• Berry's Love/Hate for 2013


• Diamond Debate: Beltre vs. Evan Longoria


• Diamond Debate: Prince vs. Pujols


• Diamond Debate: Tulo vs. Josh Hamilton


• Diamond Debate: King Felix vs. Yu Darvish


• Diamond Debate: Who's No. 1?


• Roundtable video archive


• Bell: Victor Martinez injury update


• Bell: Yankees injury updates