2014 Position Preview: Relief pitchers
Updated:
February 20, 2014, 4:23 PM ET
By
AJ Mass
| ESPN.com
Like it or not, the value of relief pitchers in the majority of fantasy baseball leagues is almost exclusively tied to saves. That's not to say there aren't a lot of talented relievers out there who can shut down teams an inning at a time, perhaps even earning themselves the occasional victory in the process.
But if you play in a scoring system where saves count for 20 to 25 percent of a pitcher's value, even guys who manage to get you only half as many saves as the league leaders are going to be far more important to have on your roster than the top "holds" guys and "closers-in-waiting," provided they don't completely tank in the categories of ERA and WHIP.
Play Fantasy Baseball

You lose 100 percent of the leagues you don't join.

Play For Free on ESPN.com »
In terms of a fantasy draft, there are 30 jobs out there from which to choose, and while there may be a few Carlos Marmol-type choices in the mix, whose ratios make you want to run for the hills, the general rule of thumb is that security trumps success in the rankings process. That's why a player like Jim Henderson, projected in the neighborhood of 30 saves and 75 strikeouts, will end up under consideration for the top 25, while Brian Wilson can pretty much match him in expected ratios, yet barely make it to the top 50 due to the lack of expected saves.
In 2013, that meant you wanted to draft a veteran like Mariano Rivera -- someone you knew would not be removed from the closer's position unless his arm actually fell off of his body -- instead of the rookie with a lot of hype who was favored to win the competition for a job in the spring. Yes, Bruce Rondon, we're talking about you. While those particular examples may have changed a bit for 2014, the general rule of thumb remains the same as it ever was: No, you don't pay for saves; but you don't draft anything but saves, either.
Cream of the crop
Craig Kimbrel saved 50 games last season, but what was even more impressive was the fact that from May 9 to Sept. 10, he had an ERA of 0.19 and a batting average against (BAA) of just .139. That kind of extended dominance -- even in a cherry-picked time span -- is simply too good to dismiss as some sort of statistical anomaly. When you've got a pitcher who has a 13.2 K/9 rate and find that to be a tad disappointing, you know there's talent to spare here.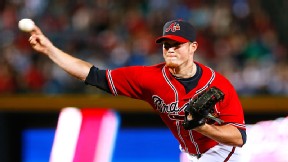 Kevin C. Cox/Getty ImagesCraig Kimbrel has established himself as the clear-cut No. 1 relief pitcher in fantasy baseball.
It looks as though new Cincinnati Reds manager Bryan Price will indeed resist the urge to convert Aroldis Chapman from the team's closer to a member of the starting rotation this season. However, Price has said he wants to see more of Chapman than just one inning at a time. With the expectation of seeing more eighth-inning summoning from the bullpen, the impact of his ERA and WHIP in 2014 should be greater than ever before.
Some pitchers just seem to perform better when the game is on the line. Kenley Jansen seems to be one of those pitchers. Once the Los Angeles Dodgers decided to give Jansen the closer's job in June, he flourished in the role, saving 26 games with a 1.41 ERA and a .142 BAA. Compare that to the 2.53 ERA and .224 BAA from the first two months-plus of the season, and you've got yourself an emerging star in the role.
Rising stars
It's not every day you see a pitcher with more career saves in the playoffs than in the regular season, but Trevor Rosenthal's dominance took center stage only from the last week of September on. The signs were there all season long though, as his BAA seemed to get better when he was under more pressure, from .228 with nobody on base down to .214 with runners in scoring position. He more than took over for Edward Mujica in St. Louis; he ran him out of town.
Would you be satisfied if your closer gave you a season with a 2.11 ERA, a 1.05 WHIP and a 7.6 K/9 rate? That's what Mariano Rivera gave the New York Yankees last season. David Robertson did him better in every category: 2.04 ERA, 1.04 WHIP, 10.4 K/9. Nobody is saying that Robertson will still be giving you 30 saves a decade down the line, but for 2014, he's certainly more than capable of filling those huge shoes.
Greg Holland may not be the most well-known closer in the game, but he certainly was one of the most effective. And for those of you concerned that he might be a one-year "novelty act," keep in mind that in 34 innings pitched against the rest of the AL Central last season, he allowed just two earned runs, and neither one of those came against the Tigers or Indians. There's no reason to think he can't give you more than 40 saves again in 2014.
Addison Reed's ERA improved almost a full point in 2013 from the year before, and now, with a move to the National League, it may well drop even lower. However, after being dealt to the Arizona Diamondbacks, he might not start the year as the team's closer, as J.J. Putz's contract might tip the scales in his direction to start the season. At some point, Reed is bound to take over the job, and until then, he'll no doubt get you at least a strikeout per inning and perhaps a few vulture wins as well.
On the hill and maybe over it
Joe Nathan hasn't pitched too much at Comerica Park of late, but for what it's worth, the veteran's lifetime numbers in Detroit are a solid 1.52 ERA and 0.93 WHIP in 25 games. What's more, he won't be facing the Tigers' lineup when he pitches there this season. Nathan won't turn 40 until after the season is over, and while there's always a risk that his body will let him down, after he saved 80 games over the past two seasons, perhaps there is still something left in the tank.
From June 26 until the end of the regular season, Koji Uehara was as good as they come. He allowed only two earned runs in 41 games, with a BAA of .097. That said, his 73 innings pitched were the most of his major league career, and while he's been in the United States only since 2009, he'll be 39 the first time he takes the mound at Fenway this season. How much longer can these good times roll?
Last season saw Jonathan Papelbon's K/9 rate drop to a career-low 8.32, and his BAA rose 30 points to .244. He's lost velocity across the board on all his pitches, and when you factor in how outspoken he's been about his frustration with the direction of the Philadelphia Phillies as a team, you have to wonder how long he'll keep his job. Even if he starts the year on fire, the organization may well try to deal away his large contract before it all comes crashing down.
If we were writing our recommendation for Jason Grilli last July, we'd probably be far more optimistic. But even though he successfully finished out 30 of 31 save chances -- with an ERA of 2.34 and a BAA of .186 -- when Pittsburgh gave the 36-year-old his first chance as a closer, a strained elbow shelved him for over a month. When he returned in September, he was clearly not the same pitcher, allowing hits in eight of nine appearances. Yes, an offseason to fully recover may well restore his form, but there's a lot of risk to be found here.
Repeat or retreat?
There's no reason to get too alarmed, but Glen Perkins did have surgery at the end of the 2013 season to clean out his knee, and there is a chance he might not be ready to go on Opening Day. He's gotten consistently better against righties each season since 2010, but as a left-handed reliever, he's playing with more fire than most in his role.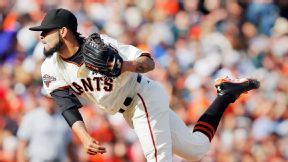 Brian Bahr/Getty ImagesQuestions have arisen regarding the endurance of Giants closer Sergio Romo.
Sergio Romo walked more and struck out fewer hitters last season, even as he made the All-Star Game and saved 38 of 43 opportunities. By the time September rolled around, opposing bats were hitting .289 against a pitcher in the midst of throwing his most innings since 2010. Endurance has to be considered a question mark here.
Yes, Rafael Soriano saved 43 games for the Washington Nationals last season, but that was for a team 10 games out of first place at the end of July, and never realistically in the playoff hunt from that point on. Over the last six weeks of the season, Soriano had an ERA of 3.93 and a BAA of .274. Plus, for the entire season, his K/9 rate of 6.9 was the lowest of his career as a major league reliever.
Sure, Ernesto Frieri's 3.80 ERA last season is sure to scare most fantasy owners away. But take away a brutal two-week stretch from late July into early August when he went 0-3 with a 23.14 ERA in seven appearances, and his 2013 ERA was a far more palatable 2.39. With Joe Smith now in the fold for the Los Angeles Angels as the team's setup man, perhaps Frieri's fastball will look that much faster when he gets in the game.
Men on the move
The closer carousel saw Jim Johnson traded away from Baltimore to join the Oakland bullpen, where he will fill the vacancy left by Grant Balfour, who himself rejoins Tampa Bay, replacing Fernando Rodney, who finds a new home in Seattle, where he all but kills the value of would-be stopper Danny Farquhar. The entire trio, even in new environs, will be lucky to break the 3.00 ERA barrier and not a one is likely to strike out more than 75 hitters.
John Axford, on the other hand, found out last season during his brief time with the Cardinals that he'd been tipping his pitches for years. Armed with this new insight, he should be able to slow the ascendancy of Cody Allen in Cleveland, and perhaps get all the way back to his 2011 form when he recorded 46 saves with a 1.95 ERA.
The ancient LaTroy Hawkins filled in quite admirably for the New York Mets last season after Bobby Parnell suffered a herniated disk in his neck, and parlayed that success into a contract with the Colorado Rockies. The 41-year-old will begin the season as the team's closer, but beware! Hawkins' ground-ball rate has declined steadily since 2011, and Coors Field is not a park where you want to keep the ball in the air.
Potential trade bait
The biggest hit to a closer's overall fantasy value may not be related to poor performance. It could well arrive in the form of an in-season trade that results in the changing of roles from "being the man" to "making sure not to blow the lead until the actual man is ready to enter the game."
Huston Street's name seems to be synonymous with "on the market," and with free agency looming after the 2014 season, this could be the year he finally does get his ticket out of San Diego. Similarly, if the Toronto Blue Jays find themselves in the cellar again as July 31 approaches, the decision might be made to exchange Casey Janssen for prospects, rather than keep him and be forced to give him a big raise in the offseason.
Neftali Feliz is coming back from Tommy John surgery, and if he shows no ill effects from the procedure, there may be inquiries made about his availability. Texas has other options it can turn to in the ninth, including Tanner Scheppers and Joakim Soria. If the Rangers find themselves "one piece away" from making the postseason, and have any doubts about Feliz's durability, they probably wouldn't hesitate to send him elsewhere.
Bobby Parnell is coming off of neck surgery, so chances are slim there's a multiyear deal coming his way any time soon to stave off a potential arbitration at the end of the season. While the Mets say that they are no longer worried so much about their payroll, they've got $54 million already committed to just four players for 2015. If youngster Vic Black shows promise as a potential Parnell replacement, they could well put the 29-year-old on the 7-train out of Flushing.
Will there be wins?
Closers on bad teams certainly can get you saves, but let's face it: It's far greater an uphill climb for pitchers on a team that loses in the neighborhood of 100 games. The fact that Miami, Houston and the Chicago White Sox had the worst winning percentages in the sport last season doesn't guarantee residence in the cellar again in 2014, but it should give you pause.
That said, in the case of Steve Cishek of the Marlins, one can probably feel pretty confident he'll not face too much competition for the closer's job this season, even after the signing of free agent Carlos Marmol. That's what a second-half ERA of 1.53 and 20 saves will do for you. He could easily be a draft-day bargain.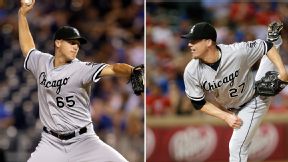 Getty ImagesHeading into spring training Nate Jones, left, and Matt Lindstrom are among multiple options to close for the White Sox.
However, the ninth-inning options for the Astros and White Sox still number too many for anyone to be certain of how these spring battles will ultimately shake out. Nate Jones may currently be the favorite to replace the traded Addison Reed in Chicago, but manager Robin Ventura may well opt for a committee approach that adds Matt Lindstrom, Ronald Belisario and Daniel Webb to the mix.
Former White Sox reliever Jesse Crain might end up as the closer in Houston, but October biceps surgery means there's no guarantee he'll be ready to take the ball from day one. Chad Qualls, who at least has some experience in the role, might end up getting some save chances in April, but Josh Fields and Chia-Jen Lo could challenge for "first dibs" with strong spring results.
Points versus roto
Points leagues provide a format where saves may not in fact be the "be all and end all" in terms of overall fantasy value, especially if you add holds into the equation. Unless you decide to simply tank a category in standard leagues, you can't really worry about drafting a bunch of strong setup men. However, in points formats, you can actually go quite far by loading up on high-strikeout guys who know how to protect a lead. Joaquin Benoit, Tyler Clippard, Brandon Kintzler, Mark Melancon and Santiago Casilla are just a few of the names that get a bump up the draft board in these formats.
Bottom line
Don't get cute looking to find pitchers who may well end up taking over a closer job at some undefined point later on in the season. Focus your energies on drafting multiple pitchers who have ninth-inning duties in the present, and adjust your roster as changes in role and performance dictate.
Having said that, remember that Craig Kimbrel is probably the only reliever worth considering before the start of Round 6 in an ESPN standard league, so resist the urge to "keep up with the Kardashians" should the rest of your league start a panic run way too early in the proceedings.
FANTASY BASEBALL DRAFT KIT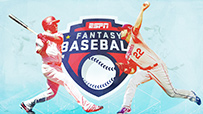 The 2014 fantasy baseball season is here. Prepare for your draft with rankings, projections, profiles and more! Draft Kit »
MOST SENT STORIES ON ESPN.COM