2014 Sleepers and Busts
Updated:
February 19, 2014, 11:42 AM ET
By
Fantasy staff
| ESPN.com
Fantasy owners should always been on the lookout for value when making their picks, getting the most bang for the buck, or at the very least getting proper production for where you draft a player. With this in mind, we present our sleepers and busts for the 2014 fantasy baseball season. For the most part, our sleepers are players who could far outperform their position in our rankings, while busts who are players who may not produce the value expected from where they are ranked. Our analysts (Matthew Berry, Tristan H. Cockcroft, Brian Gramling, Eric Karabell, Tim Kavanagh, AJ Mass, James Quintong, Brendan Roberts, Mike Sheets) were asked to provide one sleeper candidate and one bust candidate each at catcher, first base, second base, shortstop, third base, outfield, starting pitcher and relief pitcher. Then, they each provided brief analysis on one sleeper and one bust pick.
Jose Abreu, 1B, Chicago White Sox: Yeah, yeah, yeah, first base is a deep position, Abreu is unproven in the States, why take the chance on him, right? Well, we've seen of late that Cuban stars can succeed right away in the majors (see: Yoenis Cespedes, Yasiel Puig), and Abreu is definitely a Cuban star. In fact, he's the Cuban single-season home run record holder, and a few statistical indicators suggest he could be an even better hitter than Cespedes and Puig. How's that for skills? --Brendan Roberts
Kole Calhoun, OF, Los Angeles Angels: He had eight home runs and 32 RBIs in just under 200 at-bats last year after a call-up, and now he has playing time. He's got more speed than you think: He stole 20 bases in in the minors in 2011 (also hit 20 home runs that year) and had 20 home runs and 12 steals total last season between the majors and Triple-A. He's a last-round flier with decent upside. --Matthew Berry
Neftali Feliz, RP, Texas Rangers: He has had a long road back from Tommy John surgery, but was reportedly throwing 98 mph during winter ball and looks to be fully healed, and maybe even better than ever. His .552 opponents' OPS and 1.01 WHIP in his career shows how dominant he can be, and I expect 40-plus saves from Feliz, who can be picked up late in your draft. --Brian Gramling
Doug Fister, SP, Washington Nationals: Fister is easy to forget about in a rotation that includes Stephen Strasburg, Gio Gonzalez and Jordan Zimmermann, all consensus top-25 hurlers in the ESPN Fantasy rankings. However, coming off a career-high strikeout season and moving to a league where he gets to face pitchers instead of a DH? He might end up with the best ERA/WHIP of the quartet. --AJ Mass
Play Fantasy Baseball

You lose 100 percent of the leagues you don't join.

Play For Free on ESPN.com »
Scott Kazmir, SP, Oakland Athletics: Kazmir was good last year. Not great, but good. This year, though? This year he could actually be great. In 2013, the left-hander showcased his best fastball velocity since 2005, his highest K/9 rate since 2008, his highest ground ball rate since 2007 and a career-best 2.7 BB/9 rate. The story really gets interesting, however, when we look at his second half. In addition to boosting his first-half 8.4 K/9 rate to 10.3 and improving his 3.1 BB/9 to 2.1, Kazmir's 4.8 strikeout-to-walk ratio ranked second in the AL behind only David Price, and his post-break 2.79 xFIP was best in the AL. If Kazmir can carry even some of those gains into 2014, he'll be one of the best starting pitcher bargains in fantasy. The 30-year-old will always be a health risk, but for a guy who isn't even being drafted in some standard leagues, the risk is minimal for what could be a substantial reward. This, my friends, is what opportunity looks like. --Mike Sheets
Devin Mesoraco, C, Cincinnati Reds: Ryan Hanigan is gone, so the starting job is now firmly in the hands of the formerly touted prospect. The early returns in the majors haven't been great, but given regular time, he can develop a groove, especially in hitter-friendly Great American Ballpark. Maybe he can break out like the Astros' Jason Castro did last season. --James Quintong
Will Middlebrooks, 3B, Boston Red Sox: Middlebrooks got off to a fine power start in 2013 -- with six homers in April -- but was demoted in June, as he looked lost at the plate. Something clicked, because he posted a .881 OPS in 67 plate appearances in August, following that up with a .747 OPS (and 17 RBI) in 89 PAs in September. With Stephen Drew out of the picture (for now), Middlebrooks has a starting gig, with 25-homer upside if he gets a full season as Boston's third baseman. --Tim Kavanagh
Wily Peralta, SP, Milwaukee Brewers: He has two seriously overlooked things going for him: A better than 50 percent ground ball rate fueled by a heavy two-seamer, and a wipeout slider that fueled a 20.6 percent strikeout rate from July 1 on last year (the major league average during that time was 19.9 percent). All Peralta needs is either a slight improvement in control or some polish to his changeup and he could elevate from streamer/matchups candidate to every-time-out option. And yes, that's even in 10-team mixed leagues. --Tristan H. Cockcroft
Jurickson Profar, 2B, Texas Rangers: Don't forget how well regarded Profar was just 12 months ago. Profar's numbers in 2013 tell us little, as he wasn't used regularly, didn't have a set position, and perhaps just wasn't ready because he was 20 years old! He's no veteran now, but the same skills that tantalized many of us and propelled him quickly through the minors remain: surprising power, enough speed and smart plate discipline. Get him now in dynasty formats. --Eric Karabell
Carlos Beltran, OF, New York Yankees: As a St. Louis Cardinals fan, I've seen it happen a number of times, most recently with Lance Berkman: The team picks up an aging, banged-up former superstar and milks one or two more good years out of them as a key cog on a winning team, then player signs elsewhere and returns to the same aging, banged-up player he once was. I hope that doesn't happen to Beltran, whom I became a big fan of in St. Lou. But the guy has bad knees and a lot of mileage, and he's coming off two seasons in which he played a total of 325 games (counting playoffs). I'm just not sure how long he can keep this up. --Brendan Roberts
Adrian Gonzalez, 1B, Los Angeles Dodgers: Reliable? Sure he is. He hardly ever misses a game and you can pretty much etch a .290 batting average and 100 RBIs in stone. But after two consecutive seasons of decreased isolated power, this is probably the new ceiling for the first baseman, and the risk/reward of drafting him a few rounds too early is likely to leave his owners disappointed. --AJ Mass
Matt Kemp, OF, Los Angeles Dodgers: He has had two surgeries since last season ended, the latter on his ankle, which is the one threatening his status for Opening Day. But Kemp could sit half of April and the missed time isn't the concern for me; it's that ankle injuries that linger into the year aren't a positive for a player who derived 23 percent of his value from stolen bases during his Player Rater-topping 2011. He could bat .290, sure. He could hit 30 homers, sure. He's also likely to finish in single digits in steals, and he might not even play that many more games than his 106 or 73 of the past two seasons. --Tristan H. Cockcroft
Miguel Montero, C, Arizona Diamondbacks: He may never be the same hitter again with a lingering back injury that he couldn't shake last year. The injury was a big reason he posted a career-worst season in 2013 in which he slugged an anemic .344 and had the third-worst well-hit average (.149) among the 29 catchers with at least 300 plate appearances. He is no longer a top-15 backstop in my mind. --Brian Gramling
Matt Moore, SP, Tampa Bay Rays: Don't look at wins. Only four pitchers won more games than Moore, but 58 had a better WAR. That's simply one gauge, but Moore piled on the walks and wild pitches -- nobody had more of the latter -- and was fortunate in BABIP and LOB%. His xFIP was more than a run higher than his ERA. In truth, Moore could have ended up with the same 11 wins from 2012 and don't forget a sore elbow cost him all of August. He's useful, but overvalued. --Eric Karabell
Jonathan Papelbon, RP, Philadelphia Phillies: There are some red flags on the former Red Sox closer. Papelbon's WHIP (1.14) and ERA (2.92) both went in the wrong direction from 2012 to 2013, and his seven blown saves were as many as the previous two seasons combined. His K/9 rate (8.32) was a career-low, and a major step backward from the prior three seasons. Furthermore, the man with the $13 million contract for 2014 was outspoken about the Phillies' offseason moves, and if he is dealt at some point this season, there's no certainty he'd be installed as the new team's closer. Let him be someone else's problem. --Tim Kavanagh
Brandon Phillips, 2B, Cincinnati Reds: The 106 RBIs last season were nice, but also seems hard to repeat, especially with on-base machine Shin-Soo Choo now gone from the top of the lineup. And while he's still a nice source of middle-infield power (he's hit exactly 18 homers in each of the past four seasons), he's not running as much anymore (just five steals in 2013), and the batting average is becoming more of a liability. There's a lot more downside risk to him at this point in his career, so don't go overboard trying to get him. --James Quintong
Buster Posey, C, San Francisco Giants: It's not about the talent, of course, just about where you have to take him. He was my bust pick in this column last year and he ended up with a very solid 15 homer, 72 RBIs, .294 year. And you know what? I was right. He WAS a bust last year. Finishing as the fifth-best catcher on our player rater, he went in the second round in most fantasy drafts and was the first catcher taken. He didn't return the value and he won't again this year when he's the first catcher taken. He's good, he's just not worth the price it will cost to get him. With so many high-upside catchers this year and only needing to play one in your lineup in an ESPN standard league, I'll be looking elsewhere. --Matthew Berry
Albert Pujols, 1B, Los Angeles Angels: A few short years ago, Pujols was one of the best, most reliable players in fantasy. The key word there being was. Simply put, he's not that guy anymore. Now 34, Pujols is in the decline phase of his career. Whether it's his strikeout rate, isolated power, contact rate, swinging strike percentage or a multitude of other indicators, they're all trending in the wrong direction and have been for years. And now, after a plantar fasciitis injury -- an ailment he's battled previously in his career -- forced him to miss more than two months last year, he's also a health risk. Many owners are predicting Pujols, who hit just .258/.330/.337 last year, will rebound in 2014. While that's not impossible, I'm not holding out hope that the declining skill set of a 34-year-old is suddenly going to reverse its course. That just doesn't feel like a wise investment. --Mike Sheets
FANTASY BASEBALL DRAFT KIT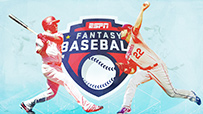 The 2014 fantasy baseball season is here. Prepare for your draft with rankings, projections, profiles and more! Draft Kit »
MOST SENT STORIES ON ESPN.COM