Fantasy Forecaster: March 24-30
Updated:
March 22, 2014, 11:08 AM ET
By
Neil Tardy
| Special to ESPN.com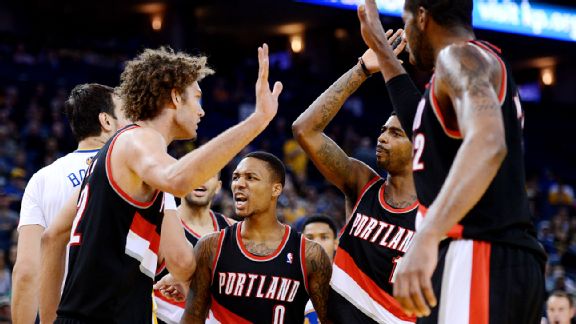 Kyle Terada/USA TODAY SportsThe Portland Trail Blazers play five games in Week 22.
I feel for you, LaMarcus Aldridge owners. I do. I even feel a twinge of sympathy for the Aldridge owner I'm facing in one of my head-to-head league playoffs. He's the higher seed and, with a fully healthy roster, he'd probably be ending my season. Instead, I now stand a solid chance of moving on.
If you're moving on in your fantasy playoffs, you'll obviously consider the latest injury news and the opportunities that will be afforded to players who are free agents in many or most leagues. And given the way the schedule in Week 22 shapes up, you might want to start with Aldridge's likely replacement.
I don't want to oversell this, but I am surprised that in Aldridge's absence, Dorell Wright remains unrostered in virtually all ESPN.com leagues. The latest with Aldridge -- who hasn't played since injuring his lower back in a nasty fall against the San Antonio Spurs on March 12 -- is that he's traveling with the Blazers, who begin a five-game road trip Saturday against the Charlotte Bobcats. However, the team still has not issued a timetable for his return. Apparently his presence on the road trip is no guarantee that Aldridge will play again soon.
Perhaps by Sunday or Monday afternoon, we'll have some clarifying news. Certainly that would be a relief to those rostering Aldridge. For the rest of us, I view Wright as a realistic add in any league of at least 12 teams for the week ahead. That's because the Blazers play five times Week 22.
Week 22 at a Glance
If seeing the words "Blazers" and "five games" side by side seems familiar, it should. Portland had a five-game set back in Week 13, and the Blazers also navigated a five-game week in March 2013. In something I only know because ESPN.com allows me to write about the schedule, the past two NBA seasons have seen nine occurrences of teams playing five times in a Monday-to-Sunday span. In three of those instances, that team was the Portland Trail Blazers.
Schedule trivia aside, Week 22 is suitably fantasy-friendly. Seventeen teams play four times, and 11 others have three games. The Golden State Warriors draw the short straw with their two-game set.
One of those four-game teams is the Los Angeles Lakers, who are expected to get Nick Young back on Friday. Young has missed 17 of the past 18 games with leg and knee problems, but if "Swaggy P" knocks off the rust this weekend, he's a tempting add for the week ahead. The Lakers face three teams -- the Minnesota Timberwolves, Milwaukee Bucks and Phoenix Suns -- that rank in the top 10 in 3-pointers allowed over the past 10 games. Young, incidentally, is available in about 75 percent of ESPN.com leagues.
Steve Nash is also expected to return Friday, but given that he figures to see only limited minutes backing up Kendall Marshall, Nash strikes me as strictly a deep-league desperation play at this point. In his case, you'll also want to consider the Lakers' back-to-back games (Thursday and Friday at the Bucks and Wolves). It seems unlikely he'd suit up for both those contests.
Team

Mon
3/24

Tue
3/25

Wed
3/26

Thu
3/27

Fri
3/28

Sat
3/29

Sun
3/30

Atlanta
HAWKS
PHX
R: 6
OFF
@MIN
R: 6
POR
R: 5
OFF
@WSH
R: 4
OFF
G: 4
H: 2
R: 7
Boston
CELTICS
OFF
OFF
TOR
R: 4
OFF
@TOR
R: 1
OFF
CHI
R: 3
G: 3
H: 2
R: 1
Brooklyn
NETS
@NO
R: 4
OFF
@CHA
R: 2
OFF
CLE
R: 6
OFF
MIN
R: 7
G: 4
H: 2
R: 6
Charlotte
BOBCATS
HOU
R: 5
OFF
BKN
R: 4
OFF
@ORL
R: 4
OFF
OFF
G: 3
H: 2
R: 3
Chicago
BULLS
IND
R: 2
OFF
OFF
OFF
POR
R: 4
OFF
@BOS
R: 3
G: 3
H: 2
R: 1
Cleveland
CAVALIERS
OFF
TOR
R: 3
@DET
R: 4
OFF
@BKN
R: 3
OFF
IND
R: 2
G: 4
H: 2
R: 3
Dallas
MAVERICKS
OFF
OKC
R: 6
OFF
LAC
R: 6
OFF
SAC
R: 7
OFF
G: 3
H: 3
R: 4
Denver
NUGGETS
@OKC
R: 5
OFF
@SA
R: 5
OFF
SA
R: 7
OFF
OFF
G: 3
H: 1
R: 3
Detroit
PISTONS
@UTA
R: 6
OFF
CLE
R: 7
OFF
MIA
R: 7
@PHI
R: 9
OFF
G: 4
H: 2
R: 9
Golden State
WARRIORS
OFF
OFF
OFF
OFF
MEM
R: 6
OFF
NY
R: 7
G: 2
H: 2
R: 1
Houston
ROCKETS
@CHA
R: 5
OFF
OFF
PHI
R: 10
OFF
LAC
R: 8
OFF
G: 3
H: 2
R: 7
Indiana
PACERS
@CHI
R: 2
OFF
MIA
R: 7
OFF
@WSH
R: 4
OFF
@CLE
R: 4
G: 4
H: 1
R: 5
Los Angeles
CLIPPERS
MIL
R: 10
OFF
@NO
R: 7
@DAL
R: 6
OFF
@HOU
R: 6
OFF
G: 4
H: 1
R: 9
Los Angeles
LAKERS
OFF
NY
R: 6
OFF
@MIL
R: 5
@MIN
R: 5
OFF
PHX
R: 7
G: 4
H: 2
R: 7
Memphis
GRIZZLIES
MIN
R: 8
OFF
@UTA
R: 4
OFF
@GS
R: 2
OFF
@POR
R: 3
G: 4
H: 1
R: 5
Miami
HEAT
POR
R: 7
OFF
@IND
R: 2
OFF
@DET
R: 6
@MIL
R: 6
OFF
G: 4
H: 1
R: 7
Milwaukee
BUCKS
@LAC
R: 2
OFF
OFF
LAL
R: 8
OFF
MIA
R: 4
OFF
G: 3
H: 2
R: 3
Minnesota
TIMBERWOLVES
@MEM
R: 3
OFF
ATL
R: 8
OFF
LAL
R: 10
OFF
@BKN
R: 5
G: 4
H: 2
R: 8
New Orleans
PELICANS
BKN
R: 7
OFF
LAC
R: 6
OFF
UTA
R: 8
@SA
R: 4
OFF
G: 4
H: 3
R: 8
New York
KNICKS
OFF
@LAL
R: 8
@SAC
R: 4
OFF
@PHX
R: 4
OFF
@GS
R: 3
G: 4
H: 0
R: 6
Oklahoma City
THUNDER
DEN
R: 10
@DAL
R: 7
OFF
OFF
SAC
R: 10
OFF
UTA
R: 10
G: 4
H: 3
R: 10
Orlando
MAGIC
OFF
POR
R: 5
OFF
OFF
CHA
R: 5
OFF
TOR
R: 5
G: 3
H: 3
R: 3
Philadelphia
76ERS
@SA
R: 1
OFF
OFF
@HOU
R: 3
OFF
DET
R: 6
OFF
G: 3
H: 1
R: 1
Phoenix
SUNS
@ATL
R: 6
OFF
@WSH
R: 5
OFF
NY
R: 8
OFF
@LAL
R: 9
G: 4
H: 1
R: 9
Portland
TRAIL BLAZERS
@MIA
R: 5
@ORL
R: 6
OFF
@ATL
R: 6
@CHI
R: 3
OFF
MEM
R: 5
G: 5
H: 1
R: 9
Sacramento
KINGS
OFF
OFF
NY
R: 6
OFF
@OKC
R: 2
@DAL
R: 4
OFF
G: 3
H: 1
R: 2
San Antonio
SPURS
PHI
R: 10
OFF
DEN
R: 10
OFF
@DEN
R: 7
NO
R: 10
OFF
G: 4
H: 3
R: 10
Toronto
RAPTORS
OFF
@CLE
R: 5
@BOS
R: 4
OFF
BOS
R: 7
OFF
@ORL
R: 5
G: 4
H: 1
R: 6
Utah
JAZZ
DET
R: 6
OFF
MEM
R: 3
OFF
@NO
R: 3
OFF
@OKC
R: 1
G: 4
H: 2
R: 4
Washington
WIZARDS
OFF
OFF
PHX
R: 6
OFF
IND
R: 3
ATL
R: 7
OFF
G: 3
H: 3
R: 4
"R" matchup ratings are based upon a scale from 1 (poor matchup) to 10 (excellent matchup), and are calculated using a formula that evaluates the team's year-to-date and past 10 games' statistics, their opponents' numbers in those categories, and their performance in home/road games depending on where the game is to be played. The column to the right lists the team's total number of games scheduled ("G") as well as home games ("H"), and lists the overall rating from 1-10 for that team's weekly schedule ("R").
Ratings color scale

1
2
3
4
5
6
7
8
9
10
Players to Watch
Jarrett Jack, PG/SG, Cleveland Cavaliers (TOR, @DET, @BKN, IND): Kyrie Irving is still hoping to return this season, but Jack will be the Cavs' starting point guard at least through Week 22. Jack and Dion Waiters are understandably popular adds right now, but I question whether Jack, with his mediocre 3-point shooting (35.4 percent from downtown this season) and lack of steals, can save many fantasy seasons. And aside from the fact that Pistons opponents rank fourth in assists and eighth in 3s, this four-game set doesn't offer much beyond mere quantity.
Gorgui Dieng, C, Minnesota Timberwolves (@MEM, ATL, LAL, @BKN): Certainly it's eye-opening when a Wolves player not named Kevin Love goes for 20 points and 20 boards, as Dieng did Thursday against the Houston Rockets. However, when considering Dieng's out-of-nowhere emergence, don't discount timing. Yes, he's averaged 14.7 points and 14.3 boards in his three starts in place of Nikola Pekovic, but keep in mind that two of those opponents were the Sacramento Kings minus DeMarcus Cousins and the Rockets, who played without Dwight Howard. The key thing here is that Pekovic isn't expected to miss much more time. This is another instance where you'll need to check for updates this weekend, but if Dieng can continue to get minutes, this would be a favorable schedule for him. Lakers, Brooklyn Nets and Atlanta Hawks opponents are all in the top five in rebound differential.
Drew Gooden, PF, Washington Wizards (PHX, IND, ATL): Just a month ago, Gooden wasn't even wearing an NBA uniform. Now he finds himself contributing to the likely playoff-bound Wizards. Over his past three games, the veteran is averaging 19.0 points and 8.0 rebounds while going 12-of-12 from the line. This three-game set doesn't offer any obvious help, but if points, rebounds and free throw percentage are needs, Gooden is nonetheless worth considering in leagues of at least 12 teams.
Tim Hardaway Jr., SG, New York Knicks (@LAL, @SAC, @PHX, @GS): Hardaway is another player whose recent success must be viewed with a critical eye. Yes, he strung together three straight games of at least 20 points, but two of his victims were the Eastern Conference bottom-feeding Philadelphia 76ers and Bucks. While Kings opponents rank seventh in 3s this season and Lakers opponents rank third in treys over their past 10, Warriors and Suns opponents are only 25th and 26th, respectively, in 3s overall.
Ramon Sessions, PG, Milwaukee Bucks (@LAC, LAL, MIA): Nate Wolters' likely season-ending hand injury should result in even more playing time for Sessions the rest of the way. In 15 games with the Bucks, Sessions has averaged 14.1 points, 3.6 assists and 85.2 percent foul shooting. While there are only three games here, Lakers and Clippers opponents rank second and sixth, respectively, in assists.
Dorell Wright, SF, Portland Trail Blazers (@MIA, @ORL, @ATL, @CHI, MEM): First, the caveats: Wright has played 20 minutes or fewer in three of the four games Aldridge has missed. An erratic performer even at his best, Wright somehow managed to go 0-of-8 against a Bucks team that's allowed opponents to shoot better than 50.0 percent over their past 10 games. And finally, Aldridge could return at some point during this long week. Still, in deeper formats I could see rolling the dice on Wright, who's capable of piling up 3s (he has 10 in those past four games) while contributing in the hustle categories. The first three of these games especially seem to suit him; Miami Heat opponents ranks fourth in 3s and eighth in steals, while Orlando Magic and Hawks opponents have also been vulnerable to the triple.
Opponent Performance, Past 10 games
Team

PPGA

FG%A

3PT%A

RPG
diff.

SPGA

BPGA

Atlanta
HAWKS
106.1
46.9%
82.2%
-8.5
7.7
3.7
Boston
CELTICS
101.3
47.2%
81.0%
2.5
8.1
5.4
Brooklyn
NETS
93.9
46.1%
75.1%
-9.6
6.7
3.8
Charlotte
BOBCATS
98.3
45.5%
71.6%
1.5
5.6
3.5
Chicago
BULLS
92.2
43.0%
73.3%
1.5
7.2
5.5
Cleveland
CAVALIERS
101.8
44.8%
73.6%
2.0
8.2
6.6
Dallas
MAVERICKS
102.6
45.5%
78.2%
-4.6
6.7
3.9
Denver
NUGGETS
110.9
46.3%
79.0%
4.6
9.0
5.4
Detroit
PISTONS
108.0
46.1%
76.0%
-1.3
7.1
5.1
Golden State
WARRIORS
99.8
44.5%
78.9%
0.5
6.5
3.7
Houston
ROCKETS
102.3
45.2%
78.7%
4.2
8.7
5.7
Indiana
PACERS
97.8
43.3%
75.8%
3.1
7.1
4.1
Los Angeles
CLIPPERS
94.7
42.2%
73.9%
2.1
7.7
2.8
Los Angeles
LAKERS
122.9
50.6%
74.0%
-14.8
9.7
5.1
Memphis
GRIZZLIES
91.8
44.2%
77.7%
4.1
7.6
3.5
Miami
HEAT
101.7
47.6%
75.7%
-6.5
7.3
3.7
Milwaukee
BUCKS
110.5
50.7%
79.1%
-0.3
5.5
5.4
Minnesota
TIMBERWOLVES
111.4
49.5%
70.7%
-5.1
6.7
5.2
New Orleans
PELICANS
108.4
47.4%
77.4%
-2.7
6.8
6.0
New York
KNICKS
99.7
44.2%
75.2%
-0.6
6.9
3.2
Oklahoma City
THUNDER
102.9
43.9%
72.3%
8.7
8.3
3.1
Orlando
MAGIC
104.7
46.4%
75.4%
-2.2
6.5
5.1
Philadelphia
76ERS
108.6
48.7%
74.5%
-6.6
10.0
6.1
Phoenix
SUNS
107.5
48.4%
76.7%
2.8
8.9
3.6
Portland
TRAIL BLAZERS
105.2
45.0%
76.9%
3.0
8.7
4.0
Sacramento
KINGS
100.8
44.2%
76.3%
11.7
8.3
4.3
San Antonio
SPURS
97.2
42.7%
77.0%
5.7
7.9
4.2
Toronto
RAPTORS
103.6
45.6%
72.4%
2.7
7.5
3.7
Utah
JAZZ
107.6
52.4%
79.3%
1.1
7.7
5.1
Washington
WIZARDS
103.6
47.6%
77.1%
0.0
7.1
4.0
All statistics are for teams' past 10 games played, and are defensive numbers.
PPGA:
Points per game allowed.
FG%A:
Field goal percentage allowed.
3PT%A:
Three-point percentage allowed.
RPG diff.:
Rebounds per game differential.
SPGA:
Steals per game allowed.
BPGA:
Blocks per game allowed.
Fantasy Basketball
Neil Tardy is a fantasy basketball analyst for ESPN.com
EDITORS' PICKS
Joe Kaiser evaluates the 2015-16 fantasy potential of college hoops standouts competing in the Sweet 16.
MOST SENT STORIES ON ESPN.COM