Fantasy Forecaster: March 31-April 6
Updated:
March 28, 2014, 6:00 PM ET
By
Neil Tardy
| Special to ESPN.com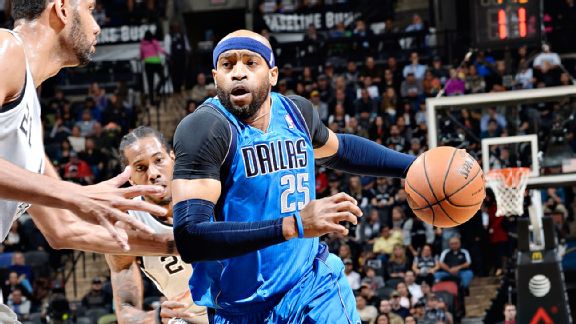 D. Clarke Evans/NBAE/Getty ImagesVince Carter is a good waiver-wire pickup for Week 23 considering the Mavs' opportune schedule.
Welcome to the NBA Fantasy Forecaster. If you're still here in late March, checking your fantasy lineup more frequently than your NCAA tournament brackets, I assume you have a chance to win a league championship -- or maybe just a nominal wager. Yeah, to keep things interesting, I bet a buddy that I'd hold him off for second place in one of my roto leagues. (If I can't win it all, I'm not above settling for bragging rights over an old friend.) Anyway, best of luck to those of you who have something on the line.
As I stated at the start of this season, the Forecaster is written primarily for fantasy hoops owners in weekly lineup leagues. As such, we examine the schedule in weekly intervals without diving into the details of individual games. However, now that we're down to the final 2 1/2 weeks of the NBA regular season, it's become especially useful to go day by day. Why especially useful? Naturally, it's because of the Week 23 schedule.
Get a load of this: The Cleveland Cavaliers, Oklahoma City Thunder, Orlando Magic, Phoenix Suns, Portland Trail Blazers and Utah Jazz will each play three times in the week ahead. Everyone else -- 24 teams, or 80 percent of the NBA -- has four games. Just off the top of my head I don't recall a week in the past six or seven years where that many teams played that many games. Even three years ago, during the lockout season, when revenue-recouping back-to-back-to-backs were scheduled, I don't believe it happened.
Here's something else you don't see very often: Practically everyone is in action on Wednesday and Friday. Yes, these are typically the busiest nights of any NBA week, but in Week 23, there are 13 games on Wednesday, April 2 (only four teams are off), and 14 games on Friday, April 4 (just two teams off). If you're in a league that allows for daily lineups, chances are you'll have to bench multiple players -- players you've never consider benching otherwise -- on both of those nights.
As a guide to Week 23, we'll modify our usual Forecaster format to add some lineup recommendations for Wednesday and Friday, as well as point to some teams that have useful deviations from the schedule.
Week 23 at a Glance
Wednesday, April 2, at a Glance
Teams off: Dallas Mavericks, Thunder, Trail Blazers, Jazz. Players who wouldn't normally sit that you could/should bench: Jamal Crawford (LAC @ PHX); Jeff Green (BOS @ WSH); Klay Thompson (GS @ SA); Thaddeus Young (PHI @ CHA)
Friday, April 4, at a Glance
Teams off: Los Angeles Clippers, San Antonio Spurs. Players you wouldn't normally sit that you could/should bench: Amir Johnson (TOR vs. IND); Brandon Knight (MIL @ CHI); Wesley Matthews (POR vs. PHX)
There are other players in the top-60-to-90 range whom I could have mentioned here, but I just wanted to give you a sampling. I included Thompson based strictly on the matchup (Spurs opponents rank 29th in 3-pointers made), but he's had an excellent March and you could obviously opt to stick with the hot hand.
Really, at this point in the season, if you have to sit one of your core players, you should use the standings -- whether it's a weekly head-to-head matchup or a season-long roto format -- as your guide. For instance, if field goal percentage is a need/concern for you, you may be best served giving a night off to the likes of Young or Michael Carter-Williams. Despite an overall impressive line (19.8 points, 2.0 steals, 1.6 3s), Young is shooting just 39.4 percent in March, and it hurts because Thad is hoisting nearly 20 shots per game. Meanwhile, MCW is shooting 36.5 percent this month. Is it time to consider "over-usage" in fantasy hoops analysis?
One team that comes out of this wild week of endless four-game sets looking really good to owners in daily lineup formats is the Dallas Mavericks. The Mavs are the only NBA team to play on both Tuesday, April 1 (when there are only three games on the schedule), and Thursday, April 3 (just two games). That makes Vince Carter -- and, to a lesser extent, Shawn Marion -- worthy adds for Week 23. Carter should benefit in particular from meetings with the Los Angeles Lakers (Lakers opponents are averaging 10.2 3s over their last 10 games, third in the league in that span) and the Sacramento Kings (Kings opponents are fifth in treys for the season). Incidentally, Carter is available in more than 60 percent of ESPN.com leagues.
Team

Mon
3/31

Tue
4/1

Wed
4/2

Thu
4/3

Fri
4/4

Sat
4/5

Sun
4/6

Atlanta
HAWKS
PHI
R: 9
OFF
CHI
R: 3
OFF
CLE
R: 6
OFF
@IND
R: 1
G: 4
H: 3
R: 5
Boston
CELTICS
@CHI
R: 1
OFF
@WSH
R: 2
OFF
PHI
R: 9
@DET
R: 3
OFF
G: 4
H: 1
R: 3
Brooklyn
NETS
OFF
HOU
R: 6
@NY
R: 2
OFF
DET
R: 7
@PHI
R: 7
OFF
G: 4
H: 2
R: 6
Charlotte
BOBCATS
WSH
R: 5
OFF
@PHI
R: 7
OFF
ORL
R: 6
@CLE
R: 4
OFF
G: 4
H: 2
R: 6
Chicago
BULLS
BOS
R: 5
OFF
@ATL
R: 4
OFF
MIL
R: 6
@WSH
R: 3
OFF
G: 4
H: 2
R: 5
Cleveland
CAVALIERS
OFF
OFF
@ORL
R: 4
OFF
@ATL
R: 4
CHA
R: 4
OFF
G: 3
H: 1
R: 1
Dallas
MAVERICKS
OFF
GS
R: 7
OFF
@LAC
R: 4
@LAL
R: 9
OFF
@SAC
R: 5
G: 4
H: 1
R: 8
Denver
NUGGETS
MEM
R: 5
OFF
NO
R: 8
OFF
@MEM
R: 3
OFF
@HOU
R: 5
G: 4
H: 2
R: 7
Detroit
PISTONS
MIL
R: 8
OFF
@IND
R: 2
OFF
@BKN
R: 5
BOS
R: 6
OFF
G: 4
H: 2
R: 6
Golden State
WARRIORS
OFF
@DAL
R: 6
@SA
R: 4
OFF
SAC
R: 8
OFF
UTA
R: 9
G: 4
H: 2
R: 8
Houston
ROCKETS
OFF
@BKN
R: 7
@TOR
R: 6
OFF
OKC
R: 9
OFF
DEN
R: 10
G: 4
H: 2
R: 10
Indiana
PACERS
SA
R: 5
OFF
DET
R: 7
OFF
@TOR
R: 2
OFF
ATL
R: 7
G: 4
H: 3
R: 6
Los Angeles
CLIPPERS
@MIN
R: 7
OFF
@PHX
R: 5
DAL
R: 9
OFF
OFF
LAL
R: 10
G: 4
H: 2
R: 10
Los Angeles
LAKERS
OFF
POR
R: 6
@SAC
R: 4
OFF
DAL
R: 7
OFF
@LAC
R: 3
G: 4
H: 2
R: 5
Memphis
GRIZZLIES
@DEN
R: 4
OFF
@MIN
R: 4
OFF
DEN
R: 8
OFF
@SA
R: 2
G: 4
H: 1
R: 5
Miami
HEAT
TOR
R: 6
OFF
MIL
R: 9
OFF
MIN
R: 9
OFF
NY
R: 7
G: 4
H: 4
R: 10
Milwaukee
BUCKS
@DET
R: 4
OFF
@MIA
R: 3
OFF
@CHI
R: 1
TOR
R: 3
OFF
G: 4
H: 1
R: 2
Minnesota
TIMBERWOLVES
LAC
R: 6
OFF
MEM
R: 4
OFF
@MIA
R: 5
@ORL
R: 5
OFF
G: 4
H: 2
R: 6
New Orleans
PELICANS
SAC
R: 8
OFF
@DEN
R: 7
OFF
@UTA
R: 6
OFF
@POR
R: 5
G: 4
H: 1
R: 8
New York
KNICKS
@UTA
R: 5
OFF
BKN
R: 7
OFF
WSH
R: 7
OFF
@MIA
R: 4
G: 4
H: 2
R: 7
Oklahoma City
THUNDER
OFF
OFF
OFF
SA
R: 8
@HOU
R: 7
OFF
@PHX
R: 7
G: 3
H: 1
R: 4
Orlando
MAGIC
OFF
OFF
CLE
R: 6
OFF
@CHA
R: 1
MIN
R: 7
OFF
G: 3
H: 2
R: 1
Philadelphia
76ERS
@ATL
R: 3
OFF
CHA
R: 4
OFF
@BOS
R: 2
BKN
R: 5
OFF
G: 4
H: 2
R: 3
Phoenix
SUNS
OFF
OFF
LAC
R: 7
OFF
@POR
R: 5
OFF
OKC
R: 8
G: 3
H: 2
R: 3
Portland
TRAIL BLAZERS
OFF
@LAL
R: 8
OFF
OFF
PHX
R: 6
OFF
NO
R: 7
G: 3
H: 2
R: 4
Sacramento
KINGS
@NO
R: 4
OFF
LAL
R: 10
OFF
@GS
R: 2
OFF
DAL
R: 7
G: 4
H: 2
R: 7
San Antonio
SPURS
@IND
R: 3
OFF
GS
R: 8
@OKC
R: 6
OFF
OFF
MEM
R: 7
G: 4
H: 2
R: 7
Toronto
RAPTORS
@MIA
R: 4
OFF
HOU
R: 7
OFF
IND
R: 4
@MIL
R: 6
OFF
G: 4
H: 2
R: 6
Utah
JAZZ
NY
R: 4
OFF
OFF
OFF
NO
R: 5
OFF
@GS
R: 1
G: 3
H: 2
R: 1
Washington
WIZARDS
@CHA
R: 4
OFF
BOS
R: 6
OFF
@NY
R: 4
CHI
R: 4
OFF
G: 4
H: 2
R: 5
"R" matchup ratings are based upon a scale from 1 (poor matchup) to 10 (excellent matchup), and are calculated using a formula that evaluates the team's year-to-date and past 10 games' statistics, their opponents' numbers in those categories, and their performance in home/road games depending on where the game is to be played. The column to the right lists the team's total number of games scheduled ("G") as well as home games ("H"), and lists the overall rating from 1-10 for that team's weekly schedule ("R").
Ratings color scale

1
2
3
4
5
6
7
8
9
10
Players to Watch
Avery Bradley, PG/SG, Boston Celtics (@CHI, @WSH, PHI, @DET): Bradley returned to action six games ago, and in his past three outings he's tallied 12 triples. Beyond the facts that Sixers opponents rank second in 3s and Pistons opponents rank fifth in shooting percentage, Bradley doesn't appear to get a ton of help with this schedule. Given the plethora of options this week, Bradley should probably be benched in most 10- or 12-team weekly lineup formats.
Matthew Dellavedova, SG, Cleveland Cavaliers (@ORL, @ATL, CHA): With Kyrie Irving sidelined, Dellavedova has become the Cavs' third guard behind Jarrett Jack and Dion Waiters. His averages over his past five games -- 11.0 points, 6.4 assists, 2.2 3s -- give him value in leagues of at least 14 teams. However, with Cleveland only playing three games (and playing on both Wednesday and Friday), it could be tough fitting Dellavedova into your lineup in Week 23. For that matter, the Cavs play only four times in Week 24-25. Dellavedova is worth adding in a daily-lineup deep league, but only if you can get him active when you need him.
Jordan Hill, PF/C, Los Angeles Lakers (POR, @SAC, DAL, @LAC): In four games since returning to the lineup, Hill is averaging 18.5 points and 12.0 boards. The Lakers have been destroyed on the glass all season, so Hill's rebounding is certainly needed. Don't be misled by his Thursday line (28 points, 16 boards) against a brutal Milwaukee Bucks' interior, but don't be surprised if Hill averages around 14 points and 10 rebounds the rest of the way. He's worth starting in any format of at least 12 teams.
Timofey Mozgov, C, Denver Nuggets (MEM, NO, @MEM, HOU): Mozgov has topped 30 minutes in each of his past two games, which is significant in light of J.J. Hickson's season-ending knee injury. Again, in a week where most of your key players will have four games, even deep-leaguers might not be able to find room for Mozgov. But he still might be worth stashing for Week 24-25.
Henry Sims, C, Philadelphia 76ers (@ATL, CHA, @BOS, BKN): At this point in the season, there's probably something to be said for fresh legs. Unlike his exhausted Sixers teammates, Sims spent most of this season riding in the pine in Cleveland before coming to Philly in the Spencer Hawes deal. In his past four games, he's averaging 15.5 points and 10.3 rebounds. With Brooklyn Nets and Atlanta Hawks opponents ranking second and fourth, respectively, in rebound differential, Sims looks like a reasonable fallback for those who missed out on Gorgui Dieng.
Opponent Performance, Past 10 games
Team

PPGA

FG%A

3PT%A

RPG
diff.

SPGA

BPGA

Atlanta
HAWKS
101.1
45.6%
35.9%
-6.3
8.8
3.9
Boston
CELTICS
101.6
47.5%
31.2%
1.3
7.3
5.0
Brooklyn
NETS
100.3
45.9%
32.0%
-7.6
5.0
4.5
Charlotte
BOBCATS
98.5
45.2%
39.2%
4.6
5.6
4.3
Chicago
BULLS
89.1
40.9%
34.6%
-2.7
6.0
6.0
Cleveland
CAVALIERS
102.0
44.4%
37.4%
2.1
7.7
5.3
Dallas
MAVERICKS
104.2
45.2%
37.2%
1.7
7.4
3.0
Denver
NUGGETS
107.9
47.3%
39.2%
3.3
9.8
5.5
Detroit
PISTONS
105.3
45.0%
32.8%
2.4
7.7
5.0
Golden State
WARRIORS
100.1
44.2%
35.0%
1.8
7.0
3.6
Houston
ROCKETS
101.9
44.1%
38.5%
2.2
7.4
5.0
Indiana
PACERS
90.1
40.7%
31.7%
2.9
7.6
5.4
Los Angeles
CLIPPERS
99.0
44.2%
37.9%
-2.0
8.3
3.4
Los Angeles
LAKERS
117.6
50.2%
42.9%
-10.7
9.3
5.8
Memphis
GRIZZLIES
87.9
41.9%
33.3%
5.9
8.1
4.1
Miami
HEAT
96.4
45.4%
37.4%
-4.4
7.8
2.9
Milwaukee
BUCKS
109.8
50.1%
37.6%
-1.6
6.0
4.5
Minnesota
TIMBERWOLVES
109.0
49.2%
39.2%
-7.2
6.1
4.6
New Orleans
PELICANS
103.9
44.4%
33.8%
1.6
6.7
6.0
New York
KNICKS
98.4
46.3%
35.7%
0.7
6.4
2.5
Oklahoma City
THUNDER
107.3
44.1%
39.6%
2.5
8.3
4.0
Orlando
MAGIC
104.1
45.7%
37.4%
-1.9
6.3
4.8
Philadelphia
76ERS
106.0
48.3%
37.7%
-5.0
8.9
5.5
Phoenix
SUNS
101.6
45.1%
34.0%
-0.2
9.1
2.8
Portland
TRAIL BLAZERS
104.3
46.3%
38.1%
-2.4
8.3
4.0
Sacramento
KINGS
102.2
45.1%
38.0%
8.3
7.8
5.0
San Antonio
SPURS
95.9
42.0%
31.6%
3.9
7.5
5.3
Toronto
RAPTORS
101.0
45.3%
37.0%
4.6
7.9
4.1
Utah
JAZZ
104.3
50.4%
44.7%
-2.4
7.1
4.7
Washington
WIZARDS
104.3
47.1%
39.0%
0.1
8.3
4.1
All statistics are for teams' past 10 games played, and are defensive numbers.
PPGA:
Points per game allowed.
FG%A:
Field goal percentage allowed.
3PT%A:
Three-point percentage allowed.
RPG diff.:
Rebounds per game differential.
SPGA:
Steals per game allowed.
BPGA:
Blocks per game allowed.
Fantasy Basketball
Neil Tardy is a fantasy basketball analyst for ESPN.com
EDITORS' PICKS
What is the fantasy impact of Kevin Love to the Cavaliers?

Who are the biggest fantasy winners and losers this offseason?

What is the fantasy impact of LeBron's return to Cleveland?