Outlook on Utley's knee injury isn't good
March, 9, 2011
03/09/11
5:19
PM ET
The Philadelphia Phillies issued a statement from team physician Michael Cicotti on Wednesday regarding the health of Chase Utley, and it contained several ominous sounding words: patellar tendinitis, chondromalacia and bone inflammation. But what does it all mean for their star second baseman?
A closer look at the medical terms tells us that Utley is dealing with a complex issue with three contributing elements. Patellar tendinitis, literally speaking, refers to inflammation of the patellar tendon (the large tendon that anchors the quadriceps muscle on the front of the thigh to the tibia, or shinbone) and is used to generically describe various stages of the condition.
In medical circles in recent years, however, the term tendinosis has often been associated with chronic or recurrent episodes of anterior knee pain, particularly with overuse in athletes. The tendon actually starts to undergo structural changes where the tissue becomes thicker and more fibrotic. Given the repetitive nature of Utley's occupation and the fact that he has dealt with this in past years, it is not unreasonable to think that this degenerative process may also be occurring. The tendon, unlike the muscle it anchors, does not have a good blood supply, so it becomes less structurally sound and less capable of performing its function. This in turn creates the potential for chronic pain and irritation in the area of the tendon. The tendon is under most load when controlling the knee as it bends, something that happens every time the foot hits the ground when running.
Chondromalacia refers to the weakening or damage of cartilage and is not uncommon on the undersurface of the patella (kneecap). In and of itself, this is not a source of pain, but in the event that the cartilage surface erodes so that bone is exposed (cartilage is the protective lining on the ends of bone that protects the joint surfaces), the bone can become extremely painful. The presence of bone inflammation in Utley's knee suggests that the cartilage damage is extensive enough to create a reaction of the bone itself. That reaction results in edema (swelling), which is visible on MRI.
[+] Enlarge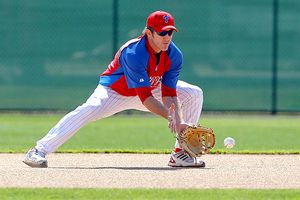 Derick E. Hingle/US PresswireChase Utley's knee injury is more bothersome when fielding grounders like this, as opposed to when he's hitting.
One major variable in just how severe this is for Utley -- and one that has not been revealed -- is the location of the bone inflammation. If it is on a weight-bearing area of the joint, specifically on the femur (thighbone), it becomes almost impossible to avoid aggravating it. Utley has not been able to run or play defense (which requires him to be able to squat or lunge sharply), all of which place substantial load on the joint. There is no way for him to effectively avoid putting pressure through the area. Weight bearing on a bent leg loads the contact area under the kneecap, whereas weight bearing on a straight leg does not. This may explain why batting has not been an issue for Utley, because as a left-handed hitter, his affected (right) knee straightens as he transfers weight onto it.
Knowing that these elements are all in play makes it tough to be positive about Utley's short-term outlook. Utley says they are "trying to pick as many brains as possible to try and find out the best way to go about this." Unfortunately, cartilage damage is not reversible. It comes down to whether the condition can be effectively managed (i.e., whether he can play through it) or whether it is ultimately deemed that a surgical option is best for Utley in the long term. For the joint condition, sometimes biologic treatments (like Synvisc, a joint lubricant) can be used to provide pain relief. Platelet-rich plasma (PRP) injections have been used with limited success in some patients with mild arthritis. As far as the "tendon" aspect of the injury, PRP, which has been shown to have some positive effects in people with elbow or Achilles tendinitis, has not yielded great results for patellar tendinitis. Surgery to debride, or clean up, the patellar tendon can be helpful, but that would address only part of the problem in Utley's case.
Utley is known for being a tough player who will give a 100 percent effort, even if it means absorbing physical punishment. At the age of 32, it appears as if that style of play is starting to catch up to him. Perhaps the best analogy for Utley's knee condition is that of a worn tire. You know that if you continue to drive on it, you may be able to get another 20,000 miles out of it, but if the tire blows, it won't come as a great surprise. And if you put the car in the garage and "rest" it, it doesn't improve the tire tread.
Utley may still surprise us, as he did after both his hip and thumb surgeries when he returned to competition faster than expected. For now, however, the fact that Utley is physically unable to play despite having that same will and determination is as ominous as the medical terms that describe his condition.