Raptors, Nets provide fantasy fun
November, 22, 2008
11/22/08
11:29
AM ET
By
Guy Lake, Special to ESPN.com
It's not hard to determine which game to focus on when four of the top five players in the ESPN Daily Leaders all participated in the same game. The New Jersey-Toronto game was kind to fantasy owners. Vince Carter rebounded nicely from a subpar outing against Cleveland with a turn-back-the-clock line of 39 points, 3 3-pointers, 9 boards and 6 assists. Other than the Cleveland game, Carter has been killing it of late. Owners worried about his lack of motivation can relax. Still, one could forgive VC owners if they pursue an opportunity to sell high.
[+] Enlarge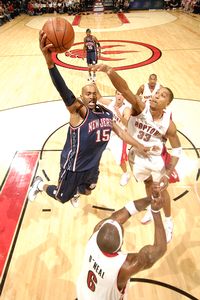 Ron Turenne/Getty ImagesVinsanity is probably a sell-high option right now, before he gets hurt.
Chris Bosh owners who reached with a first-round pick for the forward can bask in the glow of self-satisfaction. Bosh continues to post the best numbers of his career and last night put up 42 points, including 13-of-15 from the line. He is blowing up. Jose Calderon is over his hamstring issues and had his best line of the young season with 25 points, 4 3-pointers and 15 assists. This is second-round value obtained in the third or fourth round.
It's official. I was wrong about Andrea Bargnani. I was down on Il Mago before the season and have been proved wrong-headed on this former No. 1 pick. Bargnani had a career-high 29 points, 5 3-pointers,10 rebounds and hit 8-of-8 from the line. The more significant stat is the 49 minutes played. He played 37 minutes on Wednesday and has averaged 33.4 over his past five. The inconsistency will rear its ugly head from time to time, but Bargs is for real and very much worth a look. He is somehow available in 90.4 percent of ESPN leagues.
With all these spectacular stat lines, don't overlook the contributions of Brook Lopez, who again started for the Nets. Lopez put up 14 points and 6 rebounds but played 30 minutes and is earning the trust of coach Lawrence Frank. The rookie has averaged 12.0 points, 8.0 rebounds and 1.6 blocks on 56.5 percent shooting from the field and 75 percent from the line over his past five games. Owners in two-center leagues cannot keep him on the wire any longer.
Under the boards
It was a bad night for Hedo Turkoglu and his owners. He shot a woeful 1-for-13. He has been shooting very poorly this season (38.3 percent) in particular from downtown (just 31.6 percent). Turk is a career 43 percent shooter from the field and 38.8 percent from 3-point land. He hasn't shot worse than 36.8 percent from deep since his second year in the NBA. His owners should hold tight and wait for him to return to his career norms. Non-owners should be looking for a buy-low opportunity. … It's a safe bet that D.J. Augustin is one of the hottest adds in leagues this morning. In case he is still available in your league, here are a few reasons to suggest why he shouldn't be: 26 points, 7 3-pointers and 7 assists. He started at shooting guard last night and will hold that job until Jason Richardson comes back. Even after, he has played his way into more minutes, which is good for him and bad for Raymond Felton. Felton owners should use this game as a cue to move him ASAP. Charlie Villanueva came back after missing four games with a strained hamstring and came back gunning. In 13 minutes Villanueva shot 8-of-12 from the field on his way to 20 points. That's excellent production, but temper your expectations. Luc Richard Mbah a Moute was effective as the starter (8 points, 13 rebounds, 2 blocks and a steal) and his predilection for defense will always win him favor with Scott Skiles. … Paging Mike Miller. Remember when he used to drain 3-pointers and score? Well, the shooting is still there (52.1 percent from the field and 76.5 from the line), but the attempts are not. Miller is attempting two fewer shots per game than last season and five fewer than two seasons ago. It's not a matter of minutes, and this is what should spook his owners. He is healthy and playing more minutes than last season; he just isn't looking for his shot. … Jason Thompson (19 points, 12 rebounds) continues to improve as a starter. Look for the rookie to hold onto the starting power forward job even after Mikki Moore comes back from a sprained right ankle. … After four mediocre performances, Drew Gooden posted 18 points and 16 rebounds against the Warriors. This is going to be a consistent theme all season. The Warriors will be exploited by big men with any semblance of a post game. Keep this in mind when streaming big men.
Guy Lake is a fantasy basketball analyst for ESPN.com.