Jeremy Lin played well Monday, but ...
December, 18, 2012
12/18/12
11:19
AM ET
By
Tom Carpenter, ESPN.com
Jeremy Lin had a triumphant return to Madison Square Garden on Monday, as he helped lead his Houston Rockets to a 109-96 victory over his former team, the New York Knicks. He finished the game with 22 points (9-for-15 FG, 3-for-4 FT), 8 assists, 4 rebounds and 2 steals, but he also missed five of his six 3-point attempts and turned the ball over four times. Those latter two details have been a consistent theme this season.
Lin is hitting only 30.3 percent from beyond the arc and 40.7 percent from the field, and he sports an assist/turnover ratio of nearly 2-to-1. The poor shooting and lack of shots from both the field (10.3 per game) and charity stripe (2.5 per game) have kept his scoring at a pedestrian 11.3 points per game this season. In fact, his game-by-game scoring totals since the start of December speak volumes about his inconsistency: 19, 4, 4, 7, 38, 10, 5, 7, 22.
While there have been signs of promise in other areas this month -- his field goal percentage rose from 37.3 percent in November to 45.7 in December, and his turnovers sank from 2.9 to 2.4 -- his minutes per game have dropped from 34 to 30, his assists from 6.4 to 5.3 and his steals from 2.0 to 1.3 over that stretch.
Simply put, we need to forget about last year's "Linsanity" and treat Lin as a rookie who is trying to find his way on a team with a demanding coach (Kevin McHale) who won't let him just go out and ball. In other words, Lin, despite his potential, is a long-term project, which means we should keep our statistical expectations for him in check.
Looking Back
" A big reason the Rockets were able to beat the Knicks on Monday night: Carmelo Anthony sat out because of his sprained ankle. He hopes to be able to play Wednesday (versus the Brooklyn Nets), but time will tell. With Melo out of the mix, Chris Copeland went off for 29 points (11-for-19 FG, 4-for-4 FT), 4 3-pointers, 5 rebounds and one block. Considering he scored just 32 points in the entire month of November, Copeland must be deemed a sketchy play Wednesday, even if Melo remains out.
" Nikola Pekovic continued his hot play of late, racking up 19 points and 12 boards against the Magic on Monday. That makes four straight games with at least 19 points, with two double-doubles during that stretch. Many people, myself included, thought he would be a monster with Kevin Love out, but he actually seems more comfortable with Love back in the lineup, because it eases the defensive pressure on him. Look for Pek to continue producing quality big-man stats the rest of the way.
" Serge Ibaka was an absolute beast against the San Antonio Spurs on Monday, abusing their frontcourt for 25 points (10-for-16 FG), 17 boards and 3 blocks. To no one's surprise, he has continued to dominate the glass while blocking shots like nobody else, but the fact that he has become a regular part of the Oklahoma City Thunder's offense has been a nice bonus. It makes you wonder why coach Scott Brooks didn't lean on him more last season, when Ibaka took 3.3 fewer shots per game. But lost in the scoring bump has been the pleasant surprise of Ibaka's success at the free throw line. The career 71.4 percent free throw shooter has knocked down 84.2 percent this season, including four of his five shots Monday night. If he continues his upward trend on offense and maintains his free throw percentage, Ibaka's fantasy value could rise into top-10 overall territory.
Looking Ahead
" Ricky Rubio was held scoreless Monday night, as he missed all three of his field goal attempts in 16 minutes off the bench. It's a good reminder that he has a long way to go before he's up to full speed. Speaking of which, he won't play at all Tuesday evening against the Miami Heat, as he still sits out back-to-back games. He should be ready to roll Thursday against the Thunder, though.
[+] Enlarge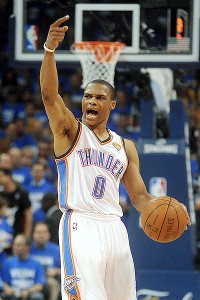 Mark D. Smith/US PresswireRussell Westbrook hurt his wrist Monday but posted a fine all-around game.
" Russell Westbrook was sporting a brace on his left wrist after Monday's game but announced on Twitter that he'd be fine. Typically people who are "fine" don't wear a brace, so we'll need to check back for updates on his status leading up to his next game, which is Wednesday versus the Atlanta Hawks.
" Amar'e Stoudemire is reportedly set to practice Tuesday and could be back in the mix for the Knicks as soon as this weekend. Keep an eye on updates to see if he will be ready to ball against the Chicago Bulls on Friday or the Timberwolves on Sunday.
" Reports are that Steve Nash is aiming to return Saturday if he has no setbacks during practice this week. However, ESPNLosAngeles.com's Ramona Shelburne cited a source who said Nash is only "50-50" to play Saturday. Stay tuned.
Fastbreak Player of the Night
You'd better have Chris Paul locked into one of your guard spots Wednesday evening; he has a favorable home game against his former team, the New Orleans Hornets. It's safe to say he will look to rack up big stats. I would also roll out teammate Blake Griffin, even though he mustered all of a single Fastbreak point the last time these two teams met. Griffin should have little trouble racking up big numbers this time around.