Dragic flourishing under Hunter
January, 25, 2013
01/25/13
10:03
AM ET
By
Josh Whitling, Special to ESPN.com
The rumblings that Suns interim head coach Lindsey Hunter was a
Kendall Marshall
advocate and concern that
Goran Dragic
would see a decrease in value seem to carry little weight; Dragic scored 24 points with eight assists, five rebounds and three 3-pointers against the Clippers, going 11-for-14 from the free throw line. Additionally, Marshall didn't get off the bench for the fourth consecutive game. Early returns with Hunter at the helm are positive for Dragic, who is averaging 18 points and 9.5 assists per game in the small sample size. That's encouraging for Dragic owners, who likely have been disappointed by his failure to break out and become a top-10 point guard. His average draft position of 32.8 carried high expectations after he averaged 18.0 points, 8.4 assists, 1.8 3-pointers and 1.8 steals per game in 28 starts for the Rockets last season. He has been up and down this season, averaging just 14.2 points, 6.2 assists, 1.3 3s and 1.5 steals per game.
I have remained high on Dragic. I love his skill set and ability to accrue assists, 3s and steals, and I see his struggles as a natural adjustment that comes along with running his first team on a full-time basis. He ranks No. 61 overall on the Player Rater for the season, but he has the tools to be top-30 from here on out. Dragic is an excellent buy-low candidate if his owner is frustrated by his overall numbers so far.
Looking Back
• Amar'e Stoudemire scored 15 points with nine rebounds in 20 minutes off the bench for the Knicks, and has been a consistent source of points recently, averaging 14.8 points and 5.5 rebounds per game over the past four contests. His fantasy game has morphed into Stoudemire being an efficient bench player, and he's shooting 48.6 percent from the floor and 77.4 percent from the stripe this month, with just 1.1 turnovers per game. I had doubts he'd have any value this year, and his lack of defense makes him avoidable in shallow formats, but in deeper leagues, he provides some stability and should see his value increase as the season progresses and he's capable of playing more and more minutes.
• Ed Davis scored 12 points with eight rebounds and three blocks Thursday and has been quietly solid over the past month, scoring in double figures in nine straight games and averaging 13.9 points on 54.8 percent shooting with 8.0 rebounds and 0.9 blocks per game in January. He's most valuable in field goal percentage, where he's the 10th most helpful player over the past 30 days, according to the Player Rater. But because his stats aren't flashy, he's still available in 29.1 percent of leagues. He should be owned in any league that factors in field goal percentage, and he is rumored to be in line to keep his starting job even when Andrea Bargnani returns.
• Jameer Nelson scored 14 points with 11 assists, three 3-pointers and three steals in the Magic's loss to the Raptors, continuing his excellent stretch (he's No. 16 on the Player Rater over the past 15 days). Nelson is averaging a sparkling 19.6 points, 8.3 assists, 3.3 3s and 1.6 steals this month, and if he keeps it up for another week, he'll finish up the best statistical month of his career. Anytime a player posts his best month ever after eight years in the league, I'm looking to sell high on him. Although Nelson has been terrific and should continue being a productive source of points, assists, 3s and steals, he won't keep up this pace. He is worth shopping while his value is so high.
Looking Ahead
[+] Enlarge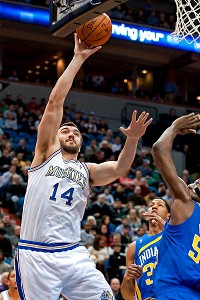 Greg Smith/US PresswireNikola Pekovic will miss at least the Wolves' next two games.
• Nikola Pekovic and Alexey Shved didn't travel with the Wolves on their current road trip, so look for increased contributions from fringe players such as Chris Johnson, who has 10.4 points, 4.3 rebounds and 1.7 blocks in his three games with Minnesota. The second-year forward is playing with his fifth team already, but he should put up solid block totals while Pek is out, as he averaged 2.6 blocks per game his senior year at LSU and boasts size and athleticism. With the Wolves' roster ravaged by injuries, Johnson has become a short-term, deep-league option for owners in search of swats.
• New Cavs Marreese Speights, Wayne Ellington and Josh Selby aren't expected to play until Tuesday, so Tyler Zeller and Tristan Thompson will continue to play huge minutes in the Cavs' frontcourt. When the new players are implemented, pay close attention to how minutes are distributed. Speights and Ellington could both have some value if they get significant playing time, Speights for rebounds and Ellington for 3s.
• Dwight Howard is day-to-day after aggravating his shoulder injury, so Pau Gasol could start at center and see additional playing time Friday. He has been effective off the bench, averaging 16.3 points, 7.3 rebounds and 1.3 blocks in 28.8 minutes per game since returning from his concussion. Those are numbers that make him worth reinserting into fantasy lineups, but they are not satisfying for owners who drafted him in the second or third round. I still view Gasol as a buy-low option, as he has benefited from being on the court when Howard isn't and could still be traded to a team where he's in a more fruitful situation.