Rubio playing more ... and shooting better
February, 5, 2013
02/05/13
10:46
AM ET
By
Tom Carpenter, ESPN.com
The
Minnesota Timberwolves
lifted the minutes restriction on
Ricky Rubio
over the weekend, and he responded Monday with season highs in points (15), assists (14) and minutes (33.5). A stat line like that is what fantasy junkies have been dreaming about, but even dreamier has been his shooting in recent games. In an odd statistical quirk, Rubio has hit exactly 4 of 9 shots in four of his past five games. While that is an unusual coincidence, the important thing to note is that 4 of 9 equals 44.4 percent from the field, which is a giant leap over the 35.7 percent he posted as a rookie and the 32.1 percent he has put up so far this season.
We know that he has double-double potential -- he averaged 10.6 points per game and 8.2 assists per game last season -- so it's not surprising that he has averaged 11.2 points per game over his past five games. It's also not surprising that he has dished out at least six assists in 10 of his past 11 games. The real issue is whether he can maintain his recent shooting success and boost his steals from 1.6 per game back to more than 2.0 per game.
I remain skeptical on both fronts. A 10 percent jump in field goal percentage is unrealistic, and I think he'll need to regain more explosiveness in his surgically repaired knee before he can become a dominant steals threat again. Nonetheless, if you believe your team is in a spot where you need to take on some risk and get lucky to win, Rubio remains an excellent player to acquire in a trade, especially if his current owner's team is doing well and he wants to shed that risk. His upside remains; it's just a matter of whether he can fully tap into it this season while working his way back from a torn ACL.
Looking Back
• One guy who has no issues with his field goal percentage is LeBron James. He banged down 13 of his 14 shots Monday against the Charlotte Bobcats for 31 points. Every shot he took was in the paint -- that says a lot about the state of the Bobcats' frontcourt -- but oddly enough, the only shot he missed was from four feet. Per ESPN Stats and Information, LeBron has hit 76 percent of his shots from inside five feet this season. Yeah, yeah, yeah, LeBron is a stud. Carry on.
• Blake Griffin joined Chris Paul on the sideline Monday. Griffin has a strained left hamstring and a sore left ankle, and it's not clear yet if he will miss more action. With CP3 and Griffin out, Eric Bledsoe continued his fine play at the point (17 points, 9 assists), and DeAndre Jordan went off for a career-high 22 boards and 2 blocks, though he scored only 7 points. Look for more of the same from them if CP3 and Griffin remain sidelined.
• Kevin Durant played through the bruised ribs he suffered over the weekend, but he scored just 19 points. That was the first time he scored fewer than 20 points since mid-December, but he made up for that by chipping in 10 boards, 2 3-pointers, 4 dimes, 2 steals and a block. It appears he is no worse for the wear going forward.
• The Dallas Mavericks got Dirk Nowitzki back from his strained adductor muscle Monday, but he barely made a blip on the fantasy radar: 10 points (3-for-11 FG, 0-3 3s), 3 rebounds and 3 assists. I remain a bit concerned about his health going forward and recommend selling him off if he can churn out a couple of good games in a row.
• Jose Calderon got his work visa issue taken care of and made his debut with the Detroit Pistons, hitting seven of his dozen field goal attempts for 15 points, 3 assists and, not surprisingly, zero turnovers. It's hard to read much into the stat production of any of the Pistons from this game, as the New York Knicks took control of the game early and never let the Pistons get loose. Expect Calderon to pick up his assists totals sooner rather than later.
Looking Ahead
[+] Enlarge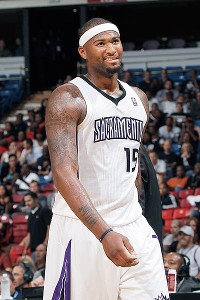 Rocky Widner/NBAE/Getty ImagesThe Kings' DeMarcus Cousins finished with 10 points and six rebounds Monday.
• DeMarcus Cousins got the ol' heave-ho as he was heading to the locker room at halftime of Monday's game for saying the wrong thing to the refs. He is leading the NBA in technical fouls (12) and ejections (3), so kudos to you if you own him in a league that rewards such statistics. Considering his reputation, there is at least a chance he will be suspended for his actions. Of course, he'll garner an automatic suspension if he earns his 16th tech.
• Andre Drummond failed to complete Monday's game after aggravating a back injury suffered during Sunday's loss to the Los Angeles Lakers. He said afterward (via his Twitter feed) that he'll be good to go Wednesday, but you'll want to keep an eye out for updates as the game nears.
• Thaddeus Young is headed for an MRI on his injured hamstring. It sounds like he will miss at least a couple of weeks, but if the MRI reveals a tear, he could miss a couple of months. The Philadelphia 76ers have to hope Andrew Bynum will return soon, but in the interim, Spencer Hawes would be the biggest statistical beneficiary of Young's absence. Lavoy Allen, Arnett Moultrie and even Dorrell Wright could be worth keeping an eye on, too.
• A strained left quadriceps forced Andrei Kirilenko out of Monday's game. Considering his lengthy injury history, it should come as no surprise. You'll need to check for updates, but he's probably iffy for the Wolves' next game, which is Wednesday against the San Antonio Spurs.
Fastbreak Player of the Night
With a full slate of games Wednesday, there is no shortage of options at guard and forward. However, with Tim Duncan hurting and Joakim Noah and Dwight Howard day-to-day, we'll have to make a tougher call at center. I'm going to roll with Tyson Chandler, who has abused opposing frontcourts for exactly 20 rebounds in each of his past three games. On Wednesday, he goes up against the weak Washington Wizards, so he should be able to maintain that hot pace.