Rettenmaier, Marchese win at WPT Championship
May, 29, 2012
05/29/12
11:29
AM ET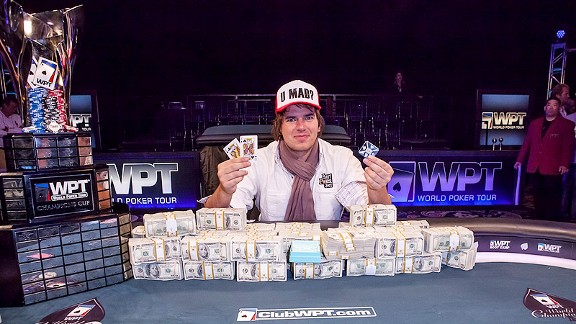 World Poker TourMarvin Rettenmaier won the 2012 WPT championship and earned the top prize of $1.1 million.
The 2012 edition of the World Poker Tour Championship may not have had the spark it held in the past, but Marvin Rettenmaier and Tom Marchese could probably care less. The dynamic pair of young stars captured two of the biggest titles on the planet over the weekend at the Bellagio and each pocketed more than $1.1 million for their efforts.
WPT Championship - $25,000 buy-in
Marvin Rettenmaier is running quite hot at the moment. Just days after signing an endorsement deal with Party Poker, the German professional poker player defeated a star-studded final table in the World Poker Tour championship to win the top prize of $1.1 million. Up against Rettenmaier were two former WPT champions in Michael Mizrachi and Nick Schulman, perhaps the hottest player on the planet Steve O'Dwyer, French poker star Philippe Ktorza, and Trevor Pope. Rettenmaier entered the final table with a monstrous chip lead, but holding onto the top spot against this table was a challenge for most of the night.
According to the World Poker Tour, Rettenmaier held a starting stack of 112 big blinds to begin the six-handed final table. Michael Mizrachi, his closest competition at the start, held only 43. It really was Rettenmaier's tournament to lose. His opponents understood that added pressure and made sure that when he'd get involved in pots, it would be for a significant portion of his stack. Nick Schulman did the first bit of damage to Rettenmaier's stack on the 13th hand of play, but for the first few orbits, the players simply gained a feel for the table with a variety of successful preflop raises that ended the action.
The first elimination came on the 29th hand when Ktorza eliminated Pope in sixth place. Pope moved all-in with A-3 and failed to hit against Ktorza's J-J. Pope earned $155,571 for sixth, the largest live tournament cash of his career.
Nearly 30 hands later, Mizrachi grabbed the chip lead in an incredible three-way all-in pot. Mizrachi raised from the cutoff, Rettenmaier three-bet, and O'Dwyer moved all-in from the small blind. Mizrachi then moved all-in and was called by Rettenmaier, creating the largest of the tournament thus far. Mizrachi held 10-10 and was up against the A-K of both O'Dwyer and Rettenmaier. After the board ran clean, Mizrachi jumped into first, Rettenmaier fell to second and O'Dywer was eliminated in fifth place for $192,176. In 2012, O'Dwyer has earned $617,142 on the tournament felt and has made seven final tables (one win).
The Grinder then imploded. Within a span of three hands, Mizrachi lost the majority of his stack to Rettenmaier and Schulman. By the end of the next level, he was virtually tied with Ktorza at the bottom of the chip counts and it would be Ktorza who made the move up first.
Ktorza doubled through Schulman holding Q-Q against Shulman's A-10 with flopped quads, then Rettenmaier eliminated Schulman next when his 8-8 held against Schulman's A-5. Schulman, the 2005 World Poker Finals champion, earned $256,235, his largest cash since January 2011.
Rettenmaier was in control as three-handed play began. Holding 11.5 million in chips to 2.0 million (Ktorza) and 1.6 million (Mizrachi), Rettenmaier was poised to make quick work of his opponents. Then came hands 113 to 116. Ktorza doubled through Rettenmaier twice during that stretch, putting the two in a lock for first. Rettenmaier then regained his edge on hand 116 when he eliminated Mizrachi in third place. Earning $424,618, Mizrachi moved into fifth on the all-time money list ($12.5 million in tournament earnings).
Then a truly crazy heads-up battle ensued. After only four hands, Ktorza moved into the lead and began to steam roll Rettenmaier. After 20 hands, Ktorza had nearly a 3:1 lead over his opponent. After 34 hands, it was anyone's game once again as Rettenmaier doubled through Ktorza (A-4 versus Q-J).
With stacks virtually deadlocked a short time later, Rettenmaier opened to 500,000 and Ktorza called. The flop came 8-7-3 rainbow, Ktorza checked, Rettenmaier bet, Ktorza raised, Rettenmaier reraised, Ktorza moved all-in and Rettenmaier called. Rettenmaier showed 8-3 for two pair and was in the lead against Ktorza who h held Q-7 for middle pair. The turn and river were blanks and Ktorza was down to three big blinds.
Ktorza then doubled up three hands in a row and incredibly was the chip leader less than 10 hands later. He extended his lead and Rettenmaier was down to only nine big blinds before the final momentum shift of the night occurred.
Rettenmaier doubled up with 10-10 against Ktorza's A-4 and delivered an unbelievable cooler on the final hand when he picked up kings and held on against the pocket jacks of Ktorza. It was a brutal end for Ktorza who played a great game. He earned $805,310 for second place.
"This was simply amazing," said Rettenmaier after the victory. "The heads-up was such a roller coaster and it feels so great to win such a big, prestigious title in my first week as a newly sponsored PartyPoker pro."
Here are the final table results from the $25,000 WPT Championship:
1. Marvin Rettenmaier ($1,196,858)
2. Philippe Ktorza ($805,310)
3. Michael Mizrachi ($424,618)
4. Nick Schulman ($256,235)
5. Steve O'Dwyer ($192,176)
6. Trevor Pope ($155,571)

$100,000 Super High Roller
Tom Marchese hasn't had the smoothest ride on the tournament trail over the past year. After emerging as a dominant force in 2010 and capturing the CardPlayer Player of the Year award, Marchese's 2011 WSOP showing wasn't ideal, and he failed to capture any major scores despite being one of the most active members on the tournament trail.
During that time, Marchese remained committed to playing the world's largest buy-in events and it was no surprise that when the $100,000 WPT Super High Roller arrived, he was at the tables ready to go. The 24-year-old was eliminated during early action on Day 1, but opted to re-enter. After all, it's just another $100,000 …. Seven players -- Marchese, Jason Mercier, Daniel Negreanu, Galen Hall, Clemenceau Calixto, Andrew Robl and Cary Katz -- delivered a second buy-in in this event. Two of them turned out to be extremely happy to have done so.
A total of 34 entries offered an increase from last year's attendance of 29, and even though six players would make the televised final table, only five players would make the money. That unfortunately bubble boy would be Justin Bonomo, who was eliminated on the 13th hand of the final table by John Juanda.
Robl eliminated Bill Klein in fifth place after turning a set of jacks against Klein's flopped set of threes. Klein earned $263,160 and stated afterwards he was donating his earnings to a number of charities. Three hands later, Juanda caught an ace on the river to eliminate Dan Perper in fourth (A-10 versus K-K). Perper earned $394,740, his best tournament cash since his victory in December at the $5,000 side event in the Five Diamond World Poker Classic.
The pace of the final table was flying after three eliminations in 36 hands, but it wouldn't last. Marchese made his move over the next 40 hands, taking big pots against both of his opponents and taking over the chip lead.
Juanda doubled through Marchese after flopping a flush against Marchese's flopped straight and it appeared to be a two-horse race with Robl holding half the stack of his opponents. The momentum at the table shifted as the blinds escalated with Robl chipping away at both opponents. On hand 117, Robl eliminated Juanda after the stacks went all-in preflop with Robl's A-A against Juanda's 9-9. The $526,320 earned by Juanda was his first tournament cash since the 2011 WSOP.
Only four big blinds separated Robl and Marchese when heads-up play began and after nearly 80 hands of back-and-forth action, Marchese's 8-8 held against Robl's A-4 to provide him with the $1.3 million top prize. Robl earned $822,375, his fifth six-figure score over the past five years.
"And I won it," said Marchese on Twitter. "Played real well and got luckiest ever in a key spot. Time to celebrate."
Marchese is hoping that there will be many more times to celebrate in Las Vegas this summer.
1. Tom Marchese ($1,308,405)
2. Andrew Robl ($822,375)
3. John Juanda ($526,320)
4. Daniel Perper ($394,740)
5. Bill Klein ($263,160)

Small blinds: Joe Serock finished 10th in the WPT Championship and with that success, became the Season X World Poker Tour Player of the Year. In addition to the honor, he gets free rooms and transportation to WPT events in Season XI. … Event 2 of the WSOP attracted 2,101 players, a good start to a summer where more people will focus on turnout than ever before. … Phil Ivey made his return to the WSOP in Event 2. … WSOP Executive Director Ty Stewart finished 19th in the $500 Casino Employees event, won by Chiab Saechao. This was Stewart's second WSOP cash. … Check out this video of how the WSOP bracelet is made … Marcelo Ramos Da Fonseca won the LAPT Punta del Este main event. Ramos Da Fonseca earned $144,240 with his heads-up victory over Angel Guillen. … Rocketfrog, a company launched by one of the co-founders of Centaurus Games (which was bought by PartyGaming), has launched a Facebook app that allows for multi-table poker tournaments, among other games. This is the latest of a number of gaming companies who are actively looking to get into the social space. Expect more to come as well. … Nick Grippo won the SCOOP main event (high buy-in level) for $798,675.