Doyle Brunson has arrived
July, 9, 2012
07/09/12
7:55
PM ET
LAS VEGAS -- The buzz that spread around the Rio a day ago was filled with negativity. It came out of nowhere and came from a source whose words could affect the game as a whole in a heartbeat. Doyle Brunson, the poker icon among icons, had tweeted that he was going to pass on this year's world championship. Many were disappointed, stunned and pained. Having Doyle Brunson here is important; he's not just another face in the crowd. The questions started to fly around the tables: Why would he decide to miss out on the biggest event of the year? Does he still like poker? Is the buy-in too low? You get the point. Many in the media remained hopeful he would change his mind, just as he did a year ago.
After action on Day 1C began, "the tweet" arrived:
"I'm having second thoughts about playing the main event. I'm pretty tired after all this playing but it's such a great event! 3 hours left [to register]," @TexDolly said.
[+] Enlarge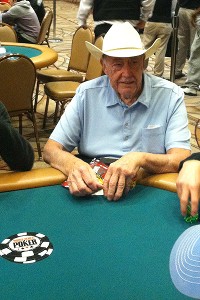 Andrew Feldman/ESPN.comAfter much debate, Doyle Brunson decided to enter the 2012 WSOP main event.
A couple of hours passed, and everyone from the players to the tournament staff to the media waited for a sign of whether Brunson would be in attendance. Another simple tweet came through, this time from Pamela Brunson. She said she was on the way to the Rio. She didn't spell it out, but then again, she didn't need to. I was thrilled.
Putting two plus two together, I headed out into the hallway and waited until the man himself arrived. With the scooter traveling at full speed, Doyle Brunson entered the Seven Star registration area, went up to the cage, presented his Total Rewards card and registered for the main event.
Brunson left the guarded room to wishes of good luck from the fans who hoped for a moment of the 10-time champion's time or even a photo. There was no time. Escorted by tournament director Jack Effel, Brunson headed to the Pavilion Room and table Yellow 322. Whispers from the adjacent tables of his arrival showed the magnitude of this event. Players stood up. They shook his hand. They said thank you.
Then it was game time. He unracked his chips, and immediately two cards were in front of him. He looked up with a big grin and said, "I just hope I can remember how to win a pot."
It's great to see Brunson here, and although he's not a fan of the lengthy tournament grind, it would be amazing to see one last deep run from the legendary rounder.
Small blinds: Matt Affleck leads the field after two levels. … This is Phil Laak's first tournament of the 2012 WSOP. He was all smiles when I asked him about the cash games. … Speaking of players who are enjoying the cash games, Johnny Chan said they've been good all summer. "Always some live ones," he said. … Early eliminations include Olivier Busquet and David "Bakes" Baker. … The final turnout and prize pool should be announced shortly. … Bob Bounahra said he had a few deep runs this summer and is excited about heading to WSOP Europe this year. … Greg Mueller was unhappy with his elimination on Day 1A, but he did tell me that it probably saved him a grand since he will not have to pay for massages. … Tables are still in the process of being cut down to nine handed. As a result, no tables have been broken to this point. … Eric and Michael Mizrachi are both playing on Day 1C. … Mars Callahan is back at the WSOP. The actor/writer is sitting in the Pavilion. … The biggest rails of the day belong to Phil Ivey and Jason Alexander.