Smith's fantasy value takes a hit
There's a temptation to overreact when a player as charismatic and furious as Steve Smith changes teams. And now that he's joined a squad that won the Super Bowl just a season ago, watch out. But having reviewed his 2013 game tape, I have to say: I'm underwhelmed.
I should preface this by saying Smith has been one of my favorite players for years. It's borderline ridiculous that a 5-foot-9 (ahem: he's shorter than that), 185-pound receiver has seven 1,000-yard seasons and 67 career TDs operating almost exclusively on the outside. He has been a force of nature. But he's also slowing down. He still has the power and frenzy to get off the line against most corners, but he isn't open as frequently, especially deep. He didn't gain more than 23 yards on any reception until Week 11, and I couldn't find a single play out of his 64 grabs where he produced more than about 15 yards after the catch.
[+] Enlarge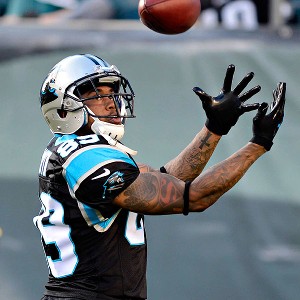 David T. Foster III/Getty ImagesSteve Smith's fantasy value is tempered by the fact he's slowing down.
So what do the Baltimore Ravens need Smith to do? Well, they've got the deep stuff covered with Torrey Smith, and they paid Dennis Pitta $16 million guaranteed this winter to ostensibly be their middle-of-the-field threat. That could mean the Ravens really need Steve Smith to be their slot man. And maybe that'll go well. But according to ESPN Stats & Info, Smith ran 53 of his 376 routes out of the slot last season, and was targeted on only 16 of those routes. In 2012, he ran 41 of his 438 routes out of the slot. That's just not where he's played.
I'm not claiming he can't do it. But if he's really Baltimore's No. 3 receiving weapon (or perhaps No. 4, if Ray Rice can overcome his horrible '13), and if he's asked to do something he hasn't done in a while, I can't get excited about his potential. I sense disappointment looming for anyone relying on the status of Smith's name. He's currently my No. 46 wide receiver.
Here are your other transactions of interest from the past couple of days:
Ted Ginn to Arizona Cardinals
You know who scored only 12 fewer fantasy points than Steve Smith as a Panthers wideout last year? Yup, it's Ginn, the former No. 9 overall draft pick who flamed out with the Miami Dolphins, was a mere special teamer for the San Francisco 49ers, but found his game as a deep threat with Carolina in '13. Do I think there's a ton of work for Ginn behind Larry Fitzgerald and Michael Floyd? Of course not. In fact, his biggest impact is still likely to come as a return man. But Andre Roberts has left the desert for the Washington Redskins, and Bruce Arians loves to throw the ball deep.
Ginn probably won't be a fantasy option unless Fitz or Floyd goes down, but even as a "situational deep threat" in Carolina last season, he scored six fantasy points or more in eight of 16 games. Carson Palmer will hook up big with him a few times in '14, mostly likely to the chagrin of Fitz/Floyd owners.
Tight end re-sign roundup
I try not to listen to what coaches tell the media, but it was tempting to read into Bill O'Brien's endorsement of Garrett Graham once the Houston Texans re-signed him. O'Brien, who's familiar with the New England Patriots' two-tight-end set, said he envisions Graham as the "move" tight end. That's also known as the Aaron Hernandez role. That said, Graham is no Hernandez, athletically speaking, and Ryan Griffin had a nice rookie year. Neither guy is inside my top 20 TEs right now . . . Scott Chandler re-signed with the Buffalo Bills, so prepare yourself for another underwhelming 600-yard-ish season. The maddening thing about Chandler is that despite his 6-7, 260-pound frame, he's not really all that much of a blocker, either . . . Brandon Pettigrew will return to the Detroit Lions, where he has been more name than game for years. Drop-prone, speed-challenged and overrated as a blocker, Pettigrew should stay miles away from your fantasy roster . . . The Green Bay Packers kept Andrew Quarless and figure to pair him with Brandon Bostick, as Jermichael Finley plies his trade elsewhere. We've all been opining for years that Aaron Rodgers' starting tight end should be a big fantasy factor, but until we know which of these guys will lead the way, you can look elsewhere
Fantasy
Senior writer for ESPN.com
Six-time Fantasy Sports Writing Association award winner
Author of "The Big Clear," a noir thriller
SPONSORED HEADLINES
FANTASY TOP HEADLINES
MOST SENT STORIES ON ESPN.COM
EDITORS' PICKS
Short description - Editor's Choice module

Ken Daube lists the easiest remaining schedules for RBs and provides other helpful metrics.

Matthew Berry and Jeff Saturday discuss high-upside WRs and offensive line play.