Consistency Ratings: Week 15
Rob Gronkowski's season-ending injury epitomizes what has been a difficult season for the tight end position.
Let's face facts: The 10 top tight ends in terms of total 2013 fantasy points have missed a combined nine games this season, and by measures in this space have been "Stiffs" (players who finished outside the top 20 in the position's weekly scoring) 29 times. Meanwhile, the top 16 tight ends for the season have missed a combined six games, and drawn "questionable" tags on the NFL's weekly injury report a combined 14 times, in the past five weeks alone. Six of those questionable tags came in games with kickoffs at 4:05 p.m. ET on Sunday or later; four of those eventually resulted in the player sitting. Ask owners of Julius Thomas, Jordan Reed and Delanie Walker how it felt to suddenly lose these players due to a last-minute, late-game inactive.
It's this rash of injuries at the position that has thrust tight end to the forefront of fantasy playoff strategy, and it's the primary reason I've endorsed -- going against my traditional advice -- rostering a backup tight end.
Here's why: This season has not just seen a greater rate of injury at tight end than in years past, but also a higher rate of fantasy production. Those nine games missed by the current top 10 is already more than the top 10 in either 2011 (5) or 2012 (8) sat out, while the average weekly fantasy point total by each NFL team's tight ends is higher this season (7.13) than in either 2011 (6.86) or 2012 (6.71). And don't forget that tight end production was already at an all-time pace in 2011.
Gronkowski's owners, too, are now sent scrambling for a fill-in, and by all rights might have to settle for two pickups they can shuffle depending upon matchups.
Yes, it seems that this season, the only "sure thing" at tight end is Jimmy Graham, who has a legitimate chance at setting a new standard for fantasy points at the position. Though he is on pace to fall short of Gronkowski's two-year-old mark of 233 by eight points, it's not inconceivable that Graham could pick up his pace in upcoming matchups against the St. Louis Rams, Carolina Panthers and Tampa Bay Buccaneers. Besides, lately he hasn't drawn questionable-or-worse injury tags, and at the current paces of other tight ends, he'd outscore the seasonal total of the No. 2 tight end, Vernon Davis, by 61 points. Graham is the one tight end with whom fantasy owners can feel truly "safe," and along with perhaps Davis, is the one exception to the "roster a backup" advice.
So who should Gronkowski's owners, or owners who need to secure a quality No. 2 option, be looking to add? Let's examine the upcoming matchups.
First, here is how defenses have fared against the position in fantasy terms, using both full-season and past-five-weeks statistics:
Fantasy points allowed to opposing tight ends, 2013 season
1. Arizona Cardinals, 14.0 per game, 182 total
2. Jacksonville Jaguars, 10.0 and 130
3. Minnesota Vikings, 9.4 and 122
4. Denver Broncos, 8.9 and 116
5. Miami Dolphins, 8.8 and 115
6. New York Jets, 8.8 and 114
7. Washington Redskins, 8.7 and 113
8. Dallas Cowboys, 8.5 and 111
Fantasy points allowed to opposing tight ends, past five weeks
1. Arizona Cardinals, 13.2 per game, 66 total
2. New England Patriots*, 13.0 and 52
3 (tied). Houston Texans, 10.4 and 52
3 (tied). Jacksonville Jaguars, 10.4 and 52
5. Washington Redskins, 10.0 and 50
6. San Diego Chargers, 9.4 and 47
7 (tied). Denver Broncos, 9.0 and 45
7 (tied). Minnesota Vikings, 9.0 and 45
Note: Patriots have played only four games during this time.
For another angle, let's re-examine those numbers using the consistency standards below. These are the six defenses who have afforded opposing tight ends a "Start" performance -- that's a top-10 point total at the position -- at least half of the time:
1. Arizona Cardinals, 84.6 percent, 11 "Starts" in 13 games (4 "Stud")
2 (tied). Jacksonville Jaguars, 69.2 percent, 9 in 13 (1)
2 (tied). Washington Redskins, 69.2 percent, 9 in 13 (1)
4 (tied). Houston Texans, 61.5 percent, 8 in 13 (1)
4 (tied). New York Jets, 61.5 percent, 8 in 13 (1)
6. New York Giants, 53.8 percent, 7 in 13 (1)
Finally, for even further perspective on these matchups, here are some specific thoughts on five of these teams, using both full-season and past-five-weeks data:
Arizona Cardinals: They've allowed five "Starts" to opposing tight ends in the past five weeks, yet surprisingly have afforded only one eight-target and one five-reception game to a tight end during that time. Having afforded six touchdowns to the position has a lot to do with that.
Jacksonville Jaguars: They've afforded an opposing tight end at least eight targets four times, and at least five receptions three times, in the past five weeks.
New England Patriots: They've allowed four "Starts" to tight ends in the past five weeks, and remember, they have played only four times during that span. People might remember Graham's invisible outing against this defense, but outside of that game, Aqib Talib has rarely been asked to shadow an opposing tight end.
New York Jets: They've afforded an opposing tight end at least 11 targets three times and at least eight catches three times this season, both most in the league.
Keeping this in mind, let's take a look at some of the opposing tight ends these teams have upcoming, the list including a healthy number of names readily available in ESPN standard leagues:
Arizona Cardinals: Delanie Walker, Zach Miller/Luke Willson, Vernon Davis
Jacksonville Jaguars: Scott Chandler, Delanie Walker, Coby Fleener
New England Patriots: Charles Clay, Dennis Pitta, Scott Chandler
Washington Redskins: Tony Gonzalez, Jason Witten, Brandon Myers
New York Jets: Greg Olsen, Jordan Cameron, Charles Clay
There's little doubt that Walker (available in more than 80 percent of ESPN leagues) and Pitta (available in more than 98 percent) stand out as worthy No. 2 options and top Week 15 pickups. And if you play in any of the near-50 percent of leagues in which Clay remains available, he's an even more attractive choice than those two.
Consistency Ratings chart
Players are initially ranked in order of their Consistency Rating, calculated as the percentage of the player's scheduled games -- not games played, scheduled games -- in which his fantasy point total registered a "Start" score. All categories are sortable both ascending and descending; just click on the headers to sort.
Players must have at least a 25.0 percent Consistency Rating in either standard scoring or PPR leagues for inclusion in the chart. All defense/special teams are included, regardless of whether they met those minimums.
These statistics are for 2013 only. Statistics for games since 2010 can be found here.
SPONSORED HEADLINES
FANTASY TOP HEADLINES
MOST SENT STORIES ON ESPN.COM
FANTASY FOOTBALL: WEEK 15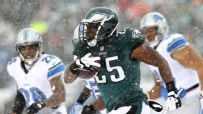 After dashing through the snow in Week 14, how else can LeSean McCoy help you during the fantasy playoffs? Rankings »
EDITORS' PICKS
Matthew Berry's Love/Hate for Week 16

Who can you trust in your fantasy title game?

What is Odell Beckham's value for this season and 2015?