Changing perceptions
Some defensive matchups look much different now compared to earlier in the year
This week on the Fantasy Underground podcast (also available on iTunes), Field Yates and I talked about Aaron Rodgers, Jonathan Dwyer, Alex Green, Golden Tate, Mike Thomas, Colin Kaepernick, Bryce Brown, Knowshon Moreno and Vernon Davis. I also revealed five veteran sleepers for 2013. Here are 10 other topics:

Five In Depth
1. Received Wisdom: Run Defenses. With the fantasy playoffs here, every lineup decision you make becomes magnified. "Always Play Your Studs" is a good rule to live by, but in today's NFL, studs are sometimes hard to find. And when you're forced to choose between imperfect options, matchups matter. There's danger in being ruled by what you remember from September and October. Defenses change, for better or worse. If you're living strictly by ESPN.com's Points Against pages, unfortunately you're getting season-long data only.
My eyes tell me, for example, that some of the run defenses you might envision as awful actually have changed for the better. Here are three:
[+] Enlarge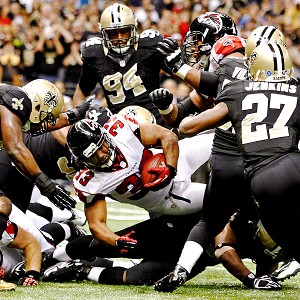 Derick E. Hingle/US PresswireThe Saints' run defense has had its moments against Michael Turner this season.
New Orleans Saints: Well, they'd almost have to be better. But in the past five weeks, they've looked solid. Sedrick Ellis comes and goes as a run-stuffing DT (that's the knock on him), but Cameron Jordan has been excellent at the left DE spot, a crucial location for stopping teams who want to run off right tackle. I also think strongside LB David Hawthorne's return from a hammy injury has made an appreciable difference since Week 10. Are these guys now a bad matchup for a RB? No. But I don't think they're the dream matchup they were from Weeks 1 through 8.
Indianapolis Colts: Since Shonn Greene lit them up in Week 6, there hasn't been a single game I've watched against Indy in which a running back really impressed me. C.J. Spiller did have a few long ones in Week 12, and Joique Bell busted one down the sideline last week, but really the Colts are playing the heck out of their 3-4 now. Antonio Johnson and Ricardo Mathews were truckloads to move last week against the Detroit Lions, and would you believe Dwight Freeney flashed a little bit as a run-stopping outside LB? To me, the Colts now are legitimately a run defense I'm not excited about my RB facing.
Buffalo Bills: I'm less certain about this one, because it's a smaller sample size. As of Week 10, I was still ready to pronounce these guys torchable against the run. But then they played that Thursday night game against the Miami Dolphins, and suddenly there was nowhere to run. And in the two games since, versus the Colts and Jacksonville Jaguars, the song has been the same. Kyle Williams is one of the best run-stopping DTs in the league and he's been a beast this month, and now that he's gotten healthier, Mario Williams flashes a bunch in the run game.
Run defenses that have gotten worse: After six weeks of looking great, the Seattle Seahawks have let Adrian Peterson, Frank Gore and a few other RBs run roughshod over them. ... The Tampa Bay Buccaneers' run defense always seemed to be a product of its bad pass defense (why run when you can throw?), but that didn't stop pundit after pundit from opining about the "top-ranked Tampa rush defense." They're not terrible. They're just movable when a team wants to move them. ... The Oakland Raiders were bad stopping the run to begin the season. Now they're unbelievably bad.
2. Received Wisdom: Pass Defenses. I get Twitter questions galore about why I'm so low on a QB or WR who's got such an "incredibly easy matchup." Sometimes, though, I've seen enough improvement in a pass defense that I no longer believe it's "incredibly easy." Here are three such defenses:
Football
Christopher Harris and Field Yates talk about the fantasy value from what they see on film from Aaron Rodgers, Jonathan Dwyer, Alex Green and veteran sleepers for 2013.
Buffalo Bills: Here they are again. By my metrics, this unit literally has been the most difficult for opposing WRs to score against the past five weeks. They've shaved an average of seven fantasy points off a receiving corps' average in that time. Free safety Jairus Byrd is a legit All-Pro candidate in pass defense, and rookie CB Stephon Gilmore has played so much better since September. Add Williams' getting after the passer, and this is a tougher group than you think.
Cleveland Browns: This one can partly be explained by Joe Haden's returning from suspension in Week 6, plus Sheldon Brown has played well. But the guy who's really popped for me on film has been Phil Taylor, the big DT who was on IR with a pectoral injury. As the three-technique tackle, he's produced good pressure up the middle, especially last week against Carson Palmer.
Miami Dolphins: I was all aboard when describing how poorly this unit played in September. Of all teams, the Arizona Cardinals lit them up in Week 4. But the pass rush has improved, and you saw Tom Brady under constant duress against them last week. Cameron Wake, in particular, was possessed. Here's another case where I don't think they're going to shut down your QB -- not when CBs Sean Smith and Nolan Carroll are so up and down -- but I wouldn't consider them must-start fodder.
Pass defenses that have gotten worse: The Dallas Cowboys have some expensive personnel on the back end, but they've given up big pass plays in three of their past four games, including Robert Griffin III's Thanksgiving demolition. ... The Green Bay Packers did fine last week against Christian Ponder, but it's hard to overstate how badly they miss Clay Matthews. Also, what happened to Tramon Williams? Defenses pick more on him than they do rookie Casey Hayward, who's been terrific.
[+] Enlarge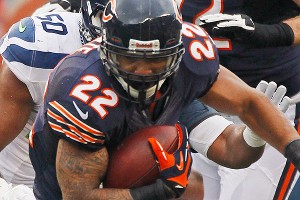 AP Photo/Charles Rex ArbogastMatt Forte seems to do everything well, except score from short distances.
3. Is Matt Forte Back to Being a Must-Start? Forte gave his fantasy owners a scare leading into Week 13, as a tender ankle threatened to sit him down, or limit his workload. Instead, he saw 24 touches from scrimmage and, according to ESPNChicago.com, played on 48 snaps compared to 13 for Michael Bush. Skeptics look at Forte's numbers from the past month and worry that something is wrong: In his past four games, Forte has averaged 61 yards from scrimmage and found the end zone only once. The Chicago Bears' offensive line is far from premier either at pass-blocking or run-blocking, and especially in back-to-back games (Weeks 10 and 11) got nothing going versus the rough-and-tumble Houston Texans and the San Francisco 49ers.
Breaking down his tape against the Seahawks on Sunday, I saw Forte struggle badly at the start, with minus-2 yards on his first four carries. But right after that, boom, gains of 7, 5 and 3 yards, and Forte looked spry, agile and powerful. He's as upright as I've ever seen him, yet still generates plenty of force at the point of attack, barreling into defenders, which might not bode tremendously well for his longevity but puts to rest the notion of current injury.
On his third-quarter TD, he lined up wide left and ran a lovely slant, catching the ball and willing himself into the end zone. Bush got it going for a few plays in the fourth quarter, but then Forte was right back out there running a sweep around the right edge, gaining 9 and just punishing Richard Sherman. The Bears, of course, never touched the ball in overtime, but Forte's day was a positive one in my eyes.
His biggest issue is that the Bears have learned over the years how much he struggles in short yardage, perhaps because of just how upright he runs. On a second-quarter possession deep in Seattle territory Sunday, Lovie Smith tried to convert a fourth-and-1, and Bush was his option. (He didn't make the yardage.) Forte has found the end zone four times (three running) this season, while Bush has five rushing TDs; four of those scores have come from an opponent's 1, while the other came from an opponent's 3. That's a good reason to shove Forte out of the RB top 10 for the rest of the season, but I have to say: Based on what I saw in Week 13, I can't push Forte much further down than that. He's No. 12 on my RB list this week in a matchup against a Minnesota Vikings D that just made James Starks and Alex Green look terrific, and which allowed 113 yards rushing to these same Bears two weeks ago (the game in which Forte hurt his ankle). The tape doesn't lie: A big output is coming soon for Forte.
4. The Fizzling Year of the Quarterback: Update. Remember in August when conventional wisdom had it that if you didn't draft an "elite" QB, you might as well pack it in? I never bought into that -- I don't make pronouncements like that about any positions -- but even in my quarterback positional preview I wrote: "Maybe a sea change is coming. Maybe the days of treating fantasy quarterbacks like commodities are ending. Maybe it pays like never before to make sure you grab an elite QB in the first couple rounds of your draft." In the end, however, I concluded it was unlikely the upper echelon of fantasy QBs would repeat their 2011 dominance.
We still have one-quarter of the season remaining, but after five QBs finished in the VBD top 10 in 2011, only one resides there so far in 2012:
Now, that is not to say the five QBs who dominated so thoroughly in '11 (Rodgers, Brees, Newton, Brady and Stafford) have been disasters through Week 13:
| Player | Average Draft Position | 2012 VBD Rank |
| --- | --- | --- |
| Aaron Rodgers | 3 | 18 |
| Drew Brees | 7 | 17 |
| Cam Newton | 19 | 21 |
| Tom Brady | 5 | 11 |
| Matthew Stafford | 13 | 31 |
But none of these guys has justified his ADP. Furthermore, other QBs have infiltrated the elite ranks: RG3 (ADP = 72, VBD = 5), Peyton Manning (ADP = 35, VBD = 19), Andrew Luck (ADP = 130, VBD = 32), Andy Dalton (ADP = 126, VBD = 41) and Josh Freeman (ADP = 119, VBD = 49) have thus far justified selection in the first five rounds despite being drafted well outside of them. Grabbing them in later rounds -- in concert with smart purchases at RB or WR in the early rounds instead of Rodgers, Brady, Brees, et al -- turns out to have been the smartest strategy.
But let's not bash the "elite QB" theory too hard. The fact is that none of those five top QBs from '11 has been a total bust this season, either (though until recently Stafford and Newton were starting to look that way). There's something to be said for safety in the early rounds of a fantasy draft, and each of those five men has provided decent safety. Still, the notion that you couldn't win without taking an elite QB? Like all over-prescriptive recommendations about positional drafting, that so far has turned out to be spurious in '12.
5. Meanwhile, How's the Year of the Tight End Doing? After Rob Gronkowski and Jimmy Graham had record-setting seasons in '11, there was a similar movement afoot to proclaim them first- or second-round draftees for '12. That obviously hasn't worked out.
Of course, you can't knock Gronkowski or Graham for getting hurt. Before breaking his arm, Gronk was on pace for 85 catches, 1,197 yards and 16 TDs, which wouldn't have matched his historic '11 season, but nevertheless would have come fairly close to justifying his second-round ranking. Graham got hurt much earlier in the season and missed most of two games, and it's difficult to know if his lagging production of late is related to his injury. As it is, he's on pace for 79 grabs, 872 yards and 11 TDs, which in another player would be stellar, but it is 20 catches and 438 yards off last season's numbers. You wound up losing money if you took these guys early. But injuries happen.
The real carnage has come outside the top two. This summer, in a copycat NFL, many franchises seemed ready to spring their big, athletic TEs on the world, creating impossible matchups and leading to a reevaluation of the position. But nearly everyone else whom fantasy owners drafted to be in the "elite" class thus far has been a disaster:
Only Gonzalez has actually justified where he was selected; based on performance through Week 13, he should've been drafted three rounds earlier. Everyone else? They've been junk. And here's a list of the current top 10:
Sure, players such as Miller, Daniels, Myers, Rudolph, Olsen and Gresham have provided some value, but not enough value to have been taken in the first several rounds of a fantasy draft.
I think what this shows is that Gronk and Graham might in fact represent exceptions to the "Never Draft A Tight End Early" rule, but I'll still never own them, because they have to produce at absolute maximum effectiveness -- and not get injured -- to justify their draft positions. But it also shows that the "Never Draft A Tight End Early" rule is still basically in effect for everyone else. There's simply no need to be the fantasy owner who drafts the preseason No. 3 TE. Wait.
Five In Brief
INSIDER KEYS TO FANTASY SUCCESS
ESPN Insiders are 54 percent more likely to win their fantasy football leagues. Why? They get exclusive analysis and reaction on the players who matter most to their fantasy teams.
ESPN INSIDERS GET:
Roster Advisor: Trying to make the tough choice of whom to start and sit among a few players? Our new Roster Advisor will help. More »
The Answer Guys: Have a question about your fantasy team? Our experts will respond to you. Guaranteed. More »
Eric Karabell: Karabell has covered fantasy sports since 2001 and is a member of the Fantasy Sports Writers Association Hall of Fame.
Rumor Central: We'll analyze stories from around the world of sports and speculate intelligently on future possibilities. More »
Exclusive Content: KC Joyner, the Football Outsiders and Pro Football Focus use proprietary metrics and analysis to offer fantasy predictions each week.
Insider Recommends: Our formulas calculate your optimal lineup to give you the highest win probability right on your team's page.
Sign Up Today

6. Tennessee Titans' Offensive Line Carnage Continues. About five weeks ago, the NFL media got itself in a swivet when Carl Nicks, the Bucs' former All-Pro guard, went on IR. Here, the pundits cried, was a reason to be afraid that Doug Martin's fantastic rookie season would immediately collapse! Let's put aside the fact that most of these folks don't watch tape and wouldn't know good guard play if it bit them on the bottom; it's foolish to automatically proclaim that the loss of a single offensive lineman, no matter how talented, automatically means the entire line will go to hell. In fact, Jeremy Zuttah has been pretty good, moving from center to left guard, and Ted Larsen has been adequate at center. Martin's production has waned a bit, but hasn't hit the skids. What's happening on Tennessee's O-line is more worrisome. Steve Hutchinson didn't play as well this season as he did in '11, but he was a stabilizing presence when things were going badly for Chris Johnson. Now Hutch is out for the year with a knee injury. Right guard Leroy Harris tore his ACL in Week 8. Right tackle David Stewart fractured his leg in Week 13. That's 60 percent of Johnson's starting O-line. Deuce Lutui has been playing at right guard for a month, and now presumably Mike Otto (right tackle) and Kevin Matthews (left guard) will start. I'm not saying this is an automatic disaster. But I did spend the early part of this column telling you that the Colts' run defense is improved. You just learned the reason why I'm the lowest on CJ1K in this week's RB rankings.
7. Percy Harvin's Season Ends. Harvin was placed on IR this week, meaning his stellar '12 campaign won't look stellar when his stats are stacked against other WRs. But Harvin was on pace for 110 catches, 1,203 receiving yards, 171 rushing yards and nine total TDs, a stat line that would've put him sixth among fantasy wideouts last season. But before we immediately proclaim him a value candidate for '13, we need to see how things play out. The Vikings' beat reporters spent much of Wednesday speculating that something is going on with Harvin beyond his injured ankle. ESPN Radio 1500 proclaimed the Vikings were hopeful that Harvin would practice Wednesday morning, and less than 24 hours later placed him on IR. "Doesn't smell right, to say the least," Tom Pelissero tweeted. I don't think anyone is claiming Harvin isn't hurt, but because of the mercurial WR's past behavior, folks are questioning his attitude, especially in light of how unhappy he apparently was to not get a renegotiated deal this summer.
Now Harvin will enter '13 in the final year of his rookie deal, and you can bet there will be a long period of media posturing by both sides. If Harvin doesn't get a juicy contract extension by July, he will be an obvious candidate for a training camp holdout. As for what's left behind in the Vikings' receiving corps: Look elsewhere. Rookie Jarius Wright did have a seven-catch game a couple of weeks ago, but he followed it up with one grab in Week 13. A Christian Ponder-to-Wright connection isn't reliable enough for you to use in your fantasy playoffs.
[+] Enlarge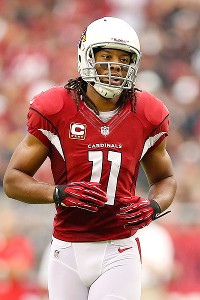 Christian Petersen/Getty ImagesLarry Fitzgerald has just six fantasy points in three games since the Cardinals' bye.
8. Does the Return of John Skelton Rescue Larry Fitzgerald? Ryan Lindley was an interesting prospect in April's draft. He was thought of by scouts as a physical specimen who could make all of the throws, and he had NFL-caliber size, but had accuracy issues at San Diego State and would be a multiyear development prospect before he'd be ready to threaten for a starting NFL gig.
The Cardinals may have ruined this kid by starting him for two games. His performance against the New York Jets last week (10-of-31 for 72 yards and a pick) was one of the worst you'll ever see. Now the team is going back to Skelton, who was lousy enough from Weeks 7 to 9 that Lindley replaced him in the first place. But at least Skelton has experience running an NFL offense, and his numbers from that three-game span (80-of-134 for 858 yards, 2 TDs and 3 INTs) are something young Lindley can only aspire to. In those three games, Fitzgerald had 15 catches for 155 yards and a TD, which should be his stat line for a good single game, but which looks great compared to his five catches for 65 yards combined in his past three. No, Skelton's reemergence (with his tail still slung between his legs) doesn't put Fitz back in anyone's top 20 WRs this week. It's just been too long since we've seen the Cardinals' offense do anything via the airways. But I did bump Fitzgerald up a few spots on this week's WR list, and if things go well against the Seahawks on Sunday, I'll be willing to go higher.
9. Dez Bryant Really Is This Good. I remember doing a mock draft this summer with some ESPN cohorts and we were all razzing each other in the chat room over various picks. Among other things I said (one of them was to tell Tristan Cockcroft that Eli Manning is an "every other week" QB, which I'd now like to amend to "every third week"), I remember engaging someone in a hearty debate over the relative merits of Bryant and Jeremy Maclin. I've had a hard time even rating Maclin the best WR on his team each summer, let alone among the top 20 NFL wideouts, plus I've long been patient with Sir Dez.
Now, this really isn't a #humblebrag, because Maclin got hurt early in the year, and by the time he was healthy, everything in Philadelphia had imploded. But my longstanding faith in Bryant's talent definitely has been rewarded. He's the No. 1 WR in fantasy the past three weeks, with 20, 24 and 21 points (which have resulted from a combined 26 grabs for 388 yards and 5 TDs), and this with Miles Austin limited. I remember a discussion I had on the Fantasy Underground podcast with Field earlier this year, where he took the Austin side and I took the Bryant side, but I was swayed by Field's invocation of Dez's knuckleheadedness. No longer. Tony Romo wasn't lying when he told the media that the "light has gone on" for Bryant. Dez's only two bad games since September came when he played hurt and saw seven combined targets. I don't particularly love his matchup with the Cincinnati Bengals on Sunday, but you can't bet into this winning streak. Dez has to be in all lineups.
10. The Cecil Shorts Effect. I've written and talked quite a lot about Shorts this season, and why not? He's the No. 15 WR in fantasy despite being used mainly as a deep threat for the Jags' first five games. Now that Chad Henne is under center and Shorts is running the entire route tree, he's like a young Steve Smith. He's caught an impressive six targets that have traveled 20 or more yards in the air. According to ProFootballFocus.com, he's first in the NFL among qualified receivers in YAC per catch, with a whopping 9.3 yards tacked onto his average catch once he makes the grab. He's also second in yards per reception with 19.2, and according to Stats, LLC, seventh in average yards at the catch.
That's a lot of numbers, but let's just say: When you watch Shorts play, you immediately feel like he's the most dangerous open-field runner out there. I mentioned on this week's Fantasy Underground podcast that Golden Tate is a fearsome player with the ball in his hands, and while Shorts isn't quite as physical as Tate, I think he's an intriguing combo of Tate, Smith and Percy Harvin. He doesn't line up much in the slot; this is an outside receiver going down the field, despite the fact that he's not a big guy at 6-foot and 202 pounds. Last week against the Bills, Shorts suffered a concussion, and while he passed the NFL's recovery protocol, he was reportedly still having symptoms on Thursday, so there's a legit chance he misses Sunday's game against the Jets. But Rex Ryan has already stated that his best corner, Antonio Cromartie, will mostly follow Justin Blackmon around in this game. So if Shorts winds up being able to go, he'd be an amazing start with huge upside for your fantasy playoff game. [Editor's Note: Shorts has been ruled out for Week 14]
Fantasy
Senior writer for ESPN.com
Six-time Fantasy Sports Writing Association award winner
Author of "The Big Clear," a noir thriller
Fantasy Football Week 14

The fantasy playoffs are starting in many leagues this week. Will Andrew Luck be part of your playoff plans after being a fantasy afterthought early on?


Fantasy Football Tools
•
Week 14 Projections
•
Roster Advisor

•
2012 Scoring Leaders
|
Points Against
•
Most Added/Dropped (Past 7 days)
•
NFL Nation blog
•
Week 14 fantasy inactives
|
Full inactives list
Week 14 Rankings
• QB | RB | WR | TE | K | DST | IDP
Weekly Features
• Harris: The Hard Count
• Berry: Week 14 Love/Hate list
• Cockcroft: Consistency Ratings
• Carpenter: Gridiron Challenge preview
• Harris: Free-agent finds for Week 14
• Harris: Instant Impressions from Week 13
Bell Injury Blog
• Saturday: Gore, Roethlisberger, Nicks
• Thursday: Nicks, McCoy, Nelson, Amendola
• Thursday: Broncos-Raiders injuries
• Tuesday: Shorts, Nelson, Broyles, McFadden

Insider
• Karabell: Four Downs from Sunday's games
• Kavanagh: Week 14 cheat sheet
• Karabell: Sneaky pickups
• Karabell: Week 14 flex rankings
• Karabell: Week 14 rankings reaction
• Pro FB Focus: Breakout players for 2013
• Football Outsiders: Good/bad matchups
• Karabell: 2012 season rankings update
• Joyner: Potential 2013 keeper RBs
• Goal-Line Grid: Through Week 13
• Karabell: Four Downs -- Week 13 recap
Video
• Friday: Fantasy Football Now


• Thursday: Berry's Love/Hate


• Wednesday: Fantasy Focus on rankings


• Wednesday: Broncos-Raiders preview


• Tuesday: Colin Kaepernick's value


• Monday: Fantasy Focus -- Week 13 stars


• Monday: Jets quarterback situation


• Monday: DeMarco Murray's value

Podcasts
• Fri. Focus: Week 14 preview


• Thu. Focus: Berry explains his ranks


• Underground: J. Dwyer, Golden Tate ...


• Wed. Focus: Packers RBs, 2013 QBs


• Tue. Focus: MNF recap, injury updates


• Mon. Focus: Week 13 recap

Chat Schedule/Wraps
• Friday, 11 a.m. ET: Stephania Bell
• Thursday, 3 p.m. ET: KC Joyner
• Thursday, 2 p.m. ET: Matthew Berry
• Thursday, 11 a.m. ET: Christopher Harris
• Wednesday, 11 a.m. ET: Eric Karabell
• Tuesday, 3 p.m. ET: Stephania Bell
• Tuesday, 11 a.m. ET: AJ Mass
• Monday, 11 a.m. ET: Tristan H. Cockcroft

MOST SENT STORIES ON ESPN.COM